Fondation A Stichting is celebrating its ten-year anniversary with an exhibition of the work of nineteen woman photographers. From different backgrounds and generations, they have captured the traces of movements and aspirations that have shaped our world.
Feminine photography does not exist. There is women's photography. At this exhibition at Fondation A Stichting, there are nineteen of them, from different countries and of various ages. Photography, like all the other arts, is often presented to us as masculine. Since photography began in the nineteenth century, however, women have been found behind the lens as often as in front of it.

More than a historical exhibition, "Women's Perspectives" unveils a collection that was put together by one woman, Astrid Ullens de Schooten Whettnall, from which the curator Béatrice Andrieux has made a selection. Following Cindy Sherman, Diane Arbus and Lisette Model, the names of innumerable photographic artists are beginning to emerge.

This large and subjective exhibition brings together the big movements in photography, such as portrait and street photography, as well as revealing more personal worlds. It will take you to Europe and to North and South America.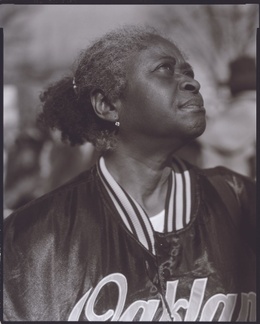 Practicing discreetly, often faced with adversity or indifference, these artists have developed a sense of engagement and an eye for decrypting the challenges in situations experienced by other women. Their images explore themes related to social justice, femininity and the environment.
Poetry and sisterhood
When Helen Levitt shows children watching soap bubbles float down a street in New York, it is a moment of poetry and sisterhood that evokes daily life for little girls in the post-war era. The magic of the photograph is its power to abolish the past and the future. What lies behind the sad expression of Mexican Graciela Iturbide's Madonna, a future as fragile as her crown of thorns? No one knows what the young bride photographed in her kitchen by the Cuban Kattia García Fayat is thinking, what she has experienced and will experience, although the hard look in her eyes, free from any hint of romantic joy, speaks volumes.

Women, usually the subjects of photographs rather than the agents, can also return the model to its sender, like the American-Peruvian artist Tarrah Krajnak did by producing a self-portrait recalling an iconic image of Edward Weston. The selection also offers a chance to make great new discoveries, such as the colour images by the Italian Francesca Gardini, who studied architecture in Venice before practicing photography, or those of the couple Gabriele and Helmut Nothhelfer, taken at street parties in Berlin.

As if as a measure of the progress that has been made, it also includes some of the portraits of anti-war activists and of young school dropouts that the American photographer Judith Joy Ross exhibited at the opening of Fondation A Stichting ten years ago.