The Brussels Podcast Festival is back. As part of the event, the Norwegian artist Mia Melvær presents an intuitive sound walk that invites you to rediscover the city while retracing the steps of feminist and queer legends of Brussels.
Like all cities, Brussels is full of sounds, stories, characters, and soundscapes. Stories that belong to the ephemera of memory, seldom captured by other media because they were never recorded. All these stories provide the raw material for Sonorama, presented by BNA-BBOT (Bruxelles Nous Appartient – Brussel Behoort Ons Toe).

The bilingual community platform set itself the task of putting together a "sound history" of the city using accounts, conversations, and soundscapes. Over time, it has compiled a collection of 23,000 accounts and 600 field recordings describing, for example, the evolution over time of places such as de Beurs/la Bourse. To showcase these archives, it has drawn on this wealth of material to create sound walks and has commissioned artists and creators to produce original podcasts, which can be listened to at home or while wandering through Brussels wearing headphones.
Choose your own fragmenture is the first of these walks and will be launched during the Brussels Podcast Festival. Created by the Norwegian artist Mia Melvær, who chose Brussels as her adoptive home, this podcast explores places and characters from the queer and lesbian history of Brussels. "It's a part of what I discovered in Brussels. And that's what I want to show the audience. This history was shaped by people who were driven by a lot of love for the city, by a mix of activism and protest, and the will to make it a joyful place." The title of the podcast, Choose your own fragmen­ture, is a nod of the head to the Choose your own adventure interactive book series.

LGBT PIONEER
It works a bit like a jigsaw puzzle. Once you have registered, you receive the first fragment of a map. The starting point is on Place Fontainas, a focal point for the LGBT community. Then, Mia Melvær, who has assumed the role of the narrator, takes the audience by the ears and guides them step by step. At the first junction, you have a choice of turning right or left and discovering different stories. By making intuitive choices, each person creates their own walk for themselves, like in a video game. The walk involves places, people, and events. It touches upon Suzan Daniel, for example, a film critic and militant lesbian, who founded the first gay cultural centre in Brussels in 1953. Mention is also made of the International Tribunal on Crimes Against Women that met in Brussels in March 1976, organised by Diana E.H. Russell and the Belgian journalist Nicole Van Den Ven. It also features bars and other meeting places. "I was surprised that in the 1930s there were four or five lesbian bars in the city. At the time, it was hardly accepted for a woman to walk alone in the streets, so it was important for them to have a place where they could find protection and a sense of joyful community."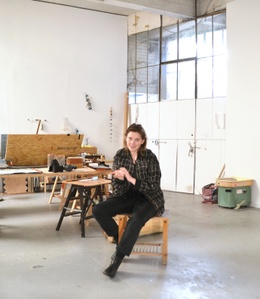 The fragments of sound that you hear are very diverse, ranging from background noises to accounts such as that of Suzan Daniel who, at 87, describes the time a woman invited her to dance in a bar. At times, it might be simple song that accompanies the walk for a few minutes suspended in time. It all unfolds very organically. There is nothing systematic about it. "Some things are left up to interpretation. I want there to be some room for people to make their own connections, just like I want them to choose between options of where to go, instead of falling into a purely receiving mode."
In her artistic work, Mia Melvær is very interested in what can be produced at the intersection of art and ephemeral archives; that is why she likes to work with sound. "There is a similarity between painting and sound. With both mediums you can go from the descriptive to the abstract."

JOYFUL GOSSIP
From the outset, she warns that she has leaned heavily on gossip, which is truly ephemeral. "What is referred to us as gossip has often been a secret language of friendship and resistance among women. Gossip is something joyful that evolves and depends on the person who possesses it. I think it is not to be taken literally but as a fragment of a whole." Just like the walk that reveals itself, fragment of map by fragment of map.
Mia Melvær has used fragments of sound in her artistic projects several times, but this is the first time she has created a walk. "It's interesting because you're listening differently. First, because I give people direction and because it implies activation and because you're not isolated. The way you're listening is impacted by the choices you make and by the urban environment."

SONORAMA SOUND WALKS
Register for free, www.brusselspodcastfestival.be

BRUSSELS PODCAST FESTIVAL
25 > 28/2, www.brussels­podcastfestival.be
Brussels Podcast Festival: histories and voices
In this time of semi-lockdown, more than ever, other people's voices provide a connection to the outside world, a shared human experience. For its second edition, the multilingual and inclusive Brussels Podcast Festival has pointed its microphones at the theme of "plural singularities". Reine Elisabeth Nkiambote and Tracy Bibo Tansia, two women in their twenties of Congolese origin, launched their podcast to talk about life and societal issues. Like two big sisters, they came together to create Yaya Talks (25/2, 20 > 21.00), yaya meaning "eldest" in Lingala. For the festival, they invited Emmanuelle Nsunda to join them, a conserver/restorer of works of art, archeometrist by training, and creator of the podcast Les Absentes, which highlights the "little" chores and great victories of racialised women who have had to, at one time, renounce their dreams in the name of so-called "integration". Voices and sounds, documentaries, dramas, new work from all over the world: you can hear it all in the Internal Listening Session (26/2, 15 > 16.00), a one-hour mix, released in video format with subtitles in English. The podcasts were selected and edited by Eleanor McDowall from Radio Atlas. In MurMur (27/2, 14.15 > 15.15), Ambre Ciselet imagines a justice system that includes rather than excludes, with accounts by four men who have experienced an alternative form of justice that favours mediation over punishment. With Game Lovers (28/2, 13 > 14.00), Annabelle Martella and Emilie Mendy have created a piece of fiction inspired by the observations of people who play fantasy games online.