Every week, BRUZZ goes in search of the sound and vision of Brussels. This week, we visit the studio of the red-haired, rural Frisian Feiko Beckers.
"It is rather cold and Spartan, but at least I'm not getting in anybody else's way," Feiko Beckers tells us in his studio, which is hidden some distance behind a big gate right in the middle of a residential area of Molenbeek. "More than anything, I need space and the freedom to make a lot of noise."
This noise is the sound of his exhibition objects and performance and video props being moulded into their particular shape. "I can't say that all this banging about makes me very happy, but my plans are usually so ambitious that the only way to achieve them is by doing everything myself."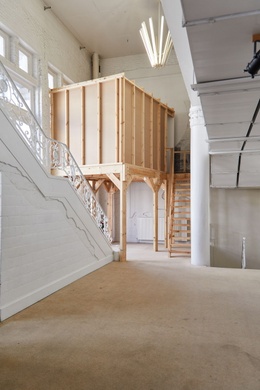 Shoot for the moon, and you're bound to end up covered in some kind of stardust. "Well, it is very dusty here. [Laughs] Based on my videos, people expect everything to be neatly boxed up. But I rather enjoy creating order from this chaos. That is what my work is like too: I start with a whole series of ideas and I strip them away one by one until I am left with the bare minimum."
CARTOONISH SIMPLICITY
The bare minimum: it is a rather deceptive way of describing the work of the red-haired, rural Frisian, who fetched up in Brussels two and a half years ago. Yes, Feiko Beckers plays with elementary particles – often even literally: cartoonish simplicity, geometrical shapes, and primary colours determine the visual grammar of his work. But these stripped-down aesthetics are also the perfect way to highlight the frivolous stubbornness with which he thinks things through.
"The artificial backdrop is the counterbalance to the moments, taken from my personal life, that play out against it. Not the big dramas, but the day-to-day worries. Afterwards, I elaborate their strange consequences so extensively that nothing is left."
The attempt to plumb the depths of the everyday results in inimitable existential wanderings, which keep a finger on the pulse of issues big and small, with a delightful absurdity, openness, and vulnerability. Like the talk show he is screening at the Beursschouwburg – as part of his solo there – in which he delves into strategies for solitude in the company of guests who can't utter a single word. "Of course they are destined to fail: other people buy microwave dinners too. [Laughs] Though my solutions are simple, they never work."
'FAILURE IS EXTRAORDINARY'
Feiko Beckers thus subtly distorts your pattern of expectation, opening up a perspective in which problems, solutions, attempts, and just as many failures may emerge. "Failure is an extraordinary thing. It can reconcile irreconcilable extremes: the tragic and the funny. And it strengthens your belief in what you're seeing onstage. Art is often about overachievement and success; taking yourself very seriously. There is rarely any humour involved: 'Art is already so vulnerable so don't undermine it even more.'"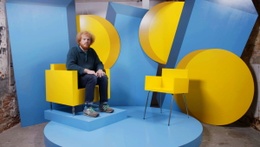 "But that is exactly what I do. I embrace the unsuccessful, the small, and the trivial. Because apart from being vulnerable, the visual arts are also dynamic and fluid. You can get away with anything. I take art very seriously, but I try to relativise my artistic practice as much as possible. And yes, that is the core of all this: it is all about relativity, boiling everything down to systems and structures, triangles and squares."
> The understanding of nonsense. > 8/4, Beursschouwbrug, Brussel
Wunderkammer
AGENDA gaat op zoek naar de sound and vision van Brussel / AGENDA part à la recherche des sons et des images de Bruxelles / AGENDA goes in search of the sound & vision of Brussels.