With his portraits of close friend and urban legend Bonom, the Brussels photographer Ian Dykmans already transformed moments into myths. In Devenir Miroir he focuses his intense gaze and analogue lens on his own life, story, fable.
There is a restlessness in Ian Dykmans' work. A certain mobility − induced by surrender, intensity and chemical processes − that is as impalpable as it is overwhelming, as out of time as it is in the moment. That elusive nature was a perfect fit for graffiti myth Bonom, as was already apparent years ago from a joint exhibition at Iselp and a book at CFC.

In Devenir Miroir, which he slowly transformed into meaning, beauty and singular mystery in the intimate atmosphere of the Tipi Bookshop, Ian Dykmans turns his intense gaze inexorably on himself. On the cover of the book appears the face of the Brussels photographer. While a kind of scorching heat seems to erase its contours, to dissolve the boundaries between body and environment, a stain around his temple burns a hole in the skin. Straight to a strange, tiny, curled-up body. "The hippocampus? The part of the brain where memories are made?" asks Ian Dykmans. "Ah, very nice. But for me, that spot, which has unintentionally etched itself onto the print, represents thinking. Thinking as the creator of realities, as the instigator of things that happen or don't happen."
It is in that rolling landscape of possibilities that Ian Dykmans likes to get lost. Appears and disappears again. Is swallowed up and awakened. "I'm not much of a hiker or explorer. But every now and then something can pull at me, make me take a side road and I bump into an old, almost dead tree. Or a current may lead my kayak away from the river into a rampaging mangrove. Those are moments when you feel at one with what surrounds you, when you can feel nothing but respect, gratitude and humility in the face of that magnificent spectacle of nature. I sometimes take lots of photos, none of which end up surviving, during deliberate walks. But in those moments without preparation, research or guide, in which you fall into a kind of trance and, so as not to disturb the balance, limit your presence to a handful of shots, something happens. Something that escapes me. Therein lies what I am looking for in photography."

What you find in Ian Dykmans' Devenir Miroir are electrifying images. Framed spaces that move like a maelstrom through the fabric of time. Spaces that stretch a singular moment of a singular life into a duration, a life, a mirror. "When I take the picture, I am in the moment, I don't understand what I am doing. In the treatment of the image, the immersion of the print in a lithographic film developer, the fable appears. Those twenty minutes in the lab, you devote yourself completely to that image. You see the paper become a photograph, an image. These are twenty minutes that you do not live, but where you see life appearing, try to understand it. It is only then that I find meaning in it, that the story, the fable, the myth develops. I prefer the fable to the concept."

BETWEEN ROOTS AND CROWN
The story of Devenir Miroir unfolds like a skin. Sensual and vulnerable. With folds that veil. Open and exposed. Ian Dykmans digs deep into himself, until it tears him apart, seduces him, wounds him. Devenir Miroir bears witness to farewell and death, to birth and love. It speaks of passion, hunger and desire. Of unconditionality and inevitability. Of the child that becomes a parent, of the parent that fades away. Of intimate moments in a life, through which every human being must pass.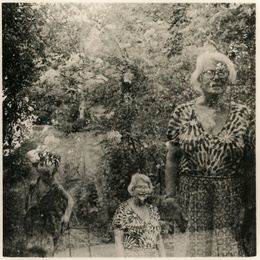 "I like my artistic work to be an extension of my life, and not the other way around," says Ian Dykmans. But that takes courage. The same courage was also needed to put the meagrely few words in Devenir Miroir on paper. Words as shaky as they are overwhelming, which read like a poetic letter "in which I was able to put things down, give them a place. This book is a way to turn the page in life."

You feel that there is an unspoken, unutterable pain in the soul of these pictures, in the soul of the maker. A heaviness that pushes the father's body down onto a mattress in his son's lab, surrounded by things collected on Vossenplein/Place du Jeu de Balle, "another sacred place of memories." A heaviness that extracts memories from the volatilising, numbing mother. A heaviness that tastes sweeter, when the almost luminous body of the beloved appears.
There, in the compromise between heaviness and lightness, between roots and crown, life unwinds itself, and this book becomes a mirror. "It may be deep, it may be immensely difficult, it may turn me upside down, but there is no point in being sad. There are plenty of reasons to be, but there is no point. Life is ruthless, it eats us. We resist, hopelessly and in vain, but with joy, with a bitter-sweet smile that makes a ruthless fool of ourselves."

There the fable echoes, there this singular life joins a stream of stories. Stories that celebrate desire for freedom, that rein in life, that turn you inward, that counteract forgetting. Stories like an old, almost dead tree and a rampaging mangrove. Stories of encounters, with a lover who questions your own foundations, with a child who draws you towards the earth, with a mother who becomes more and more unfathomable, with a father who watched without embarrassment.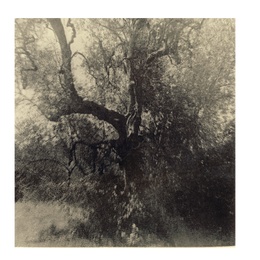 "The hunter's instinct that lurks in every photographer was very present in him. He did not think in terms of good or bad, he just looked, shamelessly, sometimes excessively. My view contains more measure, more focus. But what I did learn from him, when he stayed with me in the lab, and the chemical smells of that place mingled with his cigarette smoke, was that because of who he was, he also created possibilities. Because of that lack of doubt, he could suddenly walk up to people, start a conversation, and create an atmosphere that made you wonder how you got there. That's what I learned from him: to approach the other, to make a meeting possible, to make the improbable possible."

IAN DYKMANS: DEVENIR MIROIR
Book: Tipi Bookshop, €34, tipi-bookshop.be
Exhibition: 14 > 30/5, opening: 14/5, 18 > 21.00 & afterwards by appointment on Fridays, Saturdays and Sundays, La Part du Feu