It is not photography that has influenced the images of Brussels-based photographer Catherine Lemblé as much as the books she reads and the nature she embraces. Her new series on Svalbard shows the women inhabiting this archipelago.
Catherine Lemblé (31) was immediately intrigued when, six years ago, her sister told her that her husband's sister worked in Svalbard as a polar bear guard and expedition leader. "My parents met hiking and climbing in the mountains, and in family albums I always saw my mum with ice picks and rope among a group of men on a mountain top. That left me with a fondness for mountain walks and snowy landscapes. When I started travelling with my friends, for a while my interest diminished but it was reawakened when I studied photography."
Trips to the Alps and the Rocky Mountains led to a first self-published photo book in 2019. Cabin Fever was a rather romantic look at the untouched nature in which remote sheds and mountain huts often are the only sign of life. Her latest project Only Barely Still, now on display in Contretype, is more ambitious. By shifting the focus to the underexposed presence of women in inhospitable areas, she not only joins a generation of ecofeminists, she also reports on her own evolution.
"On my first trip to Svalbard in 2017, I stayed in Longyearbyen, the modern, somewhat luxurious capital of the archipelago in the Arctic Ocean. I wanted to start by focusing on the contrast with the fragile, wild nature where the many polar bears mean you need a gun every time you wander outside the town." Her perspective shifted when, in 2020, someone gave her Christiane Ritter's book A Woman in the Polar Night. "She spent a whole year in 1938 in a hunter's cabin in the middle of nowhere. I was very taken by the way she talked about nature." In other words, much more so than the iconic nature literature by Henry David Thoreau (Walden), Joe Simpson (Touching the Void) and Jon Krakauer (Into the Wild) where there always is a male protagonist who quickly conquers a mountain or other natural phenomenon.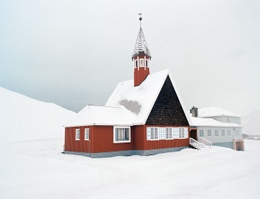 Lemblé found it bizarre that the stories of women in nature were simply absent for a long time, despite feminine archetypes such as Mother Earth or "the virgin land". "During lockdown, I delved more deeply into the memoirs of women who described life in Svalbard and began to identify with their main characters. I had already read The Word for Woman Is Wilderness by Abi Andrews. She too had been moved by Into the Wild, but also pointed out that if Christopher McCandless had been a woman, the story would have been completely different. A woman who survives in nature on berries and wild animals is still, in the eyes of many people, a madwoman rather than a heroine."

Only Barely Still rebels against that prejudice, while eschewing myths and clichés about the polar regions. "There are no polar bears in my book, and there's more than just vast white plains, because there is so much more to be seen, so many colours and seasons for example," continues Lemblé, who wants to go on residency to Greenland next year to broaden her polar palette even more. At the end of March, she travelled to Svalbard for the last time, visiting the Russian settlement Barentszburg and for the first time saw a polar bear. "A hundred metres from our cabin, I stood watching in amazement and awe on the one hand, and on the other sick with fear." The polar bear does not appear in the exhibition, but there is a picture of one of Lemblé's companions who is drawing the encounter with the polar bear.
There is also a female mechanic at the Longyearbyen mine just after she heard that the mine was going to close. "But I also show a young woman dressed in hip clothes listening to music. The portrait of my sister's well-coiffed sister-in-law refers to photos of polar explorers." Two large formats show an abandoned mine, now a ghost town popular with tourists, and a landscape that is not as unspoilt as it may seem at first.

Nature lover
Inspired by logbooks from past polar expeditions, Lemblé gave each woman she photographed a blank sheet with "Record of the miscellaneous events of the day" on it. "Women were long excluded from such expeditions, never mind that their stories would be picked up in literature." The result is not on display at the exhibition at this point, but the photographer hopes to find a publisher for it.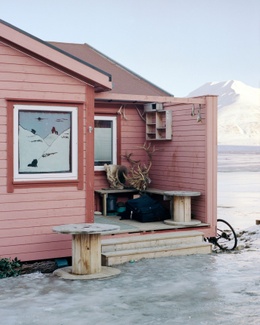 It is not photography – she mentions Justine Kurland's idyllic portraits of teenage girls in rural America and Sam Contis's photographs of a boys' school in the Nevada desert – that has shaped her work as much as the books she has read: from Abi Andrews to the more academic work of American ecofeminist Annette Kolodny to Nan Shepherd's The Living Mountain, "which is very poetic because she looks at nature as a friend she wants to be with." Lemblé is also already looking forward to October when she will travel to the US for the first time in five years, this time to photograph the Great Plains east of the Rocky Mountains and west of the Mississippi.
CATHERINE LEMBLÉ: ONLY BARELY STILL
1/6 > 11/9, Contretype, www.contretype.org