Nicolas Provost's photographs of the streets of New York are like the opening scene of an opera announcing imminent catastrophes. The expressions and figures frozen in the shadow of the skyscrapers cause us to reflect on our own uncertainty.
Above her blue eyes, eyelashes shaped like a comma. Her intense stare seems like a warning. It seems to say, "Everything is crumbling around us, we have to do something. We cannot remain inactive." Nicolas Provost took this photograph in the New York subway. The young woman was sitting opposite him. When she saw that he was getting ready to photograph her, her stare seemed to intensify, drawing the camera lens in.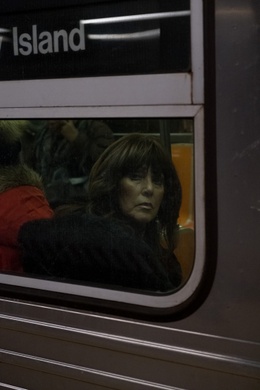 That image and all the others presented at The Agprognostic Temple are among the countless photographs that the Belgian artist took in the streets of the Big Apple. Known for his installations, videos, and films, Provost wanted, during what was a difficult period for him, to get in touch with reality by wandering alone with a camera through the streets of his adoptive city. To start from scratch and try to find stories in the faces and figures of passers-by and in the presence of those buildings with their gloomy facades pierced by a few lights.

WEARY DEFIANCE
Faced with verticality, he opted for a large vertical format that is reminiscent of portraiture. Placed side by side, his photographs hint at a hidden narrative that challenges the viewer, as if all those individuals, those little islands in the crowd, were predicting an approaching catastrophe. But the images also work on their own, thanks to the strength of the compositions, which are haunted by the ghosts of classical painting. The photograph is always about a moment in time. An instant, the blink of an eyelid, or a footstep: all stretch into eternity. Nicolas Provost's photographs give you the sense that you are walking through a city in a moment frozen in time, in which all the inhabitants, surprised on the way to work or on their way home, reflect their fatigue, their despair, and their life force.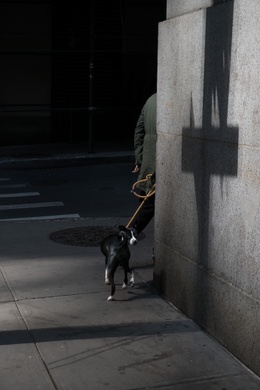 That is particularly apparent in a photograph of a young woman alone in a crowded subway. Her eyelids drooping, she looks at the photographer with an expression of weary defiance. In the greyness of the crowd swept along by the flow of daily life, her erect figure, dressed in white, is evocative of religious paintings from the Renaissance.​​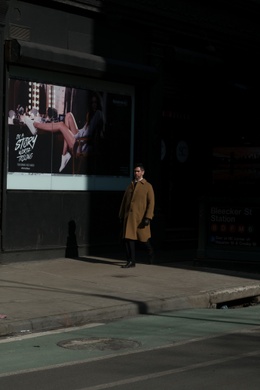 The power of this series lies in the fact that it sets the scene in which the characters appear. A skyscraper rising into the night like a dark guard tower, a dog turning to look us in the eyes when its owner has already turned the corner, or a car whose door is shut with a muffled threat. A few photographs from another series are displayed on the walls of the gallery: they are also street photography, but without the heavy intensity of the first series. They are all about movement, the pulse of a city in the daytime, brighter.

NICOLAS PROVOST: THE WARNING
> 31/10, The Agprognostic Temple, agprognostictemple.com