In the fifteen years since Adil El Arbi and Bilall Fallah met each other at film school in Brussels, they have made two Brussels films, an Antwerp blockbuster, two pilot episodes of American TV series, and the threequel Bad Boys for Life starring Will Smith. Whatcha gonna do when they talk to you? Ask questions.
Bilall Fallah (Vilvoorde, 1986) and Adil El Arbi (Edegem, 1988)
Have been a duo since meeting at the Sint-Lukas film school
Won a wildcard from the VAF in 2011 for their short film Broeders ("Brothers")
Use the wildcard to film Image, a low budget thriller about the tense relationship between the media and Molenbeek
In 2015, they were nationally and internationally praised for Black, Romeo and Juliet in the street gangs of Matongé and Molenbeek
Directed pilot episodes of the American TV series Snowfall and Scalped
Had a huge hit in 2018 with Patser (Gangsta)
It is officially no longer too familiar to call Adil El Arbi and Bilall Fallah Adil & Bilall. The bi-unity that conquered Brussels and Flanders with Black and Patser (Gangsta in the English version) is listed as Adil & Bilall in the credits of a 90-million-dollar Hollywood blockbuster: Bad Boys for Life. It is the third film starring Will Smith and Martin Lawrence as two opposite Miami police officers who joke around while they chase down bad guys. One characteristic is that there are more explosions than in the average war film.

The first two Bad Boys date from 1995 and 2003 and were directed by Michael "Transformers" Bay. They made an enormous profit, but the film press thought they were stupid and noisy. Expectations of the threequel were not high, especially since the lead actor Will Smith is now over fifty and has to recover from a series of flops. But Adil & Bilall have surprised us with an unpretentious popcorn film with less idiotic bombast, fewer chaotic action sequences, and more self-deprecating humour. The golden boys spoke to BRUZZ last Friday at Hotel Amigo in Brussels. At the time, they already knew that the press was pleasantly surprised by their film, but they did not yet know that the opening weekend in America would be a triumph.

In the meantime, it has become clear that Bad Boys for Life is a bigger success than they'd ever dared to hope. Only four days after its release, the film already surpassed 100 million dollars at the box office.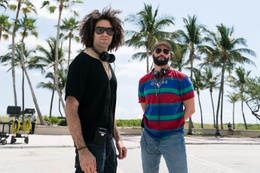 How do you both manage to stay so calm?
ADIL: We are not calm. We are tired.
BILALL: We're exhausted, and there is nothing more we can do anyway.
ADIL: Our fate now lies in the hands of the audiences and of the cinema gods. They will decide. If the numbers are too low, Hollywood will no longer want us. It's all or nothing for us now.

If I am not mistaken, your American adventure started with Black, your Romeo-and-Juliet­-in-Brussels film.
BILALL: Black won the discovery award at the Toronto Film Festival and that drew the attention of the Hollywood agents. They immediately wanted to conscript us and open Hollywood doors for us. They showed Black to everyone in the business. One of our first meetings in Hollywood was with Jerry Bruckheimer (the legendary producer behind Beverly Hills Cop, Top Gun, The Rock, Con Air, Armageddon, Pearl Harbor, and Pirates of the Caribbean, nr). When he asked what kind of films we wanted to make, we immediately said Bad Boys for Life because we knew it hadn't been made yet. But it turned out that Joe Carnahan (best-known for The A-Team and The Grey, nr) was already linked to the project. Jerry continued to send us different projects. In 2016, we were offered Beverly Hills Cop 4. We agreed to make it, but in the end the project was cancelled.
ADIL: In the meantime, Will Smith had seen Black. He loved it and wanted to collaborate with us on "a project". When Carnahan withdrew in 2017, Bad Boys for Life came to us. Unfortunately, we had to pass because we were just about to start shooting Patser. A different director was chosen, but Will Smith wanted to play Genie in Aladdin first. We were approached again in 2018, and then we said yes.
BILALL: So it was fate
Will Smith and Martin Lawrence know the characters through and through and had much more experience than you. Did that affect your relationship?
BILALL: When Will Smith and Martin Lawrence act together, there is very little we have to do. They are both incredible actors. The only thing that came up sometimes was that they are the creators of Bad Boys and we were the fanboys. We sometimes had to remind them that we were making a Bad Boys. The DNA is fixed. We gotta stick to that.
ADIL: We sometimes had to tell them laughingly: "Hey guys, don't try to win an Oscar. We're making Bad Boys. It has to be fun."
There are a few action scenes in Black and Patser, but the budget and the scale are incomparable to what you orchestrate in Bad Boys for Life. Did that give you cold sweats?
ADIL: A lot of stress. Luckily, the crew had a lot of experience from making the Fast & Furious films, Marvel productions, and most of Michael Bay's films. We worked with the best in the world. It was supercool. Like being the coach of a dream team of football players.
BILALL: We analysed a lot of action scenes on YouTube. We mapped out and discussed every single shot. The studio, the actors, the producers…everyone had to approve the extremely meticulous preparatory work. Everyone knew exactly what was being filmed and how.
In the first sequence, Will Smith screeches onto the beach in Miami in a Porsche and shouts "Sorry white rich people!" to the bewildered sunbathers.
BILALL: When we read that line, I thought: wha-yo, this is the shit! This has to be in the film, no matter what. I laughed so hard while we were making this film. To the point of vomiting.
ADIL: The film was screened for test audiences eight times. Their reactions are recorded with mics and cameras. You see which jokes work and can stay in the film and which ones don't. That was very handy because after a while you know it so well that it's not funny to you anymore.
One of the nice little Easter eggs referring to Belgium is that the nightclub is called Zillion, like the infamous mega nightclub in Antwerp that closed twenty years ago. Didn't you have plans to make a series about the Zillion?
ADIL: That's right! It was once our big dream to make a TV series about the Zillion. Nothing ever came of it.
BILALL: This is our tribute to that show that never was.
ADIL: We are from Belgium. And there is nothing wrong with showing it.
BILALL: There are a few more subtle references. The bad guy uses P90 bullets from the arms factory in Herstal.

Did you have to fight to work with your regular cinematographer, the excellent Robrecht Heyvaert?
BILALL: The casting is a very delicate process. We didn't really have any say about the actors. There was only one big fight. We absolutely wanted Robrecht in the crew.
ADIL: It wasn't easy. They were already very nervous about giving a hundred-million-dollar film to us. Involving a cinematographer who they thought had no experience only increased their stress. The deal was: you can have Robrecht but we're calling all the other shots.
BILALL: Jerry Bruckheimer and Sony love Robrecht now. Mel Gibson wants to shoot The Wild Bunch with him.

Can you describe one highpoint and one low point of your Hollywood adventure?
ADIL: The first day of the shoot was a highpoint. Everyone was there. Suddenly you are actually filming Will Smith and Martin Lawrence while they are racing cars.
BILALL: When we wrapped, Will Smith and Jerry Bruckheimer were there every fucking day to work on every last detail. They were incredibly passionate. At moments like that you really have to pinch yourself to make sure you're not dreaming.
ADIL: But there were also plenty of low points. I am thinking of several shouting matches: with the studio boss, with Jerry, with Will…that was emotional and intense.
BILALL: At a certain point, we had both had enough. That had never happened to us before. Normally, one of us gives up and the other one gets him back on his feet. If I can't take it anymore, Adil is there for me and vice versa. But this time we were both completely broken, and everyone could tell. Will Smith came over and said to us, like a great motivational speaker: "Whatever is going through your head right now, everything is going to be alright."
I must admit that emotionally, it was very difficult to be so far away from family and friends for so long. And then add the daily fear of failure to that. I had the toughest moments in my life, but also the most beautiful. It was an emotional rollercoaster.
Have you two struck financial gold?
ADIL: Not at all. But we can afford to get a mortgage on an apartment in Belgium now, that we will still have to pay off… Buying outright was impossible. (Laughs) We're not going to give you the exact figures, though you could look them up. We were paid the DGA (Directors Guild of America) minimum. At first, they offered us less than the minimum because there are two of us, but the union forbade it. Sixty percent of our salary is gone immediately: thirty percent to managers, agents, and lawyers, and thirty percent to tax.
BILALL: Do we get anything if the film is successful? No. Do we get anything if it is a huge hit? No. We always got the same answer whenever we asked: "You won't earn anything from this film, you'll have to wait for the next one."

When you were making Patser, you told BRUZZ that you wanted to alternate Hollywood films with Belgian productions. Is that still the plan or has Brussels lost you to Hollywood?
ADIL: During Bad Boys we were desperate for something small and normal.
BILALL: Our agents and managers want to send us back to Hollywood as soon as possible. We would rather be in Belgium for a little while. The Hollywood machine, especially when big names are involved, obliges you to play it safe. We can take far more risks here. It's alright to make a mistake. You can try out ideas that might not work out well. That freedom is extremely important to us. But to make a blockbuster or a big film, you have to go to Hollywood. That's impossible here. Alternation is the solution. Bad Boys for Life will hopefully give us the power and the freedom to do the things we want to do. The next step: produce our own story.

What do you have in mind?
ADIL: We would like to make films like Martin Scorsese, Spike Lee, Alfonso Cuarón, Barry Jenkins, Damien Chazelle.
BILALL: You have to strike while the iron is hot. And it's scorching right now.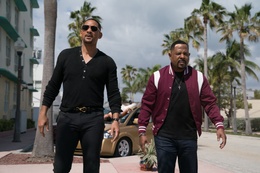 Graduating from our most artistic film school, Sint-Lukas (now known as LUCA School of Arts) and then succeeding Michael Bay, what does that feel like?
ADIL: It's ironic: the school where Hollywood is a dirty word sees two graduates making a total popcorn movie with Jerry Bruckheimer. We didn't even study at RITCS. (Laughs)
BILALL: I think Sint-Lukas was an asset for us. Studying all those films by Truffaut, Godard, and Haneke gave us a different insight than the popular films that we grew up with. They are masterminds of film direction. It is very difficult to achieve their level. Our main aim now is just to keep growing. No matter if the films are big or small, commercial or not: there is beauty in every genre.
ADIL: We would love to make a Parasite (the Golden Palm-winning Korean thriller, nr) but I don't think we'll ever match Bong Joon-ho's genius.

What if Bruckheimer comes knocking for Bad Boys 4?
ADIL: Then we'll say yes immediately. It would be very difficult to accept that somebody else would direct it. Unless Michael Bay says: "Boys, I'm back."
BILALL: Even then. This is our shit now. (Laughs) We absolutely love the characters. Mike & Marcus are brilliant. I want another ride.
Bad Boys for Life opens on Wednesday.