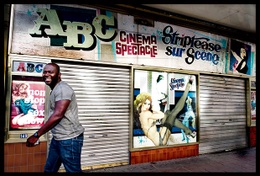 (© Saskia Vanderstichele)

Horror legend Tobe Hooper may be the guest of honour at the Offscreen Film Festival, but to many people the real star of this eighth edition is Cinema ABC, the Brussels porn cinema that is being celebrated with a steamy tribute night featuring vintage porno chic, testimonies from former staff, and striptease acts. "No video tapes! See the real thing!"

It briefly seemed like porno from the days of Deep Throat and The Devil in Miss Jones was "chic" again late last March, when the action plan to save Cinema ABC caused a veritable media hype that even made it onto the VRT and RTBF evening news. The plan was announced on the closing day of the last edition of Offscreen. The porn cinema at boulevard Adolphe Maxlaan 147, which opened in 1971, had quietly closed in the summer of 2013 when the 96-year-old manager, Monsieur Scott, decided to retire. A few months later, members of Cinema Nova accidentally discovered a treasure of 600 celluloid films there. Cinema Nova was able to buy the collection, and that in turn launched the idea of saving the cinema itself, which would otherwise simply have become yet another clothing shop or snack bar. The appeal struck a sensitive chord, and over a period of only six weeks, crowdfunding raised 60,000 euro to rent and run the cinema for one year.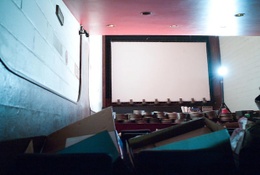 (© Cineact)

In the meantime, the rescue initiators, comprising members of Cinema Nova, Offscreen, and La Rétine de Plateau, a non-profit that safeguards Brussels's cinema heritage, established the Cineact foundation. Shortly afterwards, Monsieur Scott moved to a retirement home and died before the orally agreed rental contract could actually be signed. His son reneged on the arrangement and decided to sell the ABC to the real estate company Stephano Immo. Cineact promptly filed a lawsuit, which they lost, so they decided to appeal. On 6 January, the case took a dramatic turn: without waiting for a judgement in the appeals procedure, they started clearing out the entire building, destroying the cinema archives and the two projectors. The members of Cineact were only able to save a handful of documents. On 25 February – the day this article will be published – the first plea will be heard in the appeals court.

A real little candy box
Is this the end for Cinema ABC? Will this exciting project ever get off the ground after such a spectacular start? What compels the members of Cineact and their supporters to keep fighting? What do they intend to do with the ABC heritage and who was the enigmatic Monsieur Scott? Straightening the collar of our trench coat, we decided to go and investigate.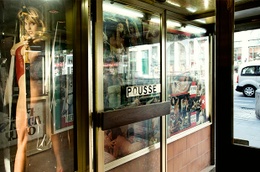 (© Heleen Rodiers)

First we visited Eric Vauthier, who with La Rétine de Plateau created a comprehensive overview of our capital's cinema heritage in a well-reputed inventory. He is also a founding member of Cineact. Vauthier: "When I first set foot in the ABC in 1991 – for our inventory – it didn't make much of an impression on me, especially compared to the Métropole with its art deco style, which massive protests had just recently failed to save, or the famous neon façade of the Mirano. But when I returned almost 25 years later, I was overwhelmed by an extraordinary experience of the space. [Impassioned] The central lines of the small cinema are so striking that it is almost like walking into a drawing! The room itself only measures 6 by 14 metres, with two balconies directly above one another, fifty people above, fifty below. A real little candy box. The screen covers almost the entire breadth of the back wall, so every viewer is right in front of the screen."

"I realised that this is the last cinema in Brussels of this type, a single space, and that so many other movie halls have been lost in the meantime," Vauthier goes on. "Consequently, the ABC now has the status of being the last witness. It might not have the same architectural value as the Métropole or Eldorado, but it is a fine example of what an ordinary, functional cinema was like in the 1970s. The materials used are sober, but this place has character; it's a cinema with soul. That's why it deserves to be saved. Even now that its furnishings and fittings have been destroyed. As long as they don't damage the structure of the building – that's the ruling we're hoping to get from the courts."

From porno chic to porno quick
We also had a meeting with Dirk Van Extergem, the coordinator of Offscreen, and Jimmy Pantera, an ABC visitor since 2007 and the curator of the "Orgasmorama" exhibition at Recyclart in 2013, where he exhibited posters from the ABC. Jimmy Pantera agrees that the ABC is a witness to bygone days: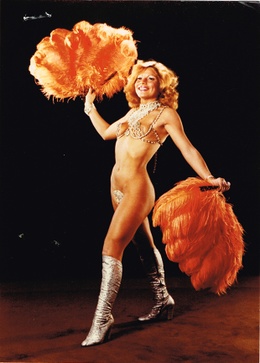 "It was like entering a very specific period in film history, namely the transition from porno chic, the quality porn of the 1970s, filmed on celluloid and with considerable budgets, famous actors, and directors with artistic ambition, to the porn of the 1980s, inferior cinema, filmed on video, quick, cheap, and dirty."

This evolution in porn production – to which Paul Thomas Anderson paid loving tribute in Boogie Nights – occurred in conjunction with a radical change in the porn cinema sector, namely that classical film projectors were replaced with video projectors. But not at ABC. Van Extergem: "ABC retained the superior quality 35-mm films and continued to screen vintage copies until it closed. They used to advertise that on the billboards at the entrance: 'No video tapes! See the real thing!' That certainly contributed to its success and status. And it was only possible because the owner Monsieur Scott was both the proprietor and distributor. He kept all his films at the ABC and had unlimited access to them." According to Jimmy Pantera, that had other benefits too: "There was an editing room next to the projection room and the projectionist told me that if a film was too soft, his boss would make him splice in hard-core scenes from other films. That used to be common practice."

What do we actually know about this Monsieur Scott? Van Extergem: "Very little. Only that he made a fortune in the porn industry and lived in a villa in Ukkel/Uccle. Apparently he was of American  heritage. But apart from that he is a total mystery. Nobody at Cineact ever saw him. All our contact went through his son. We were all looking forward to the day when we could sign the rental contract with him, but he never showed up and died shortly afterwards."

Jimmy Pantera: "I tried for years to meet Monsieur Scott, but I never succeeded. He was extremely reclusive and never gave interviews. According to the projectionist, he was always immaculately dressed and wore a thin little moustache. He was not a pimp. Monsieur Scott stood at the head of an impressive porn empire; he had branches in Liège, Ghent, Antwerp, and Ostend, beside his three cinemas in Brussels: Le Paris, the American, and the ABC, his empire's flagship."

The ABC not only thanked this status to its screening of high-quality celluloid, but also to the combination with live striptease. Jimmy Pantera: "The striptease acts between the films, from ten in the morning until ten in the evening, made the ABC unique. In fact, there were no film screenings as such. You could come in and out whenever you wanted with a ticket that was valid all day. Every hour, the film would be interrupted by a striptease, often in the middle of the film."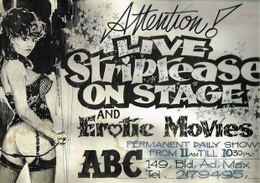 Van Extergem brings out a file that he managed to save from the ABC archives. It is a kind of logbook that dates from 1984 and contains meticulous notes on which striptease artists performed at which cinema, their pay, as well as comments about their acts: "'Bianca, Maria Crazy, Beverly Webb… big tits!' And here: 'Ugly transvestite!' [Hilarity] 'Jacky Haliday… doesn't like drugged-up wankers!'" Their gross salary was sometimes as high as 20,000 franks or 500 euro per week, which was a lot. We discover a photo of a lady with orange feathers. In unison: "Wow!" Jimmy Pantera: "Ohlala! That's your cover! As you can see, they were pretty girls; they had class. Visiting the ABC must have been great in that period. It's incomparable to the last few years when I went there. I used to know five girls who performed there. They were pretty too, but the burlesque feathers were long gone, and those girls only earned 180 euro under the table, and they had to spread their legs pretty wide. Monsieur Scott also gave them strict instructions. For example, they weren't allowed to shave their pubic hair because the actresses in the old films also had big bushes."

The Slutty Professor
"We managed to save several files from the archives," says Van Extergem. "It would be interesting if somebody were to research them because we now know almost nothing about the way cinemas like these were run. The ULB has actually expressed interest, and they are organising a conference with film historians, architects, and sociologists. This makes it all the more tragic that we were able to save so little. When I saw the container with the obliterated accounts from 40 years of the ABC cinema, my heart broke... [Recovers] But as long as the structure of the building isn't changed, it can become a cinema again and there is hope! And even if we do lose the cinema itself, we have to keep going with the ABC film collection. We owe that to all the donators."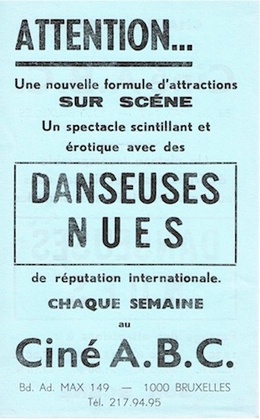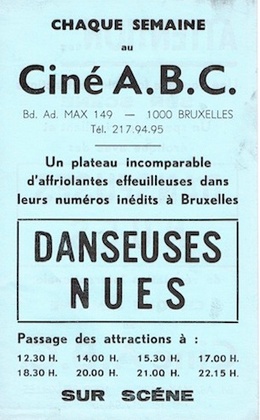 Two years ago, Jimmy Pantera, who is also the co-founder of Serious Publishing, which is specialised in pop and trash culture, told me about his dream of writing a book on Cinema ABC. What's left of that dream? Jimmy Pantera: "It is still possible. Nobody wanted to talk to me because Monsieur Scott was still alive, but it might still work. I'm particularly interested in the human side of the story. Why did those girls work there? What was their relationship with Monsieur Scott? Who were the customers? It is important not to be too romantic about all this. It was often very sad. The place stank of bleach and sperm. But that community fascinated me. Publishing a book like this is a big financial risk, though, because there is only a very small audience." Van Extergem jumps up: "But there is Cineact! We can help you! We have tons of photos, posters, and those files. There may be academic interest, but that doesn't exclude your approach. The important thing is to keep the memory of the ABC alive." Pantera: "That would be great. I can just picture it, with quotes from that file: 'Slut!' 'Dirty transvestite!'" [Laughs] 

Tribute to ABC Cinema: 20/3, 20.00, Cinema Nova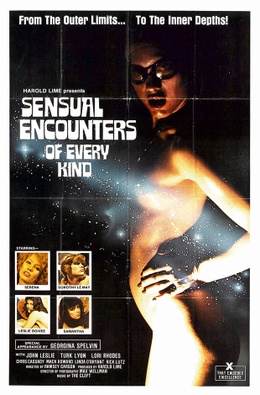 EVA, PAMELA, AND SEKA
For the very first time, the ABC tribute night will introduce audiences to the infamous vintage film collection discovered in Brussels's last porno cinema. The list of films, which was compiled by members of Cinema Nova and which we have seen, predictably lists several obscure works with typically ridiculous titles like 22 cm, Eva Anale, Flash Pants, and Sensual Encounters of Every Kind. But we also discovered Princess Seka and four other adventures with the blonde Seka, one of the greatest porn stars of the 1980s. Other titles that peaked our interest include a lesbian nunsploitation film by Joe D'Amato and several bigger porno chic titles from the 1970s, including The Private Afternoons of Pamela Mann. The latter was directed by Radley Metzger, who was also known as "the Lubitsch of porn" and was the guest of honour at last year's Offscreen Film Festival. "On exactly the same evening as we were going to screen The Private Afternoons, we found a vintage copy of it at the ABC! An incredible discovery," Laurent Tenzer of Cinema Nova tells us. He is currently preparing the tribute programme. Tenzer: "The selection of films is not definitive yet. A lot will depend on the state of the copies, but I can already confirm that we will be screening both a beautiful erotic film from the 1970s and some harder material from the 1980s. That will probably be Skintight, the very last film ever screened at the ABC. It was found broken off half way through, still on the projector. We have no idea what kind of film it is, but we thought it was a good way to say: this is not the end, we will go on! We're also splicing two reels of trailers that we found at the ABC, organising a tasteful, burlesque striptease, and trying to find former staff and clientele to give personal testimonies about the cinema. They will probably not want to do that in front of an audience, but we will hopefully be able to record them with a video camera. Jimmy Pantera will surely give us a helping hand."



OFFSCREEN FILM FESTIVAL • 4 > 22/3, Cinéma Nova, Cinematek, Bozar & Cinema Rits, www.offscreen.be