Some of you will recognise Emilien Vekemans from the web series Typique, others from French TV shows. The actor from Brussels has now made a name for himself on the other side of the Channel. In The Bastard Son & The Devil Himself, recently released on Netflix, he plays one of the central characters, Gabriel, the assistant to a witch called Mercury (Róisín Murphy). We paid him a visit at his place in Sint-Gillis/Saint-Gilles.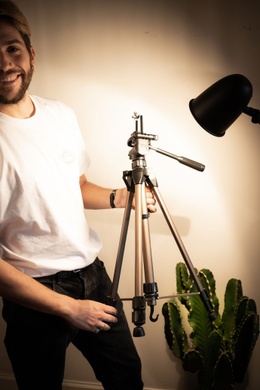 "This camera stand is my tool of the trade. Being an actor is quite solitary, I spend hours and hours working away at my auditions with this thing. When I started out as an actor, I imagined theatre and film to be all about teamwork, but you actually spend a lot of time honing your skills alone.

Since Covid, all casting is done via tapes. I even bring this camera stand on holiday because you never know. For the auditions for The Bastard Son & The Devil Himself, everything was done by tape. I met the team in London for the first time just two weeks before filming began. I have never been so stressed in my life."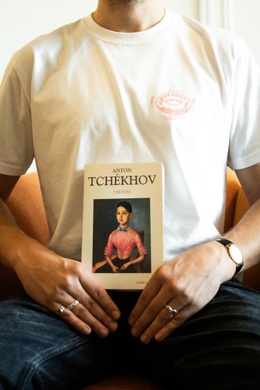 "Chekhov is my favourite playwright. When I finished secondary school, I was unsure about whether to study theatre. I struggled with realising that I wanted to become an actor. I went to see The Seagull at the Festival d'Avignon and I remember I could not stop crying, I was so moved. And that's what made up my mind. I thought, it's wonderful and it's what I find beautiful in this life and it's my passion."

"Chekhov is an author who is at the heart of the actor studio method, which I work with a lot. I have never performed in a Chekhov play but my dream is to be in The Seagull. I would play the young poet. Why not choose the main part, if I get to choose? (Laughs)

I think that what moves me about Chekhov's work is its potent melancholy and nostalgia, and an intimacy with the characters and their inner suffering that shines through so clearly in everyday things. And as an actor, if you can reach a real understanding of a character's pain and of their flaws, that's when they become complex and interesting, and you see them as a real human."

"I think that that nostalgic and melancholic aspect must come from a particular preoccupation with childhood. I had a very happy childhood. Those were my best years when I think back on them. They were nothing but laughter and sunshine. A blissful ignorance, which changed during adolescence because that's when things changed in my family. I know that my little brother, for example, who was born eight years after me, did not have the same childhood at all.

I think that people who had a happy childhood might be more prone to nostalgia. Chekhov's work is full of bourgeois people for whom everything is falling apart and of yearning for a past when everything was beautiful (The Cherry Orchard, etc.). I think it's that melancholy that comes across and that moves me."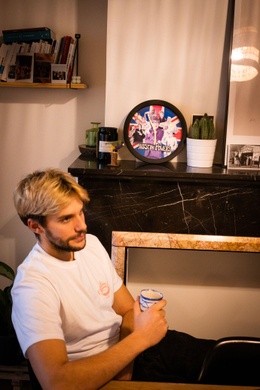 "This is my Austin Powers clock. Austin Powers was kind of one of my (anti-)heroes when I was little. I liked the totally mad American humour that can go anywhere. I bought the clock from an antique dealer in Brooklyn. It's broken, it has never worked, and it suits it well that it is so faded.

I was thinking about Austin Powers again and it struck me that, with his funny side, he was already playing with the codes of masculinity. He is someone absolutely disgusting, and he also has a very effeminate side in his way of moving, but all the women are in love with him.

You get the sense that he was already questioning those masculine images that we are suffocated by. All the James Bonds and the like. Now, from a modern perspective, if you watch a James Bond film with Pierce Brosnan, you almost want to vomit. When you think that we showed this stuff to children! Mike Myers had the ability to laugh at that and challenge those models."

"At the time, when I was working on the character of Gabriel in The Bastard Son & The Devil Himself, I didn't think about these questions around masculinity. My character is modelled on the profile we developed with the costume designer Hannah Edwards, who is known, among other things, for her music videos with M.I.A.. She is absolutely incredible.

When we were searching for Gabriel's look, we ended up with a lot of jewellery and skin-tight clothing. She found, for example, a women's leopard-print vest. She put me in clothes that made me feel much freer to be a bit feminine. Knowing that the character also had a very bad-ass side."

"Looking back, I realise that we were trying to give people something different. And what's cool is seeing that there are a lot of people who identify with it. I received a lot of messages on Instagram from people who were excited about that new side to the character.

When you look at masculine figures like Timothée Chalamet, there is a real reshaping of the old masculine paradigm. Everyone is sick of it: we can't take it anymore. All the same, in every part I have had where I had to play a good-looking guy, I have always missed the mark." (Laughs)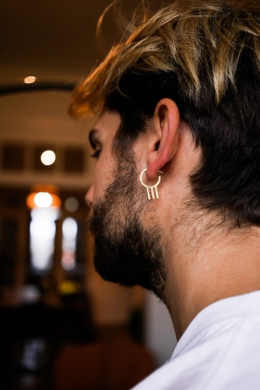 "I inherited this earring from the show. It's a witch symbol that my character, Gabriel, wears in his left ear. It brings back lots of memories for me. It was the first time that I had played such a big part, and I had a lot to prove.

The show-runner Joe Barton was inspired by Sally Green's Half Bad trilogy but went in a different direction. The format of the series is somewhat familiar: a young witch who discovers his power, with nods of the head to Harry Potter, but rawer, with more gore and more trash. People expect a series for teenagers, and they are pleasantly surprised to find it so relatable."

"I was also proud to bring that love triangle to the screen. It raises themes without addressing them explicitly. In recent Netflix shows and films, there are a lot of representations of gay love within a school. Those films have been a great success, but The Bastard Son & The Devil Himself is more about a character who is discovering himself in general, the discovery of his sexuality is not the central theme."

"To come back to the earring, I already had a hole in my ear before I had to wear it for the series. I have never worn it in Brussels (laughs), it lives in my little jewellery box with my little rings. (He shows us one of his rings) This is a Le 77 ring, the rap band from Brussels. A friend of mine who is in the band gave it to me for my birthday.

As for my hair, when it started growing back after the series and losing its colour, I didn't like it, I wanted it to be blond again! Netflix had a small promotion budget for our look, and I made use of it! My agent was against it, but hey, you only live once. (Laughs)

You could say Gabriel's look in the series inspired me and made me want to wear more jewellery, etc. A change of look is always difficult to carry off within your social circle because people don't like change. But as an actor, you always have an excuse."
Emilien Vekemans is currently to be seen in the Netflix series The Bastard Son & The Devil Himself.