In The Last Duel, Adam Driver and Matt Damon play misogynistic knights who battle each other in a sensational duel. Better a rattling knight epic from Ridley Scott than none at all.
La France is anything but douce in The Last Duel, a grim, chilly knight epic from Ridley Scott. The director of such classics as Alien, Blade Runner and Thelma & Louise is a crack at portraying men who take each other's lives with a sword. Think of his debut film The Duellists, Kingdom of Heaven and of course the five Oscars awarded Gladiator.
The Last Duel is no cabinet painting but it keeps the suspense two and a half hours and culminates in a mind-boggling fight that smoothly outshines most of the action scenes of 2021. Horses rear up, lances splinter, swords smash into chain mail, battle axes cleave the air under the watchful eye of Charles VI, a French king nicknamed "the Deranged".
Screenwriters Matt Damon and Ben Affleck – they won the Oscar a quarter of a century ago with the screenplay for their breakthrough film Good Will Hunting – base their work on historical events. In 1386, France last officially resorted to a duel to decide a court case. If knight Jean de Carrouges won, that would be proof that his rival Jacques Le Gris had raped his wife Marguerite de Thibouville. If God let De Carrouges lose, it would immediately be proven that his wife had lied and that she would be tortured and burned.

Sable-rattling
The history of the duel, the quarrel between the knights and the rape are told three times: from the perspective of the three people involved. In Akira Kurosawa's Rashomon (1950) that construction creates ambiguity, here redundancy, on top of the battles that satisfy the hunger for sable-rattling but hardly advance the story.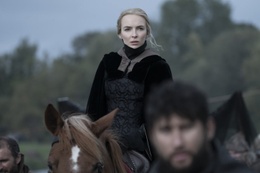 Last comes the perspective of Marguerite (Jodie Comer from Killing Eve) and she turns the knight movie into a medieval #MeToo drama. Ridley's knights are not chivalric. Adam Driver, the actor who smoothly alternates between arthouse-toppers and Star Wars, portrays Le Gris as an opportunist impressed by his own intelligence and charm. Matt Damon tries endearingly hard to look as surly as possible as the ambitious, hot-tempered brute De Carrouges.
The film's grimness and seriousness can be praised. It doesn't always have to be fun. But every once in a while, the seriousness receives a serious dent. Damon's beard and neckerchief are a hoot, as is Ben Affleck's blonde haircut. His count Pierre d'Alençon is a horny buck who welcomes you at his orgies with "Come in, take off your pants." It throws the film off balance but not out of the saddle.
THE LAST DUEL
US, UK, dir.: Ridley Scott, act.: Adam Driver, Matt Damon, Jodie Comer, Ben Affleck