"Only a few months and we're out of here," BRYN sings on his debut EP Middle 8, his bridge to a better life. He narrowly escaped deportation to Rwanda, but five years, coming out, and a job as a waffle seller later, he has emerged as a rising popstar.
You can't accuse BRYN of not being brave. During a Lous and the Yakuza signing session at Fnac, he made a beeline for Brussels's rising star and asked whether she already had a warm-up act for the tour that would also bring her to the Botanique in January. "'I don't know yet', she replied, 'do you want to do it?' And I said 'yes'," grins Bryan Mugande, which is BRYN's (pronounced "brain") real name. "She then confirmed in a tweet that I would open for her. I assume that is binding." (Laughs)
The 21-year-old Brussels-based musician cultivated this bold nothing-is-impossible mentality in the "waiting game", as he himself describes his previous life. When he started his second life in Brussels at eighteen years old, he had already gone through an incredible journey. Until he was six, he lived in Kigali, Rwanda. After various peregrinations, he applied for asylum in Belgium in 2013, and ended up in the asylum centre in Bovigny, a tiny village in the Walloon municipality of Gouvy.
"Our family history is rather complicated," Mugande says. "My brother and my father arrived there before me. My mother came later." He doesn't remember very much about Rwanda, he says. "I have a bad memory. I only remember watching Batman and Winx Club on TV," he chuckles. His flight from the country of his birth is also rather vague. "Well. I was especially happy to be reunited with my family in Belgium. No child should be separated from their parents, it causes a lot of trauma. But I don't want to talk about that period too much."
In 2015, everything almost went horribly wrong. Then Secretary of State for Asylum and Migration Theo Francken informed the family that they would be deported. The pupils and teachers at the secondary school that Bryan and his brother José Prince attended came to their defence. A petition with 2,500 signatures landed on Francken's desk and funds were raised to hire a lawyer who lodged an appeal. "The protest did not change his mind," Mugande says, "but the media attention that the initiative attracted certainly helped. Our papers eventually came through."
"I study here, my friends live here," you said in a report on TV Lux, "my future is here."
Bryan Mugande: I was sixteen, the age at which your horizons expand, and the world opens up to you. I simply couldn't understand that I would have to give all that up. I felt really powerless. At school, nobody initially knew that we lived in an asylum centre. Our French was good, and we just seemed like a family who had moved into the area. My brother and I led normal teenage lives. Our friends would pick us up to go to the cinema or a party, and we would sometimes sleep over after going out. Other young people at the centre did not have such good fortune.
I am happy that that place was there and that I could live and study there. It made me who I am today. It taught me the value of things, of money, of relationships, and how unstable everything is. But I also grew up faster than was good for me. We saw people come and go. At night we would hear people crying because they were going to be deported. That makes you anxious and fearful.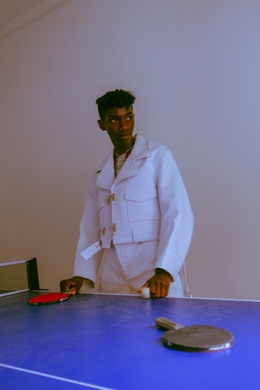 "Only a few months and we're out of here," you sing in "Teenage Dreams". Was music a means of escape?
Mugande: When we did finally get our papers, I realized: I have no excuse anymore, I have to do my utmost to chase my dreams. I lived in limbo for so long, without knowing where I was at. I didn't dare to entertain long-term thinking because I didn't know if I would be able to stay in Belgium. But then I knew: I have to do everything I can to become a musician.
Music wasn't necessarily an escape, it was more a way to say things that I didn't dare to say out loud. "Teenage Dreams" is a song about adolescence. About how after secondary school, you look forward to a new phase in your life. It is also, and especially, an expression of gratitude to everyone who supported us. I hope that they listen to it and realize that it is about them.
There is a 2015 video of you on YouTube, in which you are in your bedroom singing your song "A Chance". Is that the start of your music career?
Mugande: That was an extremely naïve song. (Laughs) It is the first song that I put on YouTube, but I had started writing songs a few years earlier. There wasn't very much to do at the centre. My father saw me singing along to High School Musical, and at a certain point he used what little money he had to buy me a guitar.
There was a place at the centre where you could rent DVDs and things. You could also print there, and I printed music sheets of songs that I found on the internet. The guy who worked there had quite a musical ear. He encouraged me to continue. Because I was such a good student, and mature for my age, he started calling me The Brain. That's how I got my stage name. I found Bryan far too ordinary. I initially thought about choosing "The BRYN" as a moniker, but I think people would have found that too cocky. (Laughs)
When did you realize that music might be the real deal?
Mugande: For the school festival at the end of the year, they asked whether I also wrote songs. Yes, I said, in my room, but nothing special. I let them listen to "Take Me There" and they thought it was so good that they suggested I form a band. That was my first taste of performing a song live in front of an audience. I found it super exciting.
"Take Me There" is about the first time I fell in love with a boy, and the sadness I felt when it ended. I realized that there are far too few songs by boys about boys. They're all about girls, and I didn't identify with them, just like so many others. That's when I knew that I had something to bring. "Take Me There" is not on my EP, but its big brother "LTIWYL" is. That is the mature version. It is about the first time I had sex with a boy.
Have you always been so open about being gay?
Mugande: We're all conditioned by society, religion, education to think we're supposed to fall in love with the opposite gender. I was always attracted to boys, but I just thought they were strong friendships. On the other hand, when I had strong friendships with girls, I would confuse that with romantic feelings. I came to terms with my sexuality when I moved to Brussels, where no-one knew me. I was able to get a fresh start and explore my sexuality, which was a necessary step to my growth. When I lived in the countryside, I didn't feel like I was safe enough to be 100 percent myself. I already had a hard time being black and an asylum seeker, I didn't want to add even more to my plate.
But it's still not easy. A while back, a group of friends and I went to the Pride in Paris. I thought I would find a very diverse community, but it was like being in the countryside again: everyone was white and dressed the same way. That was very sobering. I wanted to leave, but my friends convinced me to stay. Being a person of colour in the queer community is hard, just like in society.
"All the other boys don't look like me at all," you sing in "Other Boys". Last week Harry Styles posed in a dress on the cover of Vogue Magazine. Is that just a cry for attention or a valuable statement?
Mugande: Seeing a cis man on the cover of such a big magazine wearing a dress will normalize the fact that clothing should be genderless. But I think it's also very sad that they give such opportunities to mainly white straight men and praise them for doing that when people from the LGBTQ+ community have been fighting for that for a long time.
In an interview with Vice, the Brussels rapper Damso said he only realized that he was black when he arrived in Belgium at the age of nine. Do you recognize that?
Mugande: I already knew I was black in Rwanda because every time I'd put the TV on to watch the kids channel, I would rarely see anyone that looked like me. But when I came here I realized what it is to be black in a white country and I think that is what Damso was talking about. Race is a social construct; it's about how people treat you because of your skin.
"Used to hate being this dark skin but look at me damn. Proud of myself," you wrote on Facebook at the end of September. That is beautiful.
Mugande: Black comes in different shapes. My mother has a lighter skin tone than me, and so does my brother. If everyone around you is white as you grow up, you start doubting yourself. It is as though you don't exist. You aren't normal. A lot of people made comments about my skin and how dark it is. I never felt handsome or desirable, in a sense. In Europe, the standard of beauty is thin and white. I am thin, but not white. (Laughs)
It was only after I moved to Brussels and became friends with people of colour that that changed. People would even stop me on the street to tell me how handsome I was. I had never experienced that before. It gave me more self-confidence. I started posting more photos of myself. People would give me compliments. I thought, okay, I'm worth it, I am handsome, I deserve to be loved! Not that there isn't any racism in Brussels, of course. Just like in Bovigny, people regularly hurl abuse at me here. Even before corona, people would sometimes move seats when I sat down next to them on the bus. But I moved to Brussels to find a community in which I felt at home, and I found it. My friends here have become a kind of second family for me. Friends are so important. They see you in a different way than you see yourself. They open your eyes to things that you didn't think were possible.
Is that what "City Kid" is about?
Mugande: That song is about my first friend in Brussels. I sing "Let's meet downtown, grab a drink and have fun." We often went out and drank a lot, to forget. The main reason I came to Brussels was to make music. As a black gay pop dude, there is not much to do in the countryside. I had great expectations of the big city, but at first it was very difficult. I was eighteen. I didn't know anybody. I had no job. I felt very lonely. I struggled with my mental health. When you are all alone, and you have a lot of time to think, your mind starts playing tricks on you.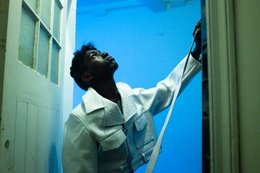 Did you never think, why am I doing this?
Mugande: Of course, very often. But I wanted to pursue my idea of recording an EP, whatever the cost. I started selling waffles and churros at Los Churros & Waffle. I worked long hours to earn as much money as possible as quickly as possible. Whenever I was down and exhausted after working a ten-hour day, I reminded myself that I was doing it for a reason. My parents wanted me to continue studying. They wanted me to have a stable future.
Given the situation we're living through, perhaps you can't blame them.
Mugande: No, but I am happy that I dared to move here on my own and chase my dream. I am studying now, and they are less concerned. (Laughs) I am in the third year of a Bachelor's in Communications at the IHECS. I am fascinated by marketing and social media, and I am learning a lot for myself as an independent artist. We happen to live in a society in which working and studying are very important. I don't want to discover at 25 that my music career has hit a dead end and I don't have a degree.
You outline those choices in "A Degree", don't you?
Mugande: I wrote that song for my parents when I moved to Brussels and stopped studying so that I could finance my EP. I wanted to reassure them that, whatever I did, I would do it well. Pep talk for myself is important to me. "I'm right where I'm meant to be," I sing in "City Kid", "I'll make it work." Saying that something will happen doesn't necessarily make it happen. But it is a better mindset than thinking that everything will fail.
That mindset did ultimately yield results: you recorded your EP in Glasgow with the producer Lewis Gardiner, who has collaborated with Ellie Goulding and Megan Thee Stallion. How did you manage that, as an unknown kid from Belgium?
Mugande: I was bold. (Laughs) I initially wanted to record music in Brussels. I love pop music, Lorde, Troye Sivan, Charli XCX. But the producers that I met wanted to steer me in a different direction. I couldn't find anyone in Belgium who wanted to make the music that I wanted to make.
I found Lewis thanks to a performance by Charlie Puth. I thought his opening act, Kloe, was great. I discovered that she was from Glasgow and that Lewis had produced her EP. I thought that if he produced an EP for a pop singer who was just starting out, maybe I could work with him too. I sent him a message via Instagram, and to my surprise, he responded. He asked me to send him some demos, but I didn't know what a demo was, so I just sent him some recordings that I had made with my phone. They sounded so bad! But apparently, he saw some potential. (Laughs) I told him my story and he was very understanding. We recorded five songs in five days.
Your EP is self-released and you are doing everything yourself. Was that a conscious choice?
Mugande: No. I have had several conversations with labels, but as a black, queer pop artist, I am difficult to market. They want to push me in a more urban direction. But what does urban mean? Hip hop? Trap? Does a black musician necessarily have to make that kind of music? In that respect, the American or British market is definitely more advanced than European labels. Doing everything yourself is great because you know what is going on. But it would be handy to have a team around me. Especially because I am still studying.
Your EP is entitled Middle 8. That is a musical term for a bridge in a song, a piece of music that is different from the rest. It is a nice metaphor.
Mugande: Thanks. It actually refers to the end of my teenaged years. That is why I wanted to release the EP now. I am 21 now, so my teenaged years will soon be a distant memory. (Laughs)
You recorded it two years ago. Why is it only being released now?
Mugande: I wanted to develop some name recognition first. I had invested so much money in the recordings, and without any follow-up it would have been wasted. Now is the right time, I think. I cannot promote my music live, but people have a lot of time to listen at home. Hopefully there will be a few concert promoters among them. I'll just say it: guys, I'm aiming for the summer festivals! (Laughs)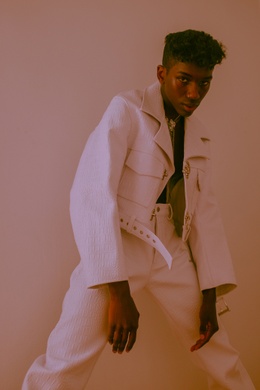 "Now comes the glory after the gore," you sing in "A Degree". It reminded me of Gore, the debut album by Lous and the Yakuza. It is perhaps no surprise that you approached her because your life stories are in many ways very similar.
Mugande: Of course, she is a major role model for me, as a successful black artist. But that line actually refers to the song "Glory and Gore" by Lorde. Along with Taylor Swift, she has meant an enormous amount to me. Just like my EP, her first album Pure Heroine is a coming-of-age record. She sings about the mundane things that kids do. Lorde is from the suburbs, she had money and a lot of friends. Her life is very different from mine, but I still identified with her music. She made me feel normal, and that after all the gore I had experienced, it was time for the glory. (Laughs)
Selling waffles wasn't a waste of time.
Mugande: Every time I walk past Los Churros, I am reminded of that struggle. But it seems like a lifetime ago. So much has changed in the meantime. The people who work there are really happy about what I have achieved. They shout that they are proud of me. So cute.
MIDDLE 8 by BRYN is being released on 4 December