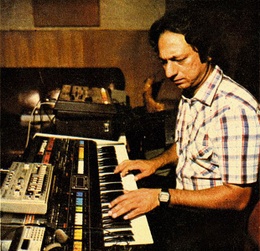 Forget the American founders of acid house: Charanjit Singh beat them to it in 1982. From his home base in Mumbai he invented a genre that would later become popular worldwide, but his Synthesizing: Ten Ragas to a Disco Beat passed unnoticed until Bombay Connection re-released Singh's pioneering work in 2010.

Charanjit Singh was way ahead of his time. His fusion of electronic disco with classical Indian ragas – the framework within which musicians improvise in Indian classical music – has been compared to the work of electro gurus such as Ceephax, Phuture 303, and Aphex Twin. But that was on the other side of the world and five years before Acid Tracks, Phuture's Chicago acid house album that is regarded as marking the beginning of deep house. Singh recorded Synthesizing: Ten Ragas to a Disco Beat in 1982 using a Roland TB-303 bass synthesiser, a Roland TR-808 drum machine, and a Jupiter-8 keyboard. So was the invention of acid house, ahead of its time, some kind of mistake? "Far from it, it was absolutely no accident," says a laughing Charanjit Singh on the line from Mumbai. "I really worked hard on that album. I wanted to come up with something that didn't exist before in India. That's why, instead of the tabla [Indian percussion - BT], I used a disco beat. In those days there was a lot of disco music in films. Then I started playing ragas on top of a disco beat, and it worked! It sounded really good and innovative."

And yet the album was a commercial flop in India...
Charanjit Singh: That's true. People didn't care for it: it was too different from the music they were used to. It is only since a Dutchman stumbled across the album in 2002 and, above all, since Bombay Connection re-released it in 2010 that people have been interested. It suddenly became really popular in Europe.
Isn't that strange, music suddenly becoming popular thirty years after it was made?
Singh: I'm pretty happy with it. It's weird to see all the things people in Europe like! Maybe this music, thanks to the modern interpretation, is closer to their world. I never expected so much popularity, certainly not after the flop in 1982. Back then, I gave up that kind of music to carry on making film music for the big Bollywood bands. I had a wedding band and I brought out albums with instrumental versions of pop songs.
But you also released an electro-calypso album, Experiments in Calypso, right?
Singh: Yes, I experimented a bit with calypso, using the same drum machine and synthesisers. That was calypso within a particular raga structure. And I also recorded "Malaika", a really beautiful Swahili song from Nairobi! [Starts singing the traditional African song in the changing scales of Indian music] I sing other stuff too, always within a particular raga.
What should we expect from you in Brussels?
Singh: Every show is different, as my music is based on ragas and within every raga there is improvisation. If the audience reacts positively, that gives me that extra drive to give the best of myself. I always make a deal with the audience: never stop dancing! [Laughs]
Bozar Night: Funky Bompa, Andy Votel, Charanjit Singh, Owiny Sigoma band, Kutmah • 10/11, 20.00, €11/13, Bozar, rue Ravensteinstraat 23, Brussel/Bruxelles, 02-507.82.00,
www.bozar.be