She did not choose the instrument that everyone already played, she chose the trombone. "I prefer the side-path to the main road," says Nabou Claerhout, and you can hear that on You Know, the debut album of her quartet N∆BOU.
Born in 1993 in Antwerp
Studied arts in Brussels, spent five years at Codarts in Rotterdam and one year at the Royal Academy of Music in London
In 2019, she released the EP Hubert with her quartet NABOU – trombone, electric guitar, double bass and drums – formed in 2016 and this has now been followed by debut album You Know
Crowned Young Jazz Talent at Gent Jazz last summer. With the prize money she put together a young European trombone ensemble
Teaches at the music academies of Wilrijk and Kortrijk and does research at the UAntwerpen
On You Know, Nabou Claerhout and her band seem to have found a rewarding loophole in the unusual combination of trombone, electric guitar, double bass and drums that lets them work creatively with the twelve notes in Western music. Freshness prevails over pigeonholing. That's also why the original band name Nabou Claerhout Quartet was quickly changed to N∆BOU, which keeps all roads open.
There is a book, written a long time ago, about which characters go with which musical instruments, the trombonist tells us in the penthouse apartment in the centre of Brussels she shares with her partner, guitarist Machiel Heremans. "For example, brass players always seem to be late and flutists are very precise."
It sounded like a horoscope, but she thought it made sense in her case. Especially considering her wilful choice of the maverick of the instrument class, as if brass requires an extra dose of character and adds a bit of colour. "When I look at my trombone and brass class, I notice that they are all characters who go for it. My students seem to me to have chosen their instrument very consciously. My partner also teaches, but hears different stories: 'I didn't know what to choose' or 'My mum told me to'. With me, everyone has a real desire to play this specific instrument."
It also has to do with curiosity. "I have a soft spot for places hardly anyone goes, I want to know what there is to do there." She calls herself curious and open-minded but sometimes, she can be fussy and has had to learn to let go. She already stands out because of her choice of instruments, she also does that as a woman of colour in Belgian jazz. "Mentally I do have a hard time with it sometimes. I've already asked myself the question: am I here because you guys like my music, or because you can tick all the boxes with me?"
Because of the many positive reactions and several awards – last summer Young Jazz Talent at Gent Jazz – she doesn't really lose any sleep over it, but it all remains very ambigious. "The simple fact that I have a brown skin tone, while my family has lived in Flanders for three generations, has a huge impact. Especially in the press, colour is overemphasized. In the past it was paradoxically just the opposite: I had to speak Flemish as well as I could to show that I was doing my best." As difficult as the puzzle remains, the fact that our stages were not as colourful and feminine at the same time was perhaps an additional motivator? "Indeed. Again, the fact that there weren't that many of us made me like it."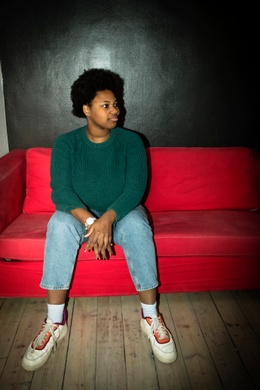 The reason why Nabou Claerhout started playing music is more straightforward. "Because it affects me emotionally. This is also what I hold on to when composing. I remember a workshop where someone told me that if your music does something to you there is someone else in the world who will be touched by it. It has given me peace of mind. So, it is first and foremost about being touched by something. Then I figure out how to write it down and translate it to my fellow musicians. You need that self-confidence, because it's quite something: being on stage with your own music."
The music of others is a great aid when composing. That could be a solo that a band member improvises or something from her music theory lessons or the research she does by dissecting other compositions, where a book about a rhythmic concept by drummer Mark Guiliana was an eye opener. "It sounds very unromantic, but composing is not about looking out your window and writing a piece about the bird you see flying past. Sorry!" During the artistic process she can just as well be seduced by a fragment of a pop or jazz song as by a classical composition, as becomes evident in "Who Owns What", the closing song of her new record for which she transcribed a chord scheme from a choir piece by Bach.
She thought the title, plucked from a laundry list of artworks in Tate Modern, sounded philosophical. "Who is entitled to what? I like things that make you think. Though I hope my music can be for everyone, not just a select few. New compositions such as 'K.I.P.' and 'You Know' are very complex, but you don't have to hear that complexity. I want my mum, with no theoretical background, to enjoy it too."
NΔBOU: YOU KNOW
Release: 22/10 on Outhere Records
Concerts: 30/11, Ancienne Belgique,
www.abconcerts.be & Nabou Claerhout &
Lynn Cassiers, 7/11, Bozar, www.bozar.be