Get your Barbie dolls, pussyhats and inflatable flamingos ready for the Machine Gun Kelly concert at Palais 12. For years, the hyper-popular American rapper slash punk rocker has been living life in the pink lane. And now the rest of the world is coming onboard too.
Those somewhere between old and young who still have wet dreams about Molly Ringwald in the eighties film classic Pretty in Pink will probably shrug their shoulders and take it for granted when we say that pink is the new black. Generation Z has been fooling around with it for a while, but this year pink has taken over completely as the it-colour. Not the primrose pink used by Hillary Clinton in her ostentatious TV debut as First Lady in 1994, but the flaming hot pink. This year's Grammys and the Oscars were coloured pink, and the MET Gala was attended by stars in striking pink outfits. During the Paris Fashion Week at the end of June, not only were the models dressed in pink, but the entire catwalk was coloured bright pink.
The trend will not die down immediately, thanks to...Barbie. Mattel's pink-addicted doll is enjoying the weirdest rehabilitation in decades, thanks in part to the new "biopic" by Greta Gerwig (check out Ladybird and Little Women), with Ryan Gosling and Margot Robbie playing Ken and Barbie. The film itself is not due until next summer, but "Barbiecore" is already taking over everything from your wardrobe to your kitchen fittings, your make-up, your bathing suit to your toilet paper. Okay, that last one is a wild guess, but it wouldn't be a surprise.
Where does this remarkable rise in pink come from? "Pink stands for optimism, innocence, joy – all the things you lack during crises," say colour experts and fashion designers. The colour pink is said to have a calming effect on people who are locked up like prisoners and psychiatric patients. As we all spent the past two years in relative confinement, the rise of pink hues does make sense. Pink tempers frustrations and makes the harsh outside world softer. It is the colour of the optimist. Living la vie en rose, quoi.
Elvis' Cadillac
Fashion designers such as Marc Jacobs and Dries Van Noten have been quick to pick up on the trend. But no one is more aware of the power of pink than Machine Gun Kelly, or MGK for short, or Kels for friends. For the past decade the 32-year-old American – Cleveland's civil registry has him down as Colson Baker – has been aiming at the (American) charts like a sniper. First as a rapper and then the lockdowns made him return to his first love, the guitar, and made him become a rock star.
With the most drawling voice since Nicolas Cage in Con Air, MGK explains all of this in Machine Gun Kelly's Life in Pink, the aptly titled "music documentary" on Disney+ that he made about himself. Just as Lady Gaga, Taylor Swift and Billie Eilish, he neatly "colours" his life story to suit himself. In the in-depth look at how he makes his name in the music world, he outs himself as a heavy cannabis user, but also tells how he renounced coke and heroin. He confesses that he is now addicted to work and does not understand why he is not taken seriously by the media as he tries to get yet another number one album. He also talks of how he, following the death of his father, while talking on the phone to his girlfriend Megan Fox, pushed the barrel of a shotgun into his mouth as an attempt at suicide. And how hard he himself tries to be a good father to his 15-year-old daughter.
What he doesn't tell us, however, is that he, like fellow rappers such as Post Malone, made the move from rap to rock because, as a white rapper, his rhymes did not get him much applause. Ironically, it's precisely that move that has given Kels a new drive. He found a connection with the emo and pop-punk scene that in recent years has had a comeback. Again, thanks to the many lockdowns which made teenagers and twentysomethings dig deep into themselves. Popular stars like Olivia Rodrigo wearing their hearts on their teenage tongues gave the genre a new impetus. Machine Gun Kelly himself found a kindred spirit in Yungblud, the British hyperkinetic who likes to poke about in the wounds of teenage angst and mental well-being. Two years ago, the American and the Briton teamed up for the single "I Think I'm OKAY". And the two shared another love: the colour pink.
Pink pistols
"A symbol of strength, perseverance, and hope in partnership," is what MGK called the colour when he and Megan Fox attended the premiere of Machine Gun Kelly's Life in Pink with pink hair and a pink outfit. But that is about all the documentary tells us about his fascination with the colour pink. Pink is a colour that, like MGK, polarises – the rapper slash rocker has at least as many haters as fans – and he knows it. Nor is there any other colour that is as loaded. In Europe, the colour was long associated with aristocracy as well as prostitution. Up until WWII, both men and women wore pink, since then designers like Christian Dior have turned it into the colour of hyper-feminine women who resumed their role as housewives. But the duality remained. On Jackie Kennedy pink radiated honour, on Marilyn Monroe sex.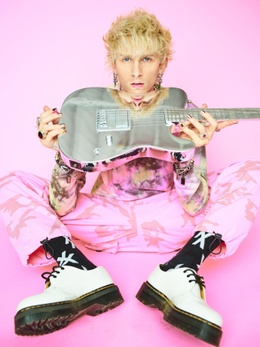 Then came along Elvis, with his pink Cadillac and his pink suits which, just as with his music, had been inspired by the African community. Punks then mischievously hijacked the colour in the seventies because to flirt with pink as a man it was subversive and contradictory. The rugged rebel in pink outfit appeals to the imagination. John Lydon's hair may have been green when he joined the Sex Pistols in 1975 as Johnny Rotten, but the godfathers of British punk also had a thing for pink. On the cover of their illustrious debut album Never Mind the Bollocks, Here's the Sex Pistols, their group name was chequered against a bright pink background. The punk rebel himself often wore a pink blazer. Paul Simonon, bassist of The Clash, once aptly suggested that "Pink is the only true rock 'n' roll colour."
Given that he is no stranger to smashing a guitar or disfiguring his face with a champagne glass, Machine Gun Kelly has done his best to prove that pink and rock 'n' roll are a perfect match. With his outfits, his hair colour, his own line of nail polish, his instruments, the stage decor. At the Milan Fashion Week earlier this year, the tattooed beanstalk christened the catwalk in pink on behalf of Dolce & Gabbana. When he received his award for Best Alternative Music Video at the MTV VMA two years ago, he did it all in pink. He responded to the inevitable bile spewed with a video on TikTok. "You're still scared of pink in 2020? Are you fucking kidding me? You're mad? Just say it. You're mad!"
Pussyhats
Over the past decade, pink only has gained in momentum. Millennials have been shouting that pink is neither weak nor soft and that wearing pink as a woman can in fact be powerful. That is what films like Legally Blonde also showed us: pink and feminism really do go together. It was not by chance that Solange, in terms of musical eloquence as powerful as her sister Beyoncé, wore a foam powder-pink jacket in the music video for "Cranes in the Sky", a song about love and the power of womanhood. With her infamous pink vagina trousers where the pink flaps of her outfit referred to female genitalia, Janelle Monáe took it one step further in her clip for "Pynk". Or what about Harry Styles, who covered himself in a pink tutu during a Saturday Night Live episode in 2019 and thus gave gender norms a big middle finger. Not to mention the Women's March in 2017, when thousands of women around the world took to the streets the day after the inauguration of Donald Trump to protest his "Grab'm by the pussy"-take on women, all wearing pink pussyhats.
"Pink is pretty, it's powerful, it's punk," the American fashion historian, curator, and director of the Museum at the Fashion Institute of Technology in New York Valerie Steele aptly summed it up at her exhibition about the colour in 2018. Is Machine Gun Kelly really that kind of punk, or is he just a "fucking poser", as his haters often tell him? His use of pink seems to be an attention-grabbing exercise, but at the same time it makes his bite-sized messages and ditto music hyper-recognisable to billions of kindred souls with minor or major dents. They will all go wild when he smashes his pink guitar in Palais 12.