From early childhood, Nadine Baboy always wanted to be a dancer and a singer. All grown up, the Afro-European artist has become a writer, a director and a storyteller as well, using elements of hip hop, krump, waacking, dancehall, African dance and contemporary dance in her radically mixed dance theatre.
"From the time I was little, I knew I wanted to be a dancer," multi-talented Nadine Baboy says with certainty. "And secretly also a singer," she adds. "So it was a childhood dream, and in order to find out what your mission and your destiny in this life are, I think it is important to seek connection with your childhood heart also when you are an adult."

Baboy also knows that there are many difficulties between dream and deed for the aspiring artist to overcome. "We live in a society that makes it seem as if being an artist is not a real profession. That it is just a hobby you do on the side. Being an artist is not valued unless you make a lot of money from it, and constantly being confronted with that view from society is hard. If you tell someone you are an artist, you have to justify yourself all the time." That is especially true if you are a dancer. "Dance is certainly not seen as an art discipline in its own right by everyone, but often more as an add-on to music or theatre. I have experienced this myself many times. Whereas for me, dance is a discipline that can bring many people together, express things that you cannot put into words, in a universal language that touches people in an emotional way. Thanks to dance, you don't need to know someone's language to read their history, personality or story from their body."

PIECES OF THE PUZZLE
So which people and moments were important on the route that brought Baboy to where she is today? "I have had many wonderful encounters. Although my training was autodidactic in the sense that I did not attend any kind of academy or school. When I was little, I taught myself to dance in the living room in front of the television. I sometimes say that Michael Jackson was my first dance teacher. And Janet too, of course! (Laughs) These influences should not be ignored. When I was seven years old, my mother enrolled me in a classical dance course for a year. When I was 14, I took contemporary dance classes and started making performances with friends. Around my eighteenth birthday, we founded First Step with friends. We would rehearse at Luxemburg/Luxembourg station or in small halls with choreographer Yves Ruth. That was the period of the hip-hop battles. Someone else who has had a great impact is Cindy Claes. With the international exchange programme 1000 Pieces Puzzle, Cindy and Zinnema have given hip-hop dancers many resources and opportunities to develop and professionalise."
For Nadine Baboy, the combination of dance and theatre was crucial in finding her niche. "What I do now is 'dance as storytelling'. For example, I made my first solo Terre Riche in 2016 by mixing poetry and dance. That was an important starting point. By combining choreography and writing, I have broadened my horizons and, in addition to being a dancer, have become a writer, singer, director and storyteller."

MÉTISSAGE
After that, the creative agency Mangoo Pickle encouraged Baboy to create a new piece and that became Désintégration Culturelle. "I was born in Congo but came to Belgium as a baby and have lived here all my life. I lost my mother tongue, Lingala, and adopted French instead. And when you no longer speak the language of your country of origin, you also feel cut off from the culture. That is what I wanted to talk about in Désintégration Culturelle: how to reconnect with that origin when you fall between two cultures? As a woman of Congolese origin with black skin, I will always be considered a stranger here. And when I am in Congo, many will see me as that child of Europe. How are you supposed to find your own place? Does integrating into one culture require disintegrating another? Or can mixing also produce a fully-fledged culture of its own?" With her métissage culturel, Baboy answers the latter question in the affirmative. The team with which she created the piece is an exponent of this in itself, with the Belgo-Congolese composer Youri Botterman, the Spanish-Belgian performer Raquel Suarez Duenas and the Congolese choreographer and dancer Hervé Loka Sombo.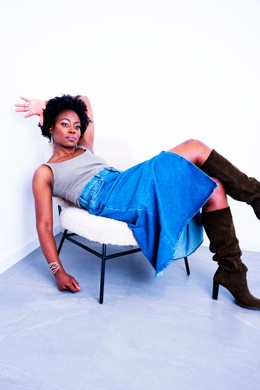 It is remarkable that Baboy in Désintégration Culturelle every time manages to involve the standing audience who find their place among the dancers and musicians moving around the hall. "I wanted the audience to look for comfort in an uncomfortable situation, just as we did. For me as an artist, it is important that the audience takes something home with them. I tell my personal story, give my testimony, so that people may be able to recognise themselves and in turn engage in introspection and self-examination," Baboy says about the therapeutic potential of her work.

NADINE BABOY: DÉSINTÉGRATION CULTURELLE
7 > 9/4, KVS BOX, www.kvs.be