"If you want something to happen in Brussels, you just have to do it yourself," Youssef Abaoud says. So he and a group of like-minded friends built an indoor and an outdoor skatepark in Anderlecht. Get your board and kickflip into to the wonderful DIY world of Byrrrh & Skate.
You had better be careful, there is ice on the concrete." Youssef Abaoud nevertheless rockets across the undulating concrete of the skatepark on his board. The sun hides itself behind the graffiti-adorned walls of the adjoining old industrial buildings that together comprise the creative urban hub Studio CityGate. The municipal vegetable patch in the large courtyard looks rather cheerless in its winter state. Byrrrh & Skate moved in here in May 2017, so that Brussels would have an indoor skatepark again. The outdoor version was built last summer. It is all pure DIY. "The Roller Park in Anderlecht closed in 2005, and we were left with nothing," Youssef Abaoud tells us. "The capital of Europe, without indoor skatepark? I found that unacceptable. It often rains in Belgium, or even freezes, like today. You have to be able to skate inside. And in the summer, you have to have somewhere outside when it is scorching. That's why we built the outdoor version."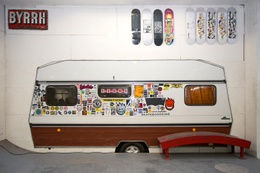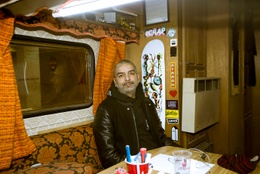 Abaoud grew up in Dour, where he and his friends would watch VHS tapes of American skaters. "It was crazy to see what you could do with those boards. Back then, we were already building stuff with discarded materials that we found lying around." He came to Brussels in 1996 and started working odd jobs. "I am an educator, I have done a lot of work with young people. I used to organize events and over time, I collected a lot of materials. It was all stored in an old building in Laken/Laeken that belonged to Byrrh, a French wine and aperitif producer. That's when I thought: why not build a skatepark here? The city doesn't want to do anything, so we had better just do it ourselves." Abaoud drummed up his friends, added an r, and Byrrrh & Skate was born. That was in 2014. But after ten months, they had to vacate the building. They found a new place in Woluwe-Saint-Lambert, the Pyramide, an old TV studio. But that didn't last long either. "Other people were organising parties in the building, the neighbours would often complain about the noise."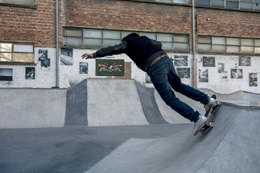 Two years ago, Abaoud came across the empty buildings of a pharmaceutical company near the Tweestationsstraat/rue des deux Gares in Anderlecht. It is a location that Citydev, the Brussels organization that focuses on urban renewal, will reassign in a few years. "A huge real estate project has been planned here," Abaoud says while he points with his board. "A few apartment buildings, social housing, two schools, small businesses. But we can stay for the next three or four years."

So you already know now that all your hard work will soon be destroyed?
YOUSSEF ABAOUD: Yes. (Laughs) But I don't mind. This is the third time that we built something. We're always learning and we have been able to stay for longer at each new location. By the time we have to leave, we will have been here for five years. That's not bad. Though I do hope to find something definitive next time.
The City of Ghent is investing 1.8 million euro in a skatepark. Why can't that happen here?
ABAOUD: Oh, who knows? There is a big project in the pipeline. It is slated for completion in 2021 in the location where Allee du Kaai and Magasin 4 are now based. 1,900 m2, with an adjacent park that is managed by Bruxelles Environnement.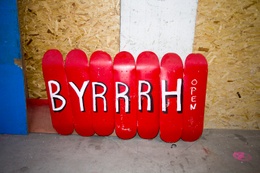 That's encouraging. Or not?
ABAOUD: Well...there have been a few meetings with a few skaters to show them what the plans are. We don't have a say about the design as such, but there we go. It's a start. Though I don't think that one park is enough. It takes a kid in Woluwe an hour to get here. That's a long time. Every municipality in Brussels should have an outdoor skatepark, just like they each have a football pitch.
There are a few indoor skate slopes: there is Brussels Xtreme Park in Haren, but that is more focused on rollerblades and bikes. Then there is the outdoor site at the Ursulines, but that is actually a mix of a square and a skatepark. It is the result of an architecture competition and was not designed by skaters. Some municipalities have small parks, but they're often full of prefab stuff that is provided by companies that the city finds by checking Google. Councils invest a lot of money in them, even though you could make something much better for much cheaper, if you collaborate with people who have a sense of the place and what's needed. There are two good companies in Belgium that work with skaters, Concrete Dreams and Concrete Flow. They build skateparks all over Europe.

How did you manage to do all this?
ABAOUD: I picked it up as I went along. I worked on a concrete skatepark in Antwerp (built by the American company Team Pain, tz). And in Namur I worked on a park that was built by the former collective Brusk. That's when I learned that you have to do things yourself. I also lent the Mashers crew a hand with the skatepark at Allee du Kaai.

And where do you get your materials?
ABAOUD: Most of it is recycled from the two last skateparks that we built, as well as from other skateparks. We reused some things from the old skatepark in Anderlecht. And the mini ramp came from the people who built the skatepark in Mechelen. We used a lot of EURO-pallets as a basic structure. You can find those everywhere. The surface of the ramps and the ledges to slide and grind on are made of granite that came from Charleroi. Immediately opposite the graveyard there is a stonemason who makes tombstones. You can just collect the leftovers. We brought them here in a friend's van. What was intended for the dead gives life to the young here. (Laughs)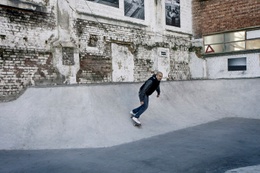 How do you make ends meet?
ABAOUD: That's a struggle. Transind, which imports all the skating material in Belgium, pays part of the rent. Ride All Day, the oldest skate shop in Belgium, has been supporting us financially since our very first project. We also received a lot of help from Levi's, which has a skater range and a skate team. They support skate projects across the whole world. With the money we got from them, we bought materials and decent tools. I had always had to borrow it wherever I could.

And everything else is the goodwill of friends?
ABAOUD: Yes. There are a lot of skaters who lent us a hand. For the outdoor skatepark, some people from Concrete Dreams came to help. But there were also supporters who don't skate at all. It doesn't take any special skills, and there is always plenty to do. Fifty people helped out with the outdoor skatepark.
The skate scene is a community in which you can easily meet people and make friends. There is a tremendous sense of solidarity. There are no barriers because of language or background. I have collaborated myself with Make Life Skate Life, a non-profit that introduces skateboarding to places without facilities. Last year, a few friends and I went to Morocco to build a skatepark. There were more than one hundred people there from all over the world. It took us three weeks to build the whole park from nothing. Several of the people I met came to help out in Anderlecht. Some English people, an Australian, French people, you name it.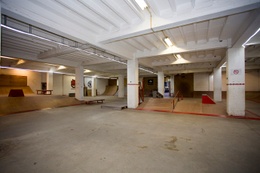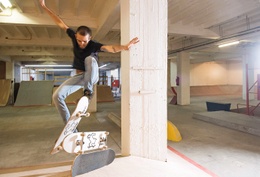 You seem like the patron saint of the Brussels skate scene.
ABAOUD: (Laughs) No, no. Of course you need somebody who takes initiative. But I am supported by a lot of people. This is not a battle that you can win by yourself.
That's the story of Brussels: manage it on your own.
ABAOUD: Yes. If somebody had told me five years ago that I would have achieved this, I wouldn't have believed them. It gives me a great sense of satisfaction. Now we just have to hope that the politicians wake up and see that we are doing good work here. We shouldn't have to go begging the politicians, they should come to us.

Has the city been in touch?
ABAOUD: No, they have never reacted.

That's incredible. Because this is more than just a place to skate, you also revive the area.
ABAOUD: Absolutely. I get to organize something in this neighbourhood, so I want to give something back. We charge five euro to get in, but kids from the area only pay three euro. Otherwise they might loiter on the street, but here they can learn something. There are courses on Saturdays and Sundays, schools can come on Wednesdays. There are camps during the holidays. Everybody is welcome, from beginners to pros, from rich areas or poor, boys and girls. There are no divisions here, this place connects people. And there's more, we also plan exhibitions and concerts, and a festival called Byrrrh Bang.
Anybody who has a passion has to have somewhere to express it. It is a shame that municipalities don't make more spaces available. The city doesn't even need to invest in people, just provide us with the space. We'll do all the rest ourselves.
> Byrrrh & Skate. Klein Eiland 1A rue de la Petite Île, Anderlecht
BXL marks the spot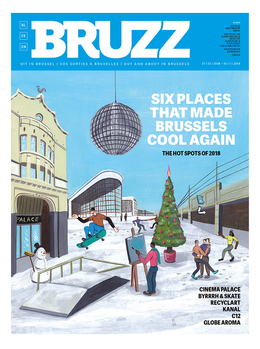 Onze hoofdstad werd het voorbije jaar artistiek niet alleen op de kaart gezet door een arsenaal aan relevante kunstenaars, maar ook door heel wat (nieuwe) culturele hotspots. In onze eindejaarsspecial zoomen we in op zes van die creatieve broeihaarden. Bekijk ze op onderstaande kaart.