With Black USA, Bozar is dedicating an evening to contemporary African-American literature with authors Shantrelle P. Lewis, Rickey Laurentiis, and Kleaver Cruz. Tunde Adefioye, one of the KVS's city dramaturges, will moderate the event. We spoke to him about bridging the gap between the theatre and the street, Blackness, racism, the challenges of the arts scene, and the need for radical change.
But first a little background. Tunde Adefioye is marked by three continents. He was born and mostly raised in Los Angeles, but as a child he also spent six years in Nigeria, where his father is from. His studies brought him to Europe, and later to the KU Leuven, where he spent five years researching chemical informatics, which seeks to develop new or improved medications based on research data.
In the midst of all the algorithms, Tunde missed the urban arts that he had grown up with. In high school, friends would take him to the open mic-nights at The Good Life Cafe, a legendary spot in Leimert Park, the historically Black neighbourhood in the Crenshaw district in LA, where The Black Eyed Peas' will.i.am and Slim Kid Tre of The Pharcyde, among others, had started their careers.
And there was the slam poetry he encountered through Youth Speaks, a platform for the empowerment and expression of young people through poetry and slams. It was this organisation that became the inspiration for Urban Woorden, which he helped to establish around 2009 in Leuven, in an effort to meet the needs of kids with migrant backgrounds, through workshops in schools and even prisons.
As one of three "city dramaturges" at the KVS, a new position that attempts to bridge the gap between the theatre and the street, Adefioye is free to determine the direction of urban theatre. "I can partly draw on my own experience and network. For example, I already knew a number of the artists who have performed in our Slam Our World series SLOW, like Sabrina Mahfouz, Miss Elli, and Anissa Boujdaini. But I also propose new talent of colour for productions like Malcolm X, WOW (We Orchestrate Words), and coming up very soon, Beyond the Binary."
"And I reflect with the theatre on the broad context of our programming. In March of next year, the KVS will restage Flemish writer Hugo Claus's theatre piece The Life and Works of Leopold II about the role of Belgium in Congo. But we will not do so without flanking it with other meaningful pieces, like Pitcho's Kuzikiliza, which is based on a speech by Lumumba, and Ogutu Muraya's mind-blowing Fractured Memory."
You also do things outside the KVS, such as moderating Black USA at Bozar. Could you tell us something about the speakers?
Tunde Adefioye: Well, the programme looks very promising. First there is the New Yorker Kleaver Cruz. He is the co-founder of the New York Chapter of the Black Lives Matter movement and writes for Vibe.com, the Huffington Post, and African Voices Magazine. At the end of 2014, he responded to the whole series of police killings of Black and Brown people with the fascinating Instagram project Black Joy Project, which shows that Black bodies are something to be cherished and celebrated.
And Black minds too, because the pictures are combined with texts by people like Nikki Giovanni, one of my favourite women writers, or D'Lo. Cruz is putting their voices out there through social media to make clear there are other ways to look at Blackness.
The same goes for Shantrelle P. Lewis, who is a curator, a historian, and a documentary filmmaker who writes for various media. In 2017, she published the picture book Dandy Lion on Global Black Dandyism. When people think of dandies they think of Oscar Wilde back in the day, but nowadays dandies are also the Sapeurs in Congo or the Sartists in Johannesburg, groups moving away from the idea that Black men must wear baggy clothes.
Last but not least there is Rickey Laurentiis, who won several prizes and nominations for his debut Boy with Thorn (2015), a poetic ode to the body and its desires, but also about physical violence against the Black body. Laurentiis not only talks about race but also about sexual identity. This intersectional approach on both ethnic, gender-related, and sexual aspects of identity is also central to the project Beyond the Binary that we are organising on 18 October at KVS. A festival in collaboration with the London-based collective sorryyoufeeluncomfortable and the Brussels-based Warrior Poets, who are influenced by the lesbian African American poet Audre Lorde.
(Continue reading below the picture.)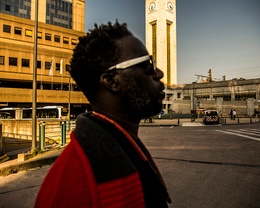 KVS and Bozar are big cultural institutions. Do you trust they will really be able to meet the need for self-expression among young people of colour?
Adefioye: You don't do service to your own future as a big institution, if you don't know how to evolve in accordance with the changing situation and population in your city. It is the responsibility of organisations like the KVS or Bozar to notice and acknowledge that slam poetry and other urban arts can produce good, qualitative art, and then create a space to nurture it.
I remember that in March of last year, just before we started as a team in KVS, I was walking down the street after the attacks. I passed De Brouckèreplein/place De Brouckère, heard some kids of colour talking and felt really sombre, because I wondered how my work at KVS would ever impact them.
Then I realised that whatever work you do is never going to impact everyone directly. But it does have the potential to affect different people and trigger a lot of other things indirectly. Why is Malcolm X important as a piece? Not everything about it is perfect, but it is a strong and important piece for Belgium in 2017.
If only because it makes viewers wonder why you have this combination of people on stage, why they are so "angry", or how people like Muneera Rashida and Sukina Abdul Noor of Poetic Pilgrimage are delivering a message that is a complete antithesis to how some people perceive women in hijabs. The piece is one of many things going on right now that tries to create an alternative discourse to the big, conservative, capitalist discourse that is prevalent in many countries, and that hopefully one day also indirectly, if not directly, inspires the kids on De Brouckère.
Daily racism, the "Black Peter" debate, Black Lives Matter, the global rise of right-wing extremism, and the continued segregation of people of colour...they all show that a turnaround is necessary and that people of colour can no longer wait to make that happen. But if they raise their voices, white people always react very emotionally. How radical can radical change be without blowing up the few existing bridges between communities?
Adefioye: We allowed the word "radical" to be co-opted by the media and politicians, but radical change is not a bad thing. When I went back to LA for fifteen days, I was really energised by visiting this small museum in the hood in South Central, called The Underground Museum. It was founded by the late African American artist Noah Davis, who believed that art should be accessible to everyone and who teamed up with the director of the LA Museum of Modern Art saying: "I want your art for my museum." The director had never heard anything like that, but started a cooperation.
I believe that we need to take more radical actions of this nature. Radical does not mean extremist, but it does presuppose a substantial shift. We really need to speed things up, so that we no longer have boardrooms full of white people in our institutions.
I also hope Europe will learn from the mistakes of the US. Many things are horribly wrong with the country, like the police killings of Black people and the fact that people are getting away with it. But we can learn from radical actions like those of Black Lives Matter or what happened at the Indian Reservation in Standing Rock: people locking themselves to equipment in cold North Dakota weather and risking their lives to save their land and their water from being poisoned. In that sense, there is not enough radical action in Belgium or Europe in my opinion.
Second and third generation kids of colour are still wondering what their role in society is, to the point that some get so disillusioned that they go and fight a war thousands of miles away from here. But you also see a critical mass of people building who are not allowing injustices to go unchecked, BOEH! (Baas Over Eigen Hoofd), Black Speaks Back, Rachida Lamrabet, Angela Tilleu Olodo, and many others.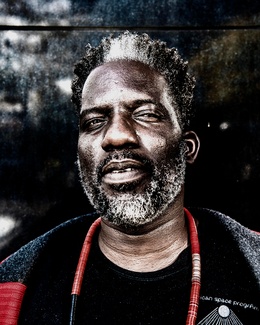 Is racism in Europe different from racism in America? Less outspoken, hiding under our self-proclaimed liberalism?Adefioye:
I was just saying to one of my colleagues that our current US president is not a mistake. You can blame his election on the economy, on the ignorance of people in the Midwest, or whatever, but the fact is that he was chosen over Hillary Clinton because of the anger of some of his voters and institutions that couldn't cope with the Black man that had been their president for eight years. It had to do with supremacy and racism.
The first time I ever came to Europe was during an exchange with Sweden, where I got to experience all the good things they told me about Europe. But after a few years in Belgium, coming into contact with realities like "Black Peter", I realised this is not the place I thought it was. You discover layers of daily and institutional racism and start to understand why Europe still hasn't got its own Obama, a head of state of colour, but instead reverts to people like Farage, Le Pen, and the like.
This Summer you wrote an open letter to the organisers of the theatre festival Theater Aan Zee in Oostende, in which you described your confrontation with an almost exclusively white audience as violent. White people have difficulties imagining that.
Adefioye: We just talked about Rickey Laurentiis, one of the writers we will welcome for the Black USA evening. In different parts of his book Boy with Thorn he refers to what it means to be a Black body within a predominantly white society. Entering certain exclusively "white spaces" always comes with an emotional reaction and can feel like an aggression or a suffocation.
It is not the same for every person of colour, but I carry a history with me. I've been taught about African American history in a way that affected the way I see myself and my Blackness. People like Sandra Bland or Eric Garner [recent African-American victims of police violence – MB] also became part of that history. Most white folks don't understand that because they are so detached from this history, even if it is their own colonial history.
But if I see a theatre piece that sort of validates this troubled history at Theater Aan Zee, that uses the n-word, demeans the Black body, and ridicules it without any context at all, then I experience that in a violent way, regardless of the aesthetic arguments the artist in question might propose. For far too long now Black people have been portrayed in a way that undermines their position in society.
The artist in question is the Brussels playwright and director Jan Decorte, who in his Othello adaptation Ne Swarte ("A Black man") also denounces his own father, who, during World War II, was a so-called "black", a collaborator of the German fascists. At what point should an artist "give in" to the possible feelings and sensitivities of the members in his audience?
Adefioye: The thing is that most of the time it is the victim – the person of colour, the woman wearing a hijab – who has to give in. They are the ones who experience the violence, but they are also the ones who have to go and explain on television or whatever that it is not OK to treat them or speak about them in these ways.
Whereas true allies need to take it upon themselves to do the explaining to "their" people. There are books out there! The Souls of Black Folk by W.E.B Du Bois, The Invisible Man by Ralph Ellison, or Go Tell It on the Mountain by James Baldwin. People love James Baldwin, but what have they learned from the books he wrote in the 1950s and '60s?
It is the responsibility of each individual to go educate themselves. It is not because you are an old white man that you can't go and do your research. That is negligence. It is failing to even consider that apart from the traditionally white theatregoers, a Black person could also come in and see the piece.
> Black USA. 09/10, 20.00, Bozar, Brussels
> WOW BJO #02. 13/10, 20.30, KVS, Brussels
> Beyond the Binary. 18/10, 20.30, KVS, Brussels