The whole of February, the Moussem Cities festival will shine a light on Damascus, the epicentre of the contemporary Syrian art scene before the devastating conflict. Before that, a miniature version of the festivities took place mid-January at the Station, a cutting-edge cultural space in Beirut. A chance for BRUZZ to feel the temperature.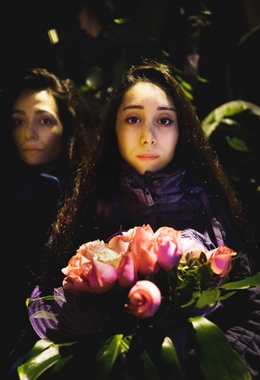 Beirut, mid-January. At the Station, the Moussem Cities festival is staging a two-day preview of the festivities that will bring Brussels to life for the whole of February. We are here to meet Syrian artists who have tried their luck in the Arab metropolis as well as independent artists who continue, despite the constraints, to create and perform in Damascus.

Located in a converted timber factory, away from the wide busy avenues of Beirut, the Station is shrouded in darkness once the sun sets and the moon comes out. In the black of night, illuminated by a few distant skyscrapers, a young and tuned-in audience finds its way to this vibrant and cosmopolitan spot, a key part of the city's independent cultural scene.
"This place is called the Station but, in my opinion, the whole of Lebanon is a station. It is so intense and so small. People just come and go," says Tarek Khuluki, virtuoso guitarist of Tanjaret Daghet ("pressure cooker" in Arabic), who were invited to heat things up at the Moussem mini-festival along with musician friends from Damascus whom the band used to play with back before Syria became a battlefield. Since then, they have each gone their own way.
"The keyboard player decided to stay in Damascus, because he wanted to play for big bands and be a member of the Syrian National Orchestra," explains Khaled Omran, the band's lyricist and bass player. "We chose to move to Beirut because we needed to capture that sound and continue our journey. People are more open here, they accept your experience, and respect what you are doing."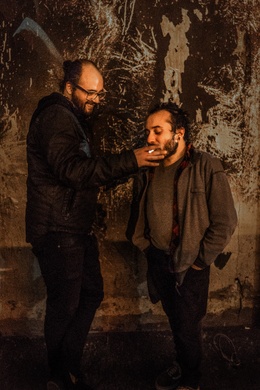 A rollercoaster ride
Tarek Khuluki and Khaled Omran's four-piece moved to the Lebanese capital in 2011, hoping to make a career there. It didn't take long for them to find a producer and make a name for themselves within the Lebanese music scene and beyond. "We were trying to survive, and Beirut was the nearest option," says Khuluki. "The scene here is exposed to people from all around the world, like you guys. And our families still get to visit us."
"We don't want to stay here as much as we want to be heard," answers Khuluki when we ask him if the group intend to settle in Beirut for good. Despite the draconian conditions for gaining entry to Europe, the band have not lost hope that one day they will be able to tour beyond the borders of the Arab world, to share their music and their message. "Some people throw these ideas at us: why are you playing music while serious things are happening, while people are dying? But what they don't understand is that we are trying to make a statement to the people who are still alive," says Khuluki. "Don't give up! The war is not an excuse."

Omran adds, "We came into this world to do what we do with or without the war: playing music and sharing feelings. We cannot stop the war, but we can make songs about it and share experiences through our music." The group transmits that lust for creating directly to its audience. Hearing Tanjaret Daghet and friends play is like a rollercoaster ride. It's a journey through an infinite spectrum of emotions, shaped by rich and eclectic musical influences which remind you that we are all inhabitants of the same planet: Arab vocals and tones, pop, rock, hard rock, metal, etc.
In the audience, which includes Lebanese, Syrians, and expats, we spot the Syrian director Ossama Halal, who has worked with the Théâtre National (in Belgium) and whom we had met the previous day in his studio space in a southern suburb of Beirut. "The arrival of Syrian artists in Lebanon has enriched the Lebanese art scene. The artists began to mix and so did the audiences," says the director of Koon Theater Group (whose shows Above Zero and The Other Side of the Garden were performed in Brussels in 2017 and 2018).
Disillusioned with the censored traditional theatre in Syria, Ossama Halal went to Beirut in 2013 seeking greater freedom of expression, in terms of both content and form – in 2012, following the creation of Cellophane, the ministry of culture let him know that his shows were no longer welcome in Syria.
Just be!

Unlike many of his compatriots, Ossama Halal has been able to perform in Europe, thanks to the reputation he has built with his outstandingly visually powerful, multidisciplinary theatrical creations, and with TV soaps that were hugely popular in the Arab world when he still worked for Syrian television.
"When I first arrived in Europe, I could tell that there was something sexy about being a Syrian director. People liked to see me as a victim making art, but that's an image I completely reject," says Halal, who also refuses to be considered an artist "in exile". "In my shows, I don't explore the Syrian revolution or violence in itself, I invite each person to ask themselves how they would have perceived the events if they had been there."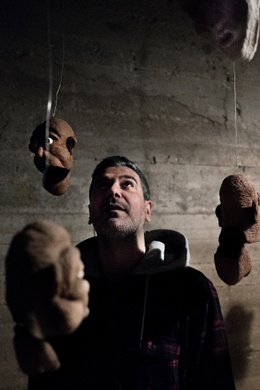 It was in Lebanon that Halal was able to open his first creative studio and workshops and founded his troupe Koon ("Be!" in Arabic), which includes Syrian, Lebanese, and French artists. "This place is a dream for me!", says Halal, who has no intention of trading in the Arab world for Europe despite the precarious conditions in which the Lebanese art scene operates, deprived of any state funding and gripped by censorship (to a lesser degree than in Syria). "My work makes a lot more sense in Beirut and the region. Theatre is a civic act and the Arab regimes are afraid of it."
Without the support of the ministry of culture, Ossama Halal explains that he depends on his own means and on occasional help from Ettijahat (an organisation that promotes independent artists from Syria and is a partner of the Moussem Cities festival), the Arab Fund for Arts & Culture, and institutions resulting from foreign involvement in the Middle East such as the Institut Français and the Goethe-Institut. While waiting for the right moment to make his return to the scene in Damascus, where he is convinced he "has a role to play", Halal has begun the application process for Lebanese residence. The artist has high hopes of being among those fortunate enough to be selected, despite growing pressure and propaganda from the Lebanese government aimed at encouraging Syrian refugees to return home.
Although separated from Damascus, Ossama Halal's company recently started organising open days for students from the Syrian capital. "But in practice, they are rarely able to come."
"We have difficulties coming to Beirut. We need a purpose that we could justify, and it's very expensive," says Angela Al-Debs, a young dancer from Damascus, whose performance of Joufoun ("Eyelids") with the Syrian artist and choreographer Rana Karam was one of the highlights of the Moussem Cities mini-festival in Beirut. "The fact that we had the opportunity to put this show on outside of Syria gives me hope in my moments of despair."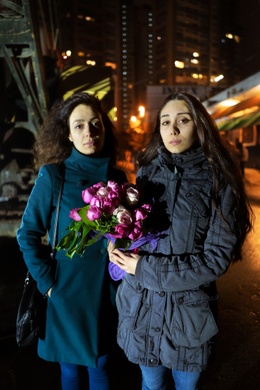 Independent in Syria

"We only see the outside world on YouTube," says the 23-year-old dancer, who recently graduated from the Higher Institute for Dramatic Arts in Damascus, the only one of its kind in Syria. "Every artist in the world travels from one country to another, you know. We need people to come to us and share, we need to do workshops abroad." Though she hopes to go to Europe to do a master's, the young woman has no intention of leaving the country for good.
"We had to face a lot of problems at our institute because of the lack of teachers and money. Sometimes the school was closed, but we didn't want to just stay at home and watch TV. Because we are the ones who can create a new generation for the Syrian people. I don't want to leave Damascus, I just want the world to know that there are a lot of artists and a lot of art in Syria, that we are working and that we exist in the world. People think there's no culture in Damascus, but that's not true."

In their dance performance Joufoun, a work of raw and overwhelming power, Angela Al-Debs and Rana Karam take on the spectrum of human fear, the fear that immobilises us and prevents us from moving forward along the path of our existence. "I know that some audience members relate our show to the war in Syria," says Angela Al-Debs. "But it isn't necessarily about the war. All over the world, people have to face their most profound fears."
"As artists, it's true that the war took away some of our fear," adds Rana Karam, aged 34. "War is a daily confrontation with life and death. Only that which is completely genuine remains. War makes you feel like you have been stripped naked. You can no longer use a façade to make things look better." A year ago, the Syrian artist and long time professional actress set up the collaborative project Joufoun, which took the form of a piece of choreography, an installation, and a documentary.
"Up until then, I had felt like I was a tool of the director. I wanted to start working on my own project, a project with no words, because words no longer have any meaning," Karam explains. "It's true, I have thought about leaving the country, but I felt that that wasn't me, that I had to do what I could here. In times of war, people either want to see something funny or something about the war. I didn't want to do anything like that." (Laughter)
Made outside of the Bashar al-Assad government-stamped circuit, Joufoun belongs to the independent scene in Damascus, which operates in an environment of precariousness, solidarity, and resourcefulness. It's a scene that has lost many artists who took the route of exile (and some for whom returning is not an option) but which, due to geography, has been spared from the worst of the destruction. "It was important for me not to be influenced either by the government or by politicians, or anyone else," insists Karam.

At a time when Damascus is being rebuilt, when the media are announcing the imminent end of the war, and embassies are timidly reopening their doors, what will become of the vibrant independent Syrian art scene? The war scattered it, but did not succeed in tearing it apart. The war damaged it, but did not succeed in extinguishing it. Quite the opposite. Here's the proof.
MOUSSEM CITIES 1 > 28/2, various locations, www.moussem.be