The Brussels-Congolese artist Aimé Mpane, one of the most important African artists of his generation, wants to rebalance that which is out of kilter. His portraits, sculptures and plywood mosaics often have political overtones, but prefer to focus on a common source rather than feast on feelings of revenge.
Born in 1968 in Kinshasa, Congo into a family of woodworkers
Studied sculpture at the Institut des Beaux-Arts and obtained a bachelor's degree in Monumental painting from the Académie des Beaux-Arts in 1990
In 2000, he obtained a master's degree in painting and tri-dimensional research at La Cambre in Brussels
Exhibited his installations, murals and portraits extensively in Congo, Belgium and the US
Dialogue, solidarity and hope are at the heart of an oeuvre that carves deep into our colonial past and the human soul
Worked on the decolonisation project of the Africa­Museum, for example with the sculpture Nouveau souffle ou le Congo bourgeonnant
In 2021, he will be the first Congolese artist with a solo show in the Royal Museums of Fine Arts of Belgium
Born and raised in Congo and now living and working in Belgium, visual artist Aimé Mpane (°1968) is a product of two worlds between which the balance has long been lost. Rather than to the past, however, it is to the future he focuses his gaze. "It's so much more productive," he says, emphasizing that respect, rapport and dialogue are also key concepts in his art. "Going head-to-head with weapons drawn does not produce progress. You have to try to be intelligent and grow up."
It seems an increasingly naive message in times of polarisation and radical decolonisation, but Aimé Mpane believes in it fully. The fact that he is only the first artist of Congolese descent with a solo exhibition in the Royal Museums of Fine Arts of Belgium is to him interesting rather than poignant or vindictive. In this, too, he differs from the Black Lives Matter protest movement, which wants to assign blame, deface statues and, ideally, remove them from public space. Mpane prefers to restore them by putting a disclaimer on them.
That he is a man of rapprochement rather than confrontation is proven by, among other things, the sculpture he made at the request of the Belgian embassy in Kinshasa. A black man putting down his suitcase on the ground to welcome a white man. Mpane's artworks, which are often literally transparent and which therefore bear readings from various angles, mirror and reflect, but are essentially hands reaching out. "I want to mitigate conflict by, certainly in my art, redressing power imbalances. I want the Congolese and the Belgian to be on equal footing."
A few years ago, under the name RE/STORE, the artist was involved in the decolonisation project of the AfricaMuseum in Tervuren. To complement two new works, he and Belgian artist Jean-Pierre Müller hung a gauze over a series of stereotypical colonial images. The images he hung on it question what is covered (and not hidden). Even then he deliberately did not mention anything about a "repair". To him, that sounded too pejorative.
"If you want to fix, you always start with one party being (or having been) in the wrong. If you show respect for each other, without forcing anything, you achieve more. In a way, I want to take things to their spiritual dimension. Like Nelson Mandela and Desmond Tutu, I am an adherent of the Ubuntu philosophy, a traditional African concept based on humanity towards others. It's good that people are moving to make things right, but the way the Black Lives Matter movement is doing it is not in my nature. It also sometimes leads to unnecessary violence, and it does nothing to alleviate inequality. I prefer Martin Luther King to Malcolm X."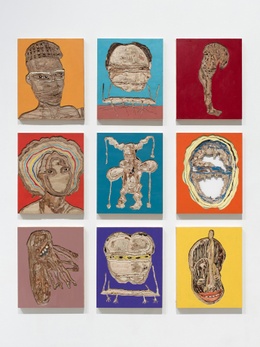 Rubens and Leopold II
In his new solo show "Remedies", Mpane continues in the same remedial vein. The museum asked him to shed new light on a work of art from their collection. Not unexpectedly, his choice fell on Four Studies of the Head of a Moor (1614) by Peter Paul Rubens, which in the 1950s appeared on the 500-franc note (with the head of Leopold II on the other side).
"First and foremost, I found it fascinating that the work has changed names a number of times: N*g*r heads became Moors, or Untitled. It shows how we ourselves are evolving and constantly adding new layers and emphases." In his version, Mpane replaced the head of one of the "Moors" with that of Leopold II. Thus "Moors" become "Congolese". Putting a chef's hat on them also removes the power differential. "This places them on a more equal footing with Leopold II and makes it seem as if a dialogue could take place... The next step, of course, is to think that they could pull off the same nonsense as Leopold II..."
Specifically, Mpane crafted a pliable mosaic carpet, consisting of squares of plywood attached together with fishing line, on which the heads were painted (or carved). "For me it works like a puzzle: first you break down your image and then reassemble it piece by piece, but slightly different. It validates the idea of agreement and dialogue, while at the same time indicating that multiple readings are always possible."
One striking feature of the mosaic is a symbol that we cannot identify at first sight, but which also appears to be on old film bobbins. Mpane alludes to the fact that (just like our opinions about a work of art or a time frame) they always have to be replaced. The artist, who was already an excellent draughtsman at a young age, remembers the symbol from his youth. When he arrived in Kinshasa at the age of fifteen, a few smaller cinemas asked him to draw the images on the film banners in a larger format so that filmgoers could see what the film was about. "Those 'posters' then hung there for several months...and were my first exhibitions." After studying sculpture and painting in Kinshasa and Brussels, Mpane became one of the most important African artists of his generation, with solo and group exhibitions in Congo, Belgium and the United States.

The grandfather's adze
The pandemic, most of which Mpane spent in his new studio in the woods around Arquennes (near Nivelles), has brought him back in touch with nature. "Over the past few years, I had constantly been on the road. During the lockdown, I was able to recharge my batteries by doing simple things in nature. More than ever, I understood that our oxygen comes from the trees, and that insight is visible in my recent work." As a child, he saw his father working wood with large machines. He himself prefers the adze (a kind of axe, but with a steel blade perpendicular to the handle), with which his grandfather made small sculptures, because it gives immediate results.
"It feels like an extension of my hands. By carving layer by layer, I can penetrate deep into the raw wood, like a woodpecker removing a worm from a tree. I love the idea of descending deep into a piece of wood or a head, revealing different dimensions. In my case, the adze is the material of choice for repeating our reality." This has already resulted in unique portraits which he calls "bifaces", because they have a front and a back, and which oscillate between painting and sculpture, primitive and contemporary art, fiction and reality.