It is the end of April, and the new edition of Art Brussels is making the city run wild again. This year, the contemporary art fair is attempting to incorporate some of the reticent newcomers to the scene – including La Maison de Rendez-Vous, Ballon Rouge Collective, and Paid by the Artist – by sending them an invitation they could not refuse.
Every year in April, Art Brussels stirs up the whole metropolitan scene. Galleries, museums, artists, collectives, alternative platforms and spaces…over a long weekend, the whole city puts in overtime in the wake of the contemporary art fair – one of the oldest in Europe – to capture the attention of collectors, curators, and visitors with a curious nose for the arts. Every year, Art Brussels also searches the constantly metamorphosing urban (and international) scene for new movements and currents that tend to elude its grasp. This year, it discovered a series of initiatives that have occupied a slightly, and sometimes even very, off-centre space in the contemporary art landscape or which have redrawn that whole landscape completely.
Instead of fearfully barring the door to the strangers in their midst that are "championing the shifting art market and challenging the traditional gallery model", the fair sent a number of these initiatives an invitation for a carte blanche in its new "Invited" section. Among the welcome guests are La Maison de Rendez-Vous and Ballon Rouge Collective from Brussels, and Paid by the Artist by the Antwerp-based and self-proclaimed "amateur" Simon Delobel.
1 plus 1 is -2, or 40
Paid by the Artist
WHO? Simon Delobel built a reputation with Trampoline Gallery in Antwerp when he closed it down to try something much more difficult
LIKE WHAT? Create a new gallery per exhibition
WHY WOULD YOU DO THAT!? That's exactly what Art Brussels said. In short: to escape the dictates of the numbers and to truly honour every artistic collaboration
LIKE THE ONE AT ART BRUSSELS? Yes. The brand-new gallery Paid by the Artist is quite literally paid by the artist Yannick Ganseman. He'll be showing a reconstruction of his studio
"It's a bit like being the clown who is asked to come in and perform your act," the free radical Simon Delobel says forthrightly. "In the destructive creative process of the capitalist market, an event like Art Brussels needs an extra funny or interesting touch every year. A few years ago, they had curated booths, for example, or there were concerts by artist-musicians, and now they have an 'Invited' section. It is almost an obligatory exercise for fairs like that, it imbues them with a kind of artistic credibility. We are the spice in the sauce of the power system. But it is of course nice of them to consider us, and despite all the naivety and manipulation, we are also enjoying it. I think it is fantastic that they are allowing our carte blanche to happen, they have given us total freedom, so yes, I appreciate that immensely."
The fact that Art Brussels is allowing the carte blanche to happen is remarkable because Simon Delobel's project is a radical repudiation of the backbone of the current gallery model. The man who spent five years building an impressive reputation with Trampoline Gallery in Antwerp decided to close down his successful space a while ago, and to try something much more difficult.
"I create a new gallery per exhibition, each with a new Facebook and Instagram page. I start from scratch every time, in an attempt genuinely to escape from the dictates of the numbers. Then you hear the people from Art Brussels shouting down the telephone: 'But why would you do something like that!?' (Laughs) And of course, it's a legitimate question for this type of fair, given that they live by their name."
"It's a branding society. Like in fashion: ultimately it all comes down to whether you can get Prada. And then you invite a few young and hip fashion designers to be involved. The creation of brands and the attendant career management of artists is based on a power relationship between the artist and the gallery. I think that is very unhealthy. If you're concerned about a brand, you will also weigh and judge the quality of exhibitions against each other. This implies the use of assessment criteria that have nothing to do with the language of art but are all about the language of business. If I decide to create a new gallery for each exhibition, there is nothing to compare it to. It feels more like a flower blossoming, and regardless of whether its life is long or short, the fact that it blossoms is already a success. In science, 1 plus 1 equals 2, but in art it might as well be -2 or +40. That is what excites me."
Floating around the world
Ballon Rouge Collective
WHO? An international network of curators, founded by Hélène Dumenil and Nicole O'Rourke in 2017, that aims to foster exchange and exposure for emerging artists from all over the globe
SOUNDS GLOBAL? It is, though it also just became local
HOW SO? B.R.Club is their permanent hub in Brussels, "a fixed space within a city that is constantly changing"
COOL! SO WHAT'S ON AT ART BRUSSELS? A show of works by Philip Janssens and Merve Iseri, who will also be exhibiting at B.R.Club
Ballon Rouge Collective is characterized by more or less the same spirit of detachment. This international group of curators aims to foster exchange and international exposure for a group of emerging artists from all over the globe. "Floating around the world, like the colourful balloon in the otherwise black and white movie of the same name," says Hélène Dumenil, who founded the collective together with Nicole O'Rourke at the end of 2017.
"It seemed to be a nice metaphor for what we were trying to do. And people are managing to say it in every language." (Laughs) With exhibitions in Istanbul, London, Los Angeles, Brussels, São Paulo, Paris, and New York, the international collective of curators has been everywhere and nowhere over the past year or two. And that will continue, but with the creation of the permanent hub B.R.Club at the beginning of 2019, the nomadic gallery now also has a beating heart in Brussels.
"We asked ourselves the question: how can we take younger, emerging artists around the world and give them solo shows? Freely, with no rules. How do we do Gagosian (a famous global network of art galleries, ks) without all the money and the real estate? (Laughs) The solution lies in the figure of the curator, who functions as the ambassador in each of the cities where we have shows. So we don't need to have a space all the time, we just choose a space when we come to that city. The hub here is something different. It functions as a place to share and swap with other galleries we like and feel a connection with, so that they can experience a new audience for their artists here and we can do the same in their cities."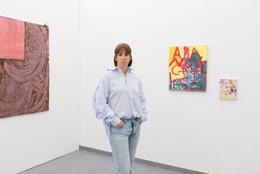 Hélène Dumenil describes the attraction between B.R.Club and Brussels as "a fixed space, within a city that is constantly changing, and fixing things, and trying, and getting it wrong," adding that "there is a kind of open-mindedness to this sort of thing in Brussels. Since we said we were going to open here I have had nothing but support from other galleries, curators, and organizations. They really wanted this to work. It made us feel very safe to explore and do whatever we wanted to do. I think that is something very specific to Brussels. In Amsterdam, every corner of the city is already perfect. So what could you possibly do that is new? Here it's not, even the architecture of the city is never finished, it's always being redone. I like that it's not perfect and I like that it's moving, it gives this curiousness for what's new."
Is it a brothel?
La Maison de Rendez-Vous
WHO? An intense collaboration between four galleries on different continents: LambdaLambdaLambda in Pristina, Lulu in Mexico City, Misako & Rosen in Tokyo, and Park View/Paul Soto in Los Angeles
YOU HAD ME AT INTENSE...IS IT A BROTHEL? Everybody wants to know, but no, it's not. It's an adventure, an experiment, and a way to create a bigger network
WILL THAT SHOW AT ART BRUSSELS? Yes, through the stunning works of Hana Miletic, Michael Berryhill, Yui Yaegashi, and Autumn Ramsey
"Things are quite messy here," confirms Isabella Ritter, co-founder of the Pristina-based gallery LambdaLambdaLambda and one of the people behind the brand-new Brussels space La Maison de Rendez-Vous. "Brussels is a chaotic place, but this gives a lot of freedom to the art scene. Bending the rules creates an environment that is always going to be more nourishing for the arts." In the case of La Maison de Rendez-Vous, that environment has resulted in an intense collaboration between four international galleries on different continents: LambdaLambdaLambda in Pristina, Lulu in Mexico City, Misako & Rosen in Tokyo, and Park View/Paul Soto in Los Angeles. "We knew each other from before, because as young galleries we were all part of the same circuit in the art world. And we felt that we could become stronger through our collaboration."
"So La Maison de Rendez-Vous is an adventure, a way to keep it exciting, built on friendship and respect for each other's programmes. But it's also in part a response to the bigger conversation that is currently happening in the art market: the need for new models. The traditional models don't really work for small or mid-sized galleries like ours, because artists tend to get swallowed up by bigger galleries once they have reached a certain point in their career. So you can do all the work and you're left with nothing when it gets financially interesting, to put it bluntly. If you keep on playing by the rules of the market, you just become subjected to this chain of events that will lead to an obvious and pre-determined ending. By combining our strengths, we're able to create a bigger network and cover a bigger surface. It's good that Art Brussels jumped on that topic."
But you also sacrifice a part of your identity. "True. 'What is this crazy house with all that wood?' 'Can we visit?' 'Is it a brothel?' (Laughs) Yes, I think a lot of people don't yet understand what this is," Isabella Ritter says jokingly. "But that's okay. Give it some time. Art Brussels is a great opportunity for us to explain what we are and what it is that we do. But even then, this whole enterprise is weird. But why not, we figured. The worst thing that can happen is that you realise that you can't work together and life goes on. We all still exist as our own entities and we have our own bases. La Maison de Rendez-Vous is the shared umbrella identity that we wanted to create. Who knows what will happen in the future? Maybe the individual galleries will cease to exist and this will turn out to be something bigger…or not. We don't want to predefine anything. This is all very experimental."
Sitting on a volcano
If there is one common denominator between Paid by the Artist, Ballon Rouge Collective, and La Maison de Rendez-Vous, it is that they are all geared towards sharing, on delving into the dynamism in the art scene and the hybridity of the world. Hélène Dumenil: "That is inherent to the way the Ballon Rouge Collective works. Once our curators have presented their artists, their involvement expands to the shows and artists of the other curators. We create a web of engagement." And a way to share knowledge, experience, and responsibility. "A normal gallery presents one person's vision, likes, and dislikes. Here it's seven people in seven different countries with seven different backgrounds and perspectives. What makes it work? Magic perhaps?" (Laughs)
Collaboration likewise lies at the heart of what Simon Delobel does. "Each new exhibition creates a new gallery, and is thus the result of an adventure, shared by me and the artist." Paid by the Artist is to be taken literally in that sense. "We may well be 'invited', but surprisingly enough it still costs 4,000 euro to fill that half booth. I only had 222.31 euro on my account, so I did not think I would be able to participate. In the hour that I was given to decide whether I was in or out, I received a visit from Yannick Ganseman, an artist with whom I wanted to organize a project for the Antwerp Art Weekend in May. He was prepared to pay the fee for a solo at Art Brussels. So we decided to respond to the obscenity of the art fair by being very obscene ourselves and just telling the truth. (Laughs) Hence: Paid by the Artist."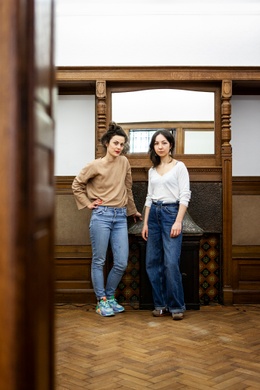 The simple truth as a critique, as a way of messing around when others are messing with you. Live and let live. Hélène Dumenil: "Art Brussels is part of the ecosystem of the art world. Is it a good thing? Well, it's not a weird, terrible thing. For artists to keep working, they have to sell their work. For us to keep helping them, we need to sell. Ballon Rouge Collective was never meant to be a comment on anything. It was just allowing us to do something different. I guess the fact that we go into an art fair proves that the art world as an ecosystem is allowing us to be part of it."
"Probably also because it is needed," Hélène Dumenil adds. Exactly. It is all these hybrid, boundless movements that imbue the contemporary art scene with the dynamism that Art Brussels loves to incorporate. Perhaps not as the beating heart of a constantly metamorphosing whole, but as the fringe of a business that is trying to buy artistic relevance. Simon Delobel: "All these ungraspable energies in the scene combined create a group of islands as micro volcanoes that erupt. It is fantastic because nobody can disregard the power of a volcano, however small it is. At the same time, there are continents that can no longer structurally be undermined by those volcanoes. Maybe we should look at it that way: like a sea with lots of little islands that emerge and perhaps disappear again after a while, surrounding a continent with high peaks where there is almost no oxygen." (Laughs)
ART BRUSSELS 25 > 28/4, Thurn/Tour & Taxis