The Brussels-based sculptor and illustrator Thomas Lerooy found that he was increasingly painting over his work, so he decided to meddle with the codes of that divine discipline. Charming naughtiness.
Thomas Lerooy has never really been one to obey the rules. Even while at school in Roeselare, he would doodle all over his atlas, and when he grew older and made his breakthrough in the arts world, he did so with alienating and deeply fascinating sculptures and drawings that presented a sensual fusion of life and death, birth and transience, multiplicity and unity, the iconic and the fragmentary. A playful universe in which ideas could collide and lovingly but also slightly disrespectfully tamper with the historical codes of the fine arts.
It is this same charming naughtiness that comes to the fore in "Behind the Curtain", his solo exhibition at the Royal Museums of Fine Arts. Not only in his bronze sculptures enveloped in a silver patina, of birds that never fly but stand, lie, and break open into absurd constellations, but also in his oil paintings – a new direction in his ungraspable artistic practice.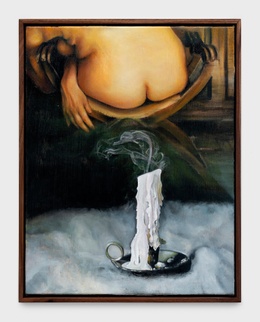 "I have always had a soft spot for the old masters. I still consider painting the most divine discipline," Thomas Lerooy told BRUZZ a few weeks ago. Reason enough to make it just a little bit more human. Sometimes he does this through comedy: Two Is a Pair is a composition with two pears, while in Moonlight a candle has just been blown out – perhaps by the mooning bottom that we see above it?
Sometimes he does so through a jet-black exploration of the macabre: all medical attention will come too late for the unfortunate assistant of a William Tell wannabe in An Apple a Day. Or by highlighting the material boundaries of this newly discovered discipline: in addition to a surrealist scene, both Broken and Viewpoint feature a (painted) curling corner, as though the paintings emphasize their own transience.
The art of Thomas Lerooy thus lustily gropes at life. Ambitious and yet doomed to fail. Deadly serious (in its formal appropriation) while also relativistic in what the form depicts. It is on this fence that Thomas Lerooy likes to sit: between pure idea and flawed attempt, between the iconic and the fragmentary, between the outside world and what goes on behind the curtain. All is in vain, let's try again!
THOMAS LEROOY: BEHIND THE CURTAIN > 18/8, Royal Museums of Fine Arts of Belgium