In the 1960s, a Swedish fashion designer and artist and an American avant-garde jazz icon made their home a stage, and the stage their home. An exhibition at argos now focuses on that – until now – under-documented period in the lives of Moki and Don Cherry, their children Neneh and Eagle-Eye, and a community of like-minded artists.
We are at a point in terms of art history where we are assessing what we have been looking at for such a long time and whether those were actually the right things to be looking at. The conclusion being that art history is flawed and that it needs to be actively rewritten, and that is what's happening right now," says Niels Van Tomme, director at argos, the Brussels centre for audiovisual arts. "Because honestly, looking at all of these works, you can't help but ask yourself: how is it possible that we haven't seen more of it when it was still being made?"

The work that Niels Van Tomme is referring to, belongs to Moki Cherry – born in 1943 as Monika Marianne Karlsson – a Swedish fashion designer and artist, whose vibrantly colourful textiles and tapestries, stage and poster designs, album cover art, drawings, paintings and performances will adorn argos' space for the next few months. It is work that has been lost in the sparse, unflinching pages of art history. For many reasons, which are difficult to understand today and rightly falter. Especially given that Moki Cherry, who passed away in 2009, seven years before Stockholm's Moderna Museet would put up a small overview show of her work, was key to one of the most intriguing and inspiring alliances to redefine the contours of art and life.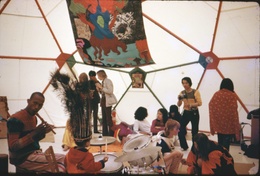 It is that roughly ten-year period from the end of the 1960s to the late 1970s, the peak of that alliance, that is explored at argos. The period in which Moki's life became intensely intertwined with that of Don Cherry – by that time already an avant-garde jazz icon, who with his pocket trumpet in the Ornette Coleman Quartet had helped define The Shape of Jazz to Come, went out touring with Sonny Rollins, Albert Ayler and George Russell, co-founded the legendary yet short-lived New York Contemporary Five and as band leader had released three Blue Note records into the world. A period in which that status and the conditions for achieving it were questioned in order "to find a way to share our lives together", as Moki Cherry wrote later in life.

BE HUMBLE
The seeds for that shared life had been sown as early as in 1963, when Moki, then nineteen years old and a student at Beckman's School of Design, saw Don Cherry perform at the Stockholm Concert Hall with the Sonny Rollins Quartet. That same evening they met for the first time in the jazz venue Golden Circle. In late 1964 Don Cherry came to Sweden "just to see me and Neneh", her daughter with Ahmadu Jah, a musician from Sierra Leone who came to Stockholm to study engineering and whom she had divorced early. In the years that followed, that shared life would flow into a fascinating artistic collaboration, in which home, family (expanded with their son Eagle-Eye), domestic life, spirituality, nature, teaching, music, performance and art together would create an environment for another way of being in the world. "To experience Love – To give Love – To receive Love – To share Love. In Life – To make it Work through Work. To search for a Way to see if Life and Living in itself is Art by being a Creative process," Moki Cherry writes.
The most tangible part of that environment is when the couple purchases an abandoned schoolhouse in Tågarp in September 1970. "The mothership, our family headquarters, the source," their daughter Neneh Cherry calls it in the imposing, nearly 500-page book put together by Blank Forms, the arts organisation that created the "Organic Music Societies" exhibition in Brooklyn last year. It is a fitting space for a practice that is so firmly focused on learning, sharing and existing in the now as a way to both recognise what has gone before and envision a different future. A space where a new context was imagined through happenings, concerts, workshops and educational projects under the header "Movement Incorporated" and later "Organic Music."

These visionary ventures into a possible world are documented exhaustively in the book Organic Music Societies. "It became so extensive because of Covid," says Naima Karlsson, Neneh Cherry's daughter, archivist for the art and music of her grandparents Don and Moki Cherry and co-curator of the exhibition. "The project went on a bit longer, which enabled us to do more research. It was amazing how much stuff there was to find, and then Lawrence (Kumpf, artistic and executive director of Blank Forms, ed.) also sourced other material, interviews and essays."

Organic Music Societies ties together a plethora of threads to create new frames of reference outside of the traditional narratives and an insight into the depth and scope of the collaboration between Don and Moki. "The moment that Don Cherry replaced his position at the heart of the commercial jazz scene for this space in the Swedish countryside and almost disappears from the hardcore jazzhead radar, that is the moment where this story starts," says Lawrence Kumpf.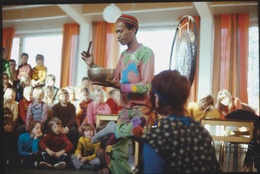 That story needed to reach deeper. Until now this episode in Don Cherry's life remained blurry. Even though it is an episode where the jazz musician digs deep into the source and probably comes closest to what he envisioned music to be. Maybe that is because their collaborative work resists museums and institutions in its very nature, as Lawrence Kumpf says. "I think it is the institution that needs to catch up to the work. Creativity doesn't necessarily stick to disciplines."

"I would go even further," says Niels Van Tomme, "it doesn't need the institution. We need to be humble in front of it and realize that it already meant something outside of these walls."

DON'T PREACH
"There is this idea that Don was a hippie or that his move to Europe was part of this escapist urge," explains Lawrence Kumpf, "but if you look at the interviews he did with Keith Knox in the 1970s (that are also part of the book, ed.), you can see that he is well aware and engaged in the politics of that time, that he is paying attention to the Black Panthers, that he is friends with poet and writer Amiri Baraka… He had his ear to all that stuff, contending with it and dealing with it through his workshops and teachings and so on."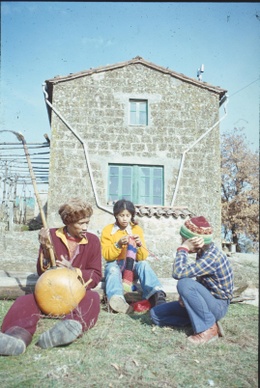 "On a superficial level, it's easy for people to think of Don as this almost fairy-tale character, but both Don and Moki were serious artists," Naima Karlsson adds. "They were always working, collaborating with other artists of their time. My mom finds that label really frustrating, because in her experience, they were actually always very focused and quite strict about their home life. They weren't just hanging around."

"I think it's a common myth about black musicians – having a good ear or just being really talented – that is increasingly being debunked by people like Robin D.G. Kelley or Farah Jasmine Griffin. No, it's rigorous practice and study, and you clearly see that with Don. He is searching, he is travelling to India, he is working with Turkish musicians…" The workshop sessions at the school in Tågarp were a global affair, with musicians from all over the world sharing their knowledge and insights. It was a way for Don Cherry to elaborate his idea of "collage music", towards a "world music" built on the foundations of equality, solidarity, collectivity and improvisation. As can be heard on Organic Music Society, Don Cherry's 1972 album/trip featuring a painting by Moki on the gatefold that beautifully translates the energies of their Swedish home.
Music is living matter. Uncategorisable, recalcitrant and radically open. To be able to tap into that energy you need to be receptive and giving. There is immense generosity in Don and Moki Cherry's shared ambition of opening up to the world, to various cultures and people, to the audience. To leave behind the ego, the position of a creator to become a larger part of the creation. "It's not my music," Don Cherry said in a 1978 Swedish broadcast of the same name. Even though he wasn't eager to share his political views, it is hard not to see this philosophy as radically political. "Definitely," says Naima Karlsson. "It's political in their actions and not in their preaching. Of course protesting and activism are relevant, but what Don and Moki were doing was change their actual way of living, and in the process even other people's."

"What's interesting about it is the micro level on which they were working," says Niels Van Tomme, "and meaningful change that causes on a larger scale. That is what Moki's saying is about: 'The stage is home and home is a stage.' Everyday life is political, and the incorporation of it in their practice was also a reaction against the way jazz music was being presented and organized, against the way musicians were being treated in official, commercial jazz circuits. Through everyday work and experience, Don and Moki were able to create a living alternative."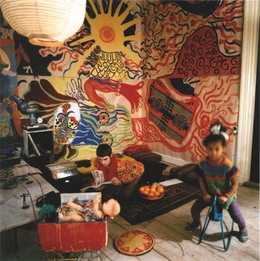 "Presenting music in this more intimate context, bringing this sort of rigour, meticulousness and discipline of music into daily life, also helped Don in his struggle with addiction," says Lawrence Kumpf. "It was a way to cope with that and create a sense of awareness in order to step outside of habits so many talented black artists in America were dealing with at the time, because of the harsh environment of the clubs that often left them underpaid, discriminated, exploited…"

"And that's what Moki brought to the collaboration: a way for Don to take his music to other spaces than dark jazz clubs," adds Naima Karlsson. "A way to create a living environment, where everything was self-made." And where stage and home were interchangeable, like in the exhibition "Utopias and Visions 1871–1981" at the Moderna Museet in 1971, where the family lived and worked in a geodesic dome for 72 days.

HOME-GROWN
That domestic context is nothing short of a possible world, an alternative environment. "It starts in the home, if there's anything that's going to happen in society, it must start in the home. Once it starts in the home it then vibrates and radiates out," Don Cherry said in an interview with Keith Knox in 1970. Home in that sense is a source. For change. "And one that is not connected to a strict family structure," Lawrence Kumpf explains, "Don is advocating for home to be opened up and porous and expansive beyond the family unit. Where everyone is treated with the same respect, whether it be children, Swedish free jazz musician Bengt Nordström or Indian string player Zia Mohiuddin Dagar. His pedagogical engagement relates to that breaking down of what was learned to get to a pure creative space."
"Don lived in San Francisco while we were in Europe, but whenever we would see him, he was playing music, handling instruments, teaching rhythms," says Naima Karlsson, who was 13 when Don Cherry passed away. "Moki lived until I was 26, and I was really close to her all of her life. I spent a lot of time with her, especially during the summer. She would always be working to get her exhibitions ready, and would find ways to keep me busy. (Laughs) As I got older and got interested in studying art myself, I became an assistant to her very naturally."

"She sometimes struggled with the fact that she was not so well-known. Maybe because her work balanced between design and art and dealt with textiles she wasn't taken seriously by the art community for a long time. But she was constantly working, sometimes making things for their workshops, but mostly creating works, in and of themselves. It frustrated her that most people just knew her works as part of Don Cherry's aesthetic. Many women artists get overshadowed by the male that they might have been working with. But it's great that so many people are interested in her works now."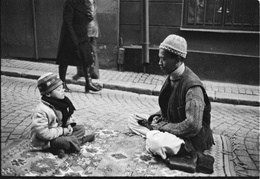 "It is a good thing that these silent narratives and marginalised stories are now being voiced," adds Lawrence Kumpf. "It is so important to tell those stories, to be more inclusive with women, to treat artists of colour on a serious level. It's meaningful that a younger generation of artists is able to have access to those stories."

"Especially these days," says Niels Van Tomme. "We're at a moment in time when it's easier to imagine an end to the world than an end to capitalism, as Frederic Jameson said. With their collaboration, Don and Moki are showing that a different world is possible. Built with love and patience and by dedicating time to it. Growing organically yet very decisively."

DON & MOKI CHERRY: ORGANIC MUSIC SOCIETIES
12/2 > 1/5, argos, www.argosarts.org