The pulse of the skate community is beating faster than ever before. But while Brussels skaters hunger for safe spaces to hone their skills, the pressure on public space is increasing. "It's unbelievable that the capital of Europe doesn't have a decent skatepark yet."
Clack, clack, ding, whoosh! 19-year-old Bryan ventures out for a few skateboard tricks at Place Mo. For a couple of years now, Moricharplein/Place Morichar in Sint-Gillis/Saint-Gilles has been one of the favourite hang outs of the Brussels skate community, but on this first Tuesday of the summer holidays, he is about the only skater present on the red square. A bit further away, a young boy on a step bike and a girl on a pink bike have claimed a piece of the square.

Place Mo has been making tempers flare up in recent weeks. Just like at the Theaterplein in Antwerp, local residents launched a petition against the nuisance in and around the spot. Subsequently, the police had the ramps, curbs and slides that the skaters had built carried off to the recycling centre, without any consultation. The skaters answered that démarche with a protest.
"This square really is chez moi," Bryan says as he unplugs his earphones. "I do go to a skatepark sometimes, but in fact, I prefer to stay here. I am among friends here. Anything we bring is used by everyone, we take care of it together." He does not think the skaters are the problem but the partying youths who hang around late, making noise and leaving a mess. "I understand the local residents, but I'm upset that they didn't speak to us. We are sweet and kind, respectful young people."

His buddy Nor (22) gives him a fistbump. "The past few months have been very dark, skating is my outlet. Then the police come and chase us out of here. That's very frustrating. There are plenty of smaller measures that could reduce the inconvenience. But Brussels simply has too few real skate spots."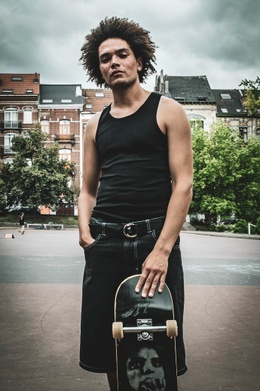 There are some, but they are inadequate, he says. The skatepark at Ursulinenplein/Square des Ursulines is something between a square and a skatepark, and too many late-night dwellers ruin the atmosphere. There is the indoor Xtreme Park in Haren, but that is less focused on skaters. Triton in Evere and Wiener in Watermaal/Watermael are too restricted. The only good place at the moment is the indoor and outdoor skatepark Byrrrh & Skate in Anderlecht, "but there you have to pay."

COMPLETE BOARDS
"In fact, every municipality should have a skatepark just like they have a football pitch," Youssef Abaoud, founder of Byrrrh & Skate and practically the patron saint of the Brussels skate scene, told us three years ago. "Skateparks are an important outlet for young people," agrees Brussels Minister of Mobility Elke Van den Brandt (Groen). "If you want to avoid nuisance, you have to provide more infrastructure that lives up to the needs of young people. With enough obstacles and enough challenge. The public space is still dominated by infrastructure tailored to cars, but we would like to change that. With more space for terrasses, playgrounds, greenery and skateparks.
"The skaters at Place Mo are waiting for such a place, but in the meantime they want to keep on skating in their beloved square. Much needed talks are ongoing between local residents and the skaters, says alderman for Youth in Sint-Gillis/Saint-Gilles Willem Stevens (Vooruit). "This past week, we first sat down separately with skaters and the neighbours. Then we brought them together. To see what could be better. Putting the ramps away at a certain time, for example, but then you have to find a space for that, or keeping part of the square clear for parents with children at busy times."

No one denies that Place Mo has been busy these past few months. Skating continues to gain popularity. The fact that it has become an Olympic sport and that the youngest British Olympian, Sky Brown, is a thirteen-year-old skating prodigy, only makes it more popular. That Covid made people go outside has also played its role. "Skating was a good alternative for those who could no longer exercise indoors," says Yves Tchao, skater of the first generation in Brussels and since 1994 owner of skate shop Ride All Day. "Old skaters have dusted off their boards, a lot of young kids have started. You can do it alone, or with others, but you don't need anything for it, just a board."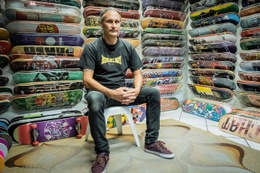 "He has never sold as many complete skateboards as he does now, he says. "Especially beginners buy a skateboard with all its components: deck, trucks, wheels, bearings and grip tape. Then you have everything right away and it's less expensive." Over the years, his audience has become much more diverse. Especially young girls are visiting him now. Social media play a role in this, he says, but also the all-female collective like BX'elles that started 18 months ago from the monthly girls' sessions at Byrrrh & Skate.

DO THE DIY
"We heard so many times from girls that they wanted to skate, but they didn't dare to go to a skatepark," says Una Kreso of BX'elles. "It started with an Instagram page where we posted videos to encourage them: come on, don't let them stop you! Suddenly we have become much bigger than we ever dared to hope." BX'elles now has six core members and has become a non-profit organisation. They are even official partners of Byrrrh & Skate and teach there as well. Goodpush, an organisation that supports social skateboarding projects worldwide, gave them funding to teach children from underprivileged neighbourhoods in Brussels to skate this summer.
In August, the BX'elles team will go and build a skatepark in Sarajevo in Bosnia, Kreso's homeland, in association with Toestand, a Brussels-based organisation that works on the temporary use of empty buildings and abandoned spaces. They do not have much experience with that, says BX'elles member Annelien Snyers, but they already built a mini-ramp in La Zinzinerie, the large hangar at Allee du Kaai, a piece of Berlin in Brussels along the canal that has been re-developed by Toestand. Inside Allee du Kaai, free initiations are given to both hipsters and sans-papiers. Outside, a skate bowl was built by the Brussels skate crew Mashers three years ago. That DIY mentality is what defines the skating community. "Out of necessity, otherwise nothing will happen," says Snyers. Byrrrh & Skate is the best example of this, Youssef Abaoud built his park largely with recycled materials, with joint forces. "It's really crazy to see how quickly you get involved in that community," says Snyers. "I've only been skating for three years, and I'm already helping to build skate ramps."

DIVING FOR DECKS
Byrrrh & Skate has had to find a new location twice already and is now at Studio CityGate. But that is also a temporary location, within two years Youssef Abaoud will have to look elsewhere. Allee du Kaai will also soon be demolished as part of the construction of the new park along the Becokaai and Materialenkaai/Quai Béco and Quai des Matériaux, for which works should start in 2022. A new skatepark will be built on the same spot, partly under the new Suzan Danielbrug/Pont Suzan Daniel, currently in construction. A new Recypark will be built on the Fernand Demetskaai/Quai Fernand Demets in Anderlecht and a skatepark will be integrated into a green zone there, to a design by the Finnish landscape architect Janne Saario, who has already designed skateparks in Helsinki, Rotterdam and Gijón.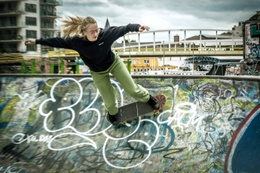 But that is still in the future and until then, Brussels skaters will have to make do with what there is: not much. Although two new spots have been added in a short time: in the Ter Kamerenbos/Bois de la Cambre the City of Brussels has created a pop-up skatepark, on a site where there used to be cars. And the new skatepark Sk8 Port, an initiative by the Port of Brussels as part of the redevelopment of the canal zone, is being inaugurated in Neder-Over-Heembeek this week.

For Sk8 Port the expectations were high, but the result divides opinions: many good intentions, nicely located under a historic harbour crane, but the skate community is mostly sceptical. The most common complaint is that it is several kilometres away from the city centre. There is little else to do in the area and the canal is very close. Even though there is a barrier now, it is not inconceivable that a skateboard could end up in the water, thinks Yves Tchao.

"It did happen a few weeks ago with a friend of mine", says Otto Vanagt of the Brussels skate crew BXL Street'rs. "He went to retrieve it, because he absolutely wanted his board back." Vanagt has been there once, but he doesn't think he will be going back very often. "The plans looked okay, but in reality it is a disappointment. The location is nice, but it's too far from the city to go skating for a whole day." The park is also rather modest in size, says Yves Tchao of Ride All Day. "Brussels actually needs a park of at least 2,000 square meters, or several parks of 1,000 square meters."

LOOKING FOR LENNIK
Pim Notebaert, himself skater, at the time one of the builders of the bowl at Allee du Kaai and nowadays full-time concrete sculptor of skateparks all over Europe, is mainly concerned by the park's structure. "The bowl itself is okay, but you can see that the ledges and rails were built by people who do not have much experience." The park was nevertheless designed by Pierre Jambé of Antidote, an old hand at designing skateparks. "His design was great," Notebaert nods. "But the installers didn't follow up on everything. When we build a park, we adjust according to what we sense from our experience."
Notebaert also regrets that the contractor for the skatepark, the company Hertsens, has gone into business with a Spanish skatepark builder, iO Skateparks & Ramps, while there is just as much talent in Belgium. What makes Belgians so good? Pioneers such as Concrete Flow and Concrete Dreams, which is responsible, among other things, for the construction of the skatepark in Mechelen. They also lent their expertise to Byrrrh & Skate and gave Notebaert a hand at Allee du Kaai. "You have to build with passion and vision," he says. "But most of all, you have to feed back to the local skate community, understand the needs and desires and involve them in the construction."

This did not happen in Heembeek, say Una Kreso and Annelien Snyers from BX'elles. "We feel like there's not enough listening," says Snyers. "It's true that there isn't a single point of contact in the skate community. But speak to one skater, and it goes around like wildfire. For example, that we didn't know the skatepark was opening this week says it all." Kreso nods. "There was funding, there was an effort, that is nice, but a crucial step was skipped."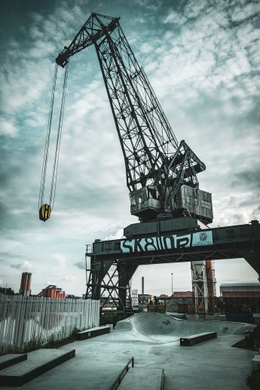 "I used to set up petitions and sit around the table with policy makers, but it led nowhere," sighs Yves Tchao. "I've now got my hopes up for Allee du Kaai. If that doesn't work out, I'll give up on Brussels. (Laughs) For now, I'll get my kicks in Flanders. Lennik is a village with 9,000 inhabitants, but they have a dream of a skatepark. In Ghent you have the Blaarmeersen, which is awesome. But in Brussels, the capital of Europe, nothing. I think that's outrageous."

STREET VS. TRANSITION
Skateparks are great, but skating is also about pushing your boundaries, finding your freedom and going wherever you want. There is a reason why skaters claim Place Mo, the square next to the ING building near Troon/Trône and the plain near Luxemburg/Luxembourg Station. Or, in its time, Kunstberg/Mont des Arts, which today is largely taken over by the terrasse of Plein Publiek BXL. Doesn't a skatepark have the effect of being hidden away a bit?
"That's kind of how Sk8 Port feels," nods Una Kreso. "But I prefer to skate on the street anyway. It is a greater challenge to be creative with obstacles that are not actually made for skating. You often provoke a reaction from passers-by and get into conversation with people you wouldn't otherwise get to talk to. That makes me feel part of the city."

Because of the lack of skateparks in Brussels, there are more street skaters than "transition" skaters, skaters who prefer a halfpipe or bowl to the street. "I really like both," says Snyers. "When I was new to Brussels three years ago, I started taking skate lessons at Byrrrh & Skate. That was my way of integrating. When I skate around town now, I feel like I'm adding something. That's my way of expressing myself."
Expressing that individuality and becoming part of the city is exactly what makes Morichar Square so beautiful, says Snyers. "I think that's a wonderful place. Okay, sometimes it's so crowded you can't skate, but that coming together of so many different profiles in a certain harmony, that's great." Yves Tchao feels the same. "Skaters don't do politics, whether you speak Flemish, French or Arabic, whether you are Belgian or Moroccan, everyone with a board is equal."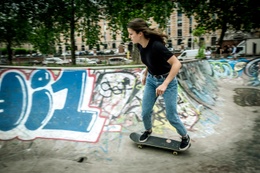 Skatepark builder Pim Notebaert agrees that building a few skateparks will not keep all the skaters off the streets. "Skateparks are good for learning tricks, or for parents who don't like to send their kids out on the street. But skaters will always look for that one spot that's too good not to skate on." Even if the urban furniture suffers from it. Sometimes skatestoppers try to curtail this vaunted freedom, such as the iron plates on the stone benches on Flageyplein/Place Flagey. "That's true, but in Belgium it's not that bad. In cities like Barcelona or San Francisco, there are skatestoppers on every curb."

CAR-FREE SUNDAYS
At the end of the 1970s, beginning of the 1980s, there were several indoor skateparks in Brussels, but they were all closed down, Yves Tchao recalls. "That has since then forced the street community to grow. But you can't deny, too, that Brussels is the best street city in Belgium. Skaters from Antwerp and Ghent regularly come here to skate. There's a lot of building and renovation going on here, which generates loads of new places."
New places that will undoubtedly cause friction, literally and figuratively. "As long as there's skating, it will go on," Notebaert says. "Skating fits in with today's idea that no one wants to be pigeonholed. Especially with Covid, where everyone felt trapped. Skating was about the only thing you could still do. I actually loved that first lockdown, it seemed like every day was car-free Sunday."

SK8 PORT
Opening + skateboard demonstrations: 13/7, 11.30
Vilvoordsesteenweg/chaussée de Vilvorde, Neder-Over-Heembeek
Facebook: Port de Bruxelles