For a second time, director Kenneth Branagh lets himself play detective Hercule Poirot in a luxurious film adaptation of an Agatha Christie novel. His star ensemble takes Death on the Nile out on dangerous waters.
So far, Agatha Christie has sold two billion books and millions more are sold every year. TV and film producers soon got wise to the fact that people enjoy the murder mysteries of the Queen of Crime. Two of the most famous are Sidney Lumet's Murder on the Orient Express (1974) and Death on the Nile (1978).
Many a film critic thought that such a whodunit would be too corny, far-fetched and static for 21st-century moviegoers, but they were sorely mistaken as they found out in 2017. Murder on the Orient Express raised almost €313 million. A somewhat older audience loved seeing a cast of well-known stars (Johnny Depp, Penélope Cruz, Michelle Pfeiffer, Judi Dench, etc.) in costume in a murder mystery that provided all the necessary suspense and in the end, was completely unravelled by a sleuth of the highest order: the Belgian detective Hercule Poirot.
Negativity
Director Kenneth Branagh, a veteran of Oscar-winning Shakespeare films, pampered the viewer with a particularly luxurious performance. With a monumental moustache, he passed himself off as Poirot. Repeating the success seemed easy-peasy and there is no lack of Agatha Christies.
In adapting Death on the Nile, Branagh secured dazzling land­scapes and settings. The pyramids of Giza, the temples of Abu Simbel or Karnak, a splendid boat with which the jet set sails down the wondrous Nile. Branagh enjoys making it look as good as possible. The plot is an ingenious Cluedo: on the boat, murder follows murder. Almost everyone onboard has a secret. Including Poirot.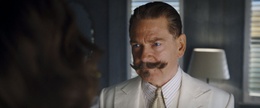 Not many would turn down a well-paid, easy job in a sure-fire hit. Among those who said yes were Gal Gadot from Wonder Woman, Armie Hammer from Call Me By Your Name, Annette Bening from American Beauty, Emma Mackey from Sex Education, British comedian Russell Brand and Letitia Wright from Black Panther. A bad miscalculation: they bring Death on the Nile down, and Gadot and Hammer are just not very good actors.
But it was mainly off screen that things went wrong, giving the film an air of negativity. During the lockdown, Gadot mishandled "Imagine" by John Lennon. Brand and Wright were discredited as having alleged sympathy for anti-­vaxers. Hammer found himself cancelled after stories of cannibalism, frequent adultery and abuse were investigated by the police. Disney's only hope now is that the public is so hungry for some old-fashioned escapism in a new guise that it will not care about all this.
DEATH ON THE NILE
US, dir.: Kenneth Branagh, act.: Kenneth Branagh, Gal Gadot, Armie Hammer, Annette Bening