You hardly expect the director of Annihilation and Ex Machina to bring out something bland. You know it will be special. But even given that, the body horror climax of Men will stun you.
Do not go see Men alone, because the climax is deranged body horror that would make even David Cronenberg feel faint. But also because you'll need someone to talk to afterwards about your impressions of this visually stunning film. Not that it will help in finding out what it all means. Perhaps even the director-­screenwriter Alex Garland himself does not know and if he does, he will certainly not tell us.
The need to talk about Men will be great. Unless you don't like it because it's too weird. But then it would be odd to go see Men because Garland is known for his mindfucking. For Annihilation, he drew inspiration from the Russian film poet Andrei Tarkovsky, the Southern Reach trilogy by American SF writer Jeff VanderMeer and cosmic horror. Ex Machina was his SF parable about artificial intelligence for film buffs who never switch off their wits.
Men gradually becomes impenetrable and wacko. The beginning is pretty clear. It all revolves around the character of Jessie Buckley, the ever-excellent Irish actress who over the past five years has stood out in the acclaimed Chernobyl and Fargo series as well as in such remarkable films as Maggie Gyllenhaal's The Lost Daughter and Charlie Kaufman's I'm Thinking of Ending Things.
Buckley's Harper rents a beautiful country house in the English countryside to recover from a trauma. Her manipulative husband committed suicide after she threw him out, as he had said he would. But wherever she goes or walks, she is besieged by men. You can see archetypes in them and you can rank them in terms of hatefulness and misogyny.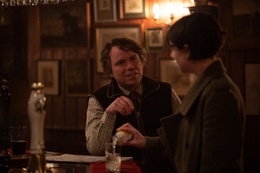 The landlord seems to be a jolly gentleman who doesn't realise how rude he is. The naked stalker is scarier and the meddling priest is a dick. Thanks to the department of wigs, prosthetics and disguises, it takes a while to realise that they are all played by the same actor, Rory Kinnear. It is anything but subtle. Even though you are quite curious about where it is going, the story does not really captivate the audience.
Fortunately, there is plenty to see, hear and experience. Several scenes make an impression in their own right. The already infamous body horror climax is the best example, but even before that there is some breathtaking cinema. Especially when Jessie Buckley is singing to test the reverberations of a sinister tunnel in the middle of the forest. Or when the Naked Man appears. For the finale, Garland tries to overwhelm you with biblical and pagan symbols and dead deer. Man oh man.
MEN
UK, US, dir.: Alex Garland, act.: Jessie Buckley, Rory Kinnear, Paapa Essiedu