With the help of Lady Gaga, Ridley Scott shows the salient downfall of Gucci in House of Gucci. The dynasty, not the luxury brand.
Gucci isn't Gucci anymore. In the last decades of the twentieth century, the Florentine family lost control of the luxury empire founded by Guccio Gucci one hundred years ago. For the commercial story and the explosion of the luxury industry – Gucci's current value is estimated at 11 trillion euro – you have to browse the business newspapers. For the thrill watching a wealthy family destroy themselves, go to the cinema.
Ridley Scott's House of Gucci features a star-­studded ensemble with nothing but Oscar winners or nominees: Lady Gaga, Adam Driver, Al Pacino, Jared Leto, Jeremy Irons, Salma Hayek. The technically virtuoso director of Alien, Blade Runner and Gladiator departed from a book by Sara Gay Forden with the telling title: The House of Gucci, A Sensational Story of Murder, Madness, Glamour and Greed.
On March 27, 1995, Maurizio Gucci was shot dead in Milan. Turns out the killer was hired by his ex-wife Patrizia Reggiani. Lady Gaga plays the flamboyant character with abandon and serious­ness. Since her successful starring role in the film musical A Star Is Born, the pop queen is proving that she has the glamour, ability and work ethic to sparkle in film as well.

An unbalanced mess
Reggiani is, rightly or wrongly, portrayed as a socialite who hooks up with Maurizio (Adam Driver) and fervently encourages him to seize power within the family business and unscrupulously enjoy an excessively luxurious life. Gucci is owned half by Maurizio's father Rodolfo (Jeremy Irons), who is stuck in the past, and half by his charismatic but dishonest uncle Aldo (Al Pacino).
To get on the throne, Maurizio also has to get past his cousin Paolo, an idiot who imagines himself a great designer. An unrecognisable Jared Leto makes a caricature of him. It's unclear if that was talked through with the rest of the cast. Leto seems to be playing in another film.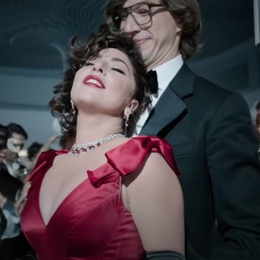 House of Gucci is an unbalanced mess. It's as if Scott didn't want to choose and went for everything at once: true crime, soap opera, the family tragedy of The Godfather, a look behind the scenes of the fashion world, and wild comedy. The lack of coherence, tonal stability, depth, makes the over-the-top film prone to criticism.
But that doesn't mean you should deny yourself the pleasure of marvelling at Renaissance palaces, penthouses, chalets with Rothko's on the wall, vintage Gucci gear and exclusive cars. Nor to chuckle at the Gucci's who forfeit everything by acting like they are in a bad soap opera about the rich and famous.
HOUSE OF GUCCI
US, dir.: Ridley Scott, act.: Lady Gaga, Adam Driver, Al Pacino, Jared Leto, Jeremy Irons