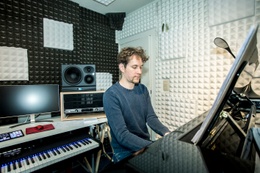 This year's Piano Days celebrate Ludwig van Beethoven's 250th birthday. But there are also pianists who excel with their own work. Noah Vanden Abeele is one of them. Although he doesn't have millions of streams yet, his piano universe continues to expand from his apartment in Forest.
Who's Noah Vanden Abeele?
Born in Ronse in 1982
Starts improvising pieces on his grandparents' piano at four years old
At seventeen, decides to become a professional musician
Studies classical music as well as jazz
Has accompanied more than 500 silent films at Cinematek
Spent time accompanying dance students at P.A.R.T.S.
Debuted in 2018 with Universe, followed by the EP Expansion in 2019. New work is expected later on this year
Belongs to a group of classical musicians who do not only perform the work of dead composers
"It is a box within a box," Noah Vanden Abeele says about the small workspace in his apartment. You would be able to hear the monk parakeets singing in the park in the distance, were it not for the fact that Vanden Abeele's studio is hyper insulated. A false floor, a false ceiling, double doors, and double windows: no sound enters here, and no sound leaves.
"I don't want to bother anybody," the Brussels pianist says. "Even when my girlfriend (the painter Sophie Caironi, tz) is working in her studio next door, she can barely hear me." There is normally also a bed squeezed between the instruments and sound equipment, but Vanden Abeele has stowed it away in order to receive us. "It is quite tight, yes. But you have to make sacrifices to live in Brussels. And sleeping here is very quiet, of course."
Vanden Abeele grew up in Ellezelles, a small village on the border between Flanders and Wallonia, just south of Renaix. He stayed in Brussels after completing his studies here and has lived here for the past twenty years. "It took me a long time to feel completely at home in Brussels. I was looking for an identity and couldn't find it. I now realize that what makes Brussels special is that it has no fixed identity. And that is what makes me so happy here now."
With his 2018 debut Universe, Vanden Abeele carved out a niche between the "neoclassical" of artists like Max Richter and Joep Beving. The only difference is that he doesn't have millions of streams yet. "Piano playlists are fine and I understand why people need them. It brings a certain rest to their hectic lives. My girlfriend plays those playlists too. (Laughs) But you have to be careful that you don't start making music that is tailored to those lists. The most important thing is that it is your own. I rarely listened to that kind of music, by the way. When I was a teenager, I would prefer The Prodigy or Korn." (Laughs)

La douceur de la vie
Vanden Abeele fell in love with the piano when he was a four-year-old sprout. "My grandparents had a piano and whenever we visited them, I would start improvising on it. I remember my parents lifting me onto the stool because I was too short to see the keys." His mother enrolled him in music school when he was eight. "It was an adjustment. I had always just played whatever came into my head, and I was suddenly confronted with those little dots. (Laughs) I had lots of improvised pieces in my head, but I didn't dare to play them there because I thought they were too intimate."
He quit classical lessons several times but never stopped improvising on the piano. "I went through a difficult period when my parents got divorced and I had some bad friends. I clung to music in that period; it was music that would drag me out of the shit." At a certain point, he realized that music was to be his life. "It was a little terrifying. I was sitting at the piano, stood up for a moment, walked around, and then realized: yes, this is what I want to do."
His mastery of improvisation continued to be a well-kept secret during his studies at the conservatory. "I always approached music very freely, but I felt imprisoned at the conservatory. The mentality of classical music is almost…clerical." In the meantime, he was able to do his thing at Cinematek, where he started accompanying silent films. "I have done more than 500 already. Tonight I am accompanying The Birth of a Nation, a 190-minute film." He doesn't prepare. "The screen is my score."
It was only when he made Universe that he first wrote something down. "It was very sobering. Improvising is like going on a journey. You do whatever you want, you don't have to think about it, you can't make any mistakes. Once you start composing, you realize how important form is. How our ear longs for logical structures."
Without thinking about it, images flash through his head when he improvises. "It is like therapy. Emotions from the past re-emerge." Hence the titles like "Douceur de la vie" and "Everything Is Perfect". "Life isn't always a walk in the park, but just like my music it can be very tender."