They jokingly describe themselves as the veterans of the French-speaking Brussels jazz scene. But thanks to their first record, as well as a number of enthralling concerts, Yôkaï may still be considered part of the new cohort of jazz cats, for whom labels are in any case only burdensome. Yôkaï's hypnotizing groove will surely be one of the highlights at this year's Fête de la Musique.
That morning, Jordi Grognard, one of the two wind instrument players in the collective, arrives ten minutes (and an academic half-hour) later than his friends and fellow musicians at café Le Dillens, the bar in Saint-Gilles where they sometimes perform. Nevertheless, he immediately picks up in the middle of the conversation. "It is not a musical style or a typical sound, but our friendship," he says forthrightly. "People often ask us: 'How does it work, with so many people in one band? With a rock guitarist, a jazz saxophonist, and a pop drummer?' But fundamentally, it is our friendship that holds everything together.
Add to that the fact that our rock guitarist is not only a rock guitarist, our jazz saxophonist is not only a jazz saxophonist, and our pop drummer is not only a pop drummer." This is Grognard's deft summary of the bigger story that drummer Yannick Dupont and saxophonist Frédéric – Fred to his friends – Becker, who have likewise been part of the band since the very beginning, had been telling us in great detail before Grognard arrived.
Yôkaï was created organically when Dupont had an In Vitro artistic residency at Recyclart in 2011. "Every time I was allowed to play, I assembled a different group, and one of them became the kernel of Yôkaï. The four initial musicians are still part of the group: Jordi and Fred, bassist Axel Gilain, and me. We performed a number of concerts as an extension of that residency."
As their reputation grew, so their membership also expanded. Eric Bribosia was their first keyboardist. When he missed a gig, he was replaced by a guitarist – Clément Nourry – or a fellow keyboardist, Léo Dupleix. "Almost every time we had to replace somebody, the replacement stayed on, either as a permanent member of the band or just in the replacement pool," Becker says with a certain pride. "But we didn't think seven was enough, so we asked Louis Evrard to join us as a second drummer," Dupont says.
"Later on, Léo moved out of Brussels and we had to replace him with Ivan Tirtiaux as an extra electric guitar." But that didn't mean that they had to prune their tree, as it were, which is what you would expect from a more conventional collective. "We now sometimes also ask Jakob Warmenbol to join us. He is a musician of the younger generation, and with him we have three drummers onstage. Perhaps at some point there will be 45 of us. As you can tell, Yôkaï is an extended work in progress. We have many friends and an enormous heart, so we really enjoy making music with them too."

Black Mystic Erotic
"The core of the later Yôkaï was already present in our first group," Becker says. "As a quartet, our instrumentation was an extension of (Acoustic) Masada and of the bands led by Ornette Coleman: two winds, a bassist, and a drummer who performed standards and improvisations. But we never felt the slightest discomfort with a broader musical range." The sound became more eclectic as more keyboardists and guitarists joined.
"In the early days, we performed a cross between Ethio-jazz and krautrock, but that quickly evolved," Dupont remembers. "We are all basically rooted in jazz, but we don't limit ourselves to that style. We didn't want to become just another Ethio-jazz cover band. There are already more than enough bands that do that very successfully, like Black Flower. Yôkaï is not really an Afro group. Perhaps we were for a brief period at the beginning, but we soon started exploring different musical paths."
FIVE MORE TIPS FOR FÊTE DE LA MUSIQUE
Of course there's more being showcased during the three days of musical madness. Here are five more artists worth roaming around the city for.
The National Orchestra of Belgium, a fixture at the Fête, will perform with violinist Stella Chen, the laureate of the last edition of the Queen Elisabeth Competition. A slice of Mendelssohn in your indie-rock, hip hop, and global sounds sandwich.
21/6, 20.00, Bozar, Brussels
The non-profit SchwetZ'Air has programmed an international hip-hop stage on which John Derek Yancey alias Illa J will present his album Home, a tribute to his hometown Detroit. Thanks to this album, he is definitively moving out of the shadow of his big brother, the late J Dilla.
22/6, 18.40, Dokter Schweitzerplein, Sint-Agatha-Berchem
If you are into a mass of children's voices singing Trio's "Da Da Da", you and your kids are welcome at the kiddy disco of three members of Girls in Hawaii and an ex-member of BRNS.
23/6, 11.00, Jubelpark (Petite scène), Brussels
Last year, Eve Decampo and Michel Nyarwaya released Baby Boom, exhibiting powerful emotions and potential immersed in mysterious synth sounds. It is high time to discover this Brussels electro tandem.
23/6, 18.00, LaVallée, Molenbeek
Two decades after Berchem and Chicago, Dead Man Ray's Over not only put Overijse on the world map, the album by the band around Daan Stuyven and Rudy Trouvé also marked the belpop comeback of the year. This indie concert will drench the stage in diesel, ready for the closing concert by STIKSTOF to set the place on fire.
23/6, 20.00, Jubelpark (Scène de l'Esplanade), Brussels
The musical brotherhood between Dupont and Becker goes back to the SpaceLab sessions, which took place at the Beursschouwburg in the early years of this century, and to Black Mystic Erotic, a libertine collective of Walloon-Brussels jazz musicians who would improvise to the extreme in that period. "That was a different branch of the family," Becker says now. "Axel and Ivan, who commuted from Charleroi before they settled in Brussels, were also part of that group. Yôkaï was a chance to renew old friendships. What characterizes us most as a collective is that we allow all the individual influences of the musicians – who are also members of numerous other bands – to coexist and coalesce.
The result is a mix that is difficult to pigeonhole. The fact that we have always maintained that diversity finally seems to be producing results." With a few great concerts to celebrate the release of a fine debut album, the band spent the spring figuratively dotting their i's and crossing their t's, after having done so literally. "What was once our flaw, the fact that musically we are impossible to pin down, now seems to be our greatest strength," Dupont summarizes their little breakthrough.

The new wave of jazz
At the recent Brussels Jazz Weekend, the collective were invited to perform on the stage curated by VOLTA, appearing after MDCIII, the band led by the Ghent-based saxophonist Mattias De Craene, one of the darlings of the current wave of Belgian jazz. "We felt like veterans of the scene next to all those young musicians," Dupont laughs. "But we can tell that the respect is growing. Many young people tell us that they appreciate what we do, and the compliments and cross-over are of course great for morale. Incidentally, at Les Nuits Botanique we played before Altın Gün, for a rock audience, but that also worked really well. It is 2019, after all. Everything is possible. People don't just listen to one thing anymore."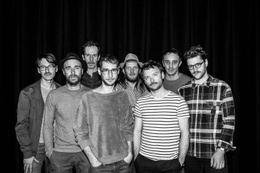 As a collective, Yôkaï does not really fit into the so-called new wave of jazz, Becker says. "Our sound isn't like STUFF., for example, and our music is in no way similar to the new wave of British jazz pioneered by Shabaka Hutchings. Although I do love that music. His fantastic performance at the AB with The Comet Is Coming was at some points very lyrical, like Alice Coltrane, with synths and glockenspiel, but fifteen minutes later you felt like you were at a rave party. It was very different than his more intellectual, Afro-inspired performances with The Ancestors. His sound may be very different to ours, but we certainly do identify with the way he lets all the different influences blend together and cross-pollinate."The fact that people nowadays no longer spend six months listening to the same album is unsettling, according to Dupont. "But the upside is that you are constantly fed by new sounds. Thanks to the improved music programmes, many of the young people here are far better grounded technically than we were at their age. The difference is that even though we don't play with a set list and we improvise constantly, we do often have an idea of the direction in which we need to take our sound. And that basically comes down to experience."

Incantation ritual
The first full album was ultimately recorded in two separate sessions and was released this spring by Humpty Dumpty Records, which would gradually like to break the band out of its Brussels cocoon. "We first recorded a number of conventional, pre-written tracks at the Jet Studio," Dupont explains. "But something was missing. We felt as though we had not been entirely successful in conveying the sensation that we feel when we perform live onstage. So we booked a second session, this time at the smaller Sunny Side Inc studio in Anderlecht. We improvised everything. The two approaches – written tracks and improvisation – are like balanced counterweights on the album."
It is striking that most of the tracks on the album are named after poisonous plants and flowers. That was Dupont's idea; he thought it suited the collective's name – 'Yokai' are supernatural beings from Japanese mythology and folklore. It also matches the album cover, featuring a mysterious mask handcrafted in textile by the visual artist and performer Stephan Goldrajch. "He is very good at voodoo and trance-like things and incantation rituals," Becker says. "The link with the invisible forces of the Japanese spirits was quickly made. There is also something consciousness-expanding and voodoo-like about our music, which sometimes aims to produce trance and change your mental state. We actually change the state of things through music. But perhaps all music does that."
FÊTE DE LA MUSIQUE > 23/6, various locations