In the new exhibition at Fondation A Stichting, Italian photographer Paolo Gasparini presents his perspective on Latin America.
Martin Parr, Magnum photographer and photography book collector, and Gerry Badger, author and curator, have known for a long time: Paolo Gasparini has a gift. The photographs that he has taken of the Latin American urban landscape over the past sixty years have effortlessly withstood the ravages of time. Even more: they are surprisingly pertinent right now.
Parr and Badger included Gasparini's 1972 book Para verte mejor, América Latina (The Better to See You, Latin America) in the hefty reference work The Photobook: A History Volume II (2006). The duo praised the voice of protest that runs as a leitmotif through Gasparini's book.
The Italian-born photographer moved to Venezuela in 1954 and settled in Caracas. From his new home, he travelled to almost every country in South America to take photographs.
Street life
Initially, he took stately portraits like those of his great example and good friend Paul Strand, but he quickly abandoned that style when he transitioned to using a 35-mm camera. Gasparini's photos became more relaxed and he moved to the rhythm of the city. Not his photos of people demand attention, but those showing traffic signals, billboards, and political graffiti. Just like Walker Evans, the Italian sees the context behind these banal urban landscapes. He exposes the tense relationship between capitalism and communism. Or how aggressive consumerism has become the new religion.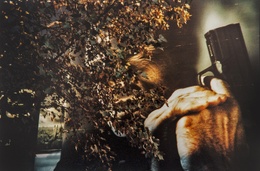 A series of broken car windows in black and white or a poster of a gangster film symbolize the violence and crime that plague South America: from death squads and organ trafficking to drug wars.
Since the 1990s, Gasparini has been reinterpreting his own work. He combines old and new pictures in photo murals. The photos enter a dialogue with one another and show an evolution.
In Cuba, young people now desperately want to look like gangsta rappers and not like Che. Gasparini does not take photos to be illustrations. His aim is to break into reality and to make his vision known. "Latinopolis" offers plenty of food for thought.
LATINOPOLIS > 16/12, Fondation A Stichting