This year, the theme of the Day of Dance is choreography in public spaces. Tightrope walkers Julia Figuière and Julien Posada, aka "les JuJu's", are stretching their rope across the Carrefour de l'Europe, while choreographer Lisa Da Boit is occupying several metro stations. A conversation about the advantages and disadvantages of using streets and squares as a backdrop.
Julien Posada – a graduate of the École du Cirque d'Annie Fratellini – and Julia Figuière – who studied partly at the Brussels École Supérieure des Arts du Cirque (ESAC) – are French masters of the tightrope. They do not only perform their acts in theatres and tents, but sometimes also in the street. Along with the French company Les Colporteurs, they toured several cities with the piece Evohé in 2015. During the Day of Dance, they will perform on a 3-metre-high rope in front of the Central Station, with the festive balancing act Champagne tango! – a cross between cabaret, tango, and circus.
And if you see a woman performing a somewhat strange dance act with a chair in the IJzer/Yser, Louiza/Louise, or Hallepoort/Porte de Hal metro stations, it might be Lisa Da Boit. She is Italian, but has been working in Brussels as a dancer and choreographer since 2000. In 2007, she founded the dance company Giolisu. On the Day of Dance, she is reprising the solo La peau des murs, which was originally created for BRXLBRAVO, and which she performed last year during Nuit Blanche – a performance in the Schuman metro station, which automatically referred to Maalbeek/Maelbeek and the attacks in Brussels. Da Boit is thus also familiar with performing in public spaces. With Giolisu, she has previously performed in the car parks of supermarkets, and when she worked with the French company Ex Nihilo for the piece Trajets de vie/Trajets de ville, she was even mistakenly arrested by the police.

What is your experience of the street as a stage?
Julien Posada: Over the last few years, Les Colporteurs have performed on the street regularly. This is of course a completely different setting than a tent or theatre, for which motivated people have bought tickets. It makes it more difficult to hold the audience's attention for a prolonged period of time because there are lots of other distractions going on around them. It is difficult to control the surroundings and the situation.
Lisa Da Boit: I have been engaged in projects in urban contexts for a considerable time now, and they are close to my heart. You question the urban environment because you occupy a space in a time in which opportunities to use public space are becoming scarcer. This setting also makes your relationship with the audience more interesting. Not only because it is very direct, but also because your audience consists of people who are otherwise not really exposed to dance. It is a way of bringing dance to people. When you introduce people in a city to artistic forms that they did not seek out intentionally, it can have interesting consequences. During street festivals, you are often dealing with a forewarned audience that has come to see you especially, but sporadic and unannounced interventions cause surprise and curiosity. Ex Nihilo used to rehearse on the pavement. Some people would pass by twice, start asking questions, and thus discover how a performance is constructed.
Julia Figuière: Performing in the street creates an accessibility for people who for various reasons would not come otherwise. You can also tell immediately if an audience is with you or not. It is not that they have to applaud everything you do, sometimes it is just the opposite. They press their hands together for fear of disturbing us, and they don't clap at the moments you would conventionally expect them to. It makes you wonder whether what you are doing isn't working, while actually they are all the more engaged with the show.
Da Boit: In public spaces, I use a different language. It requires great physical commitment. You have to occupy the space in a different way and deal with very difficult elements like concrete, rain, or sunshine. These are all much harder and more brutal than a stage in a theatre. The air and the sky alone already cause obstacles. When we made Trajets de vie/Trajets de ville with Ex Nihilo, we performed in busy cities, surrounded by the noise of cars and traffic. There is a profound physical immersion and it creates a setting that inspires you in a different way than a studio context.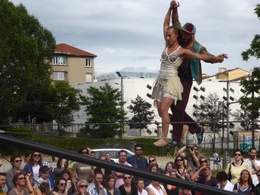 Isn't it difficult to maintain your balance when there are cars and trains going by?
Posada: There are indeed many things that can upset your balance. The wind, the rain, the temperature that makes the rope react differently. You have to adapt and not let these elements influence you too strongly. You have to create a kind of bubble with the bystanders. If you can make abstraction of everything that is going on around you, the audience will do it too.
Da Boit: There is a different kind of concentration in a public space. You cannot enjoy the privilege that everyone is just watching you. There are often many interesting things to see in a city, like somebody walking their dog. [Laughs] It can be cruel sometimes. Some passers-by don't even deign to look at you. But in a way that keeps art in its place. It is a challenge to draw the interest and attention of passers-by.
Figuière: With Evohé we noticed that there are things that work on the street and others that don't. Our act always draws people's attention, but we are often making small movements on the tightrope. We don't perform a dramatic show with acrobatics and flying trapezes, so you have to make a much greater effort to hold people's attention. We are not about to betray our artistic vision by wearing colourful costumes or something like that. The challenge is to do justice to the refined, sensitive, and poetic movements outside, in a public space. If you can manage that then you have succeeded. It is great when people stop to look because they are amazed and then stand there for twenty minutes, even if they hadn't planned to. The audiences that you encounter on the street are real audiences. Mister and Missus Anybody are easier to fascinate and move to applause. Indoor audiences are in some ways a little spoiled.
Da Boit: Despite the difficulties, magical moments can sometimes occur. Ultime Exil by Ex Nihilo was a performance in which we used plastic bags. When we performed it in a car park, a woman passed by carrying two plastic bags of her own. At first she didn't realize what was happening, but after a few minutes we managed to integrate her into the performance, and she just let us do it. It was a great moment. In La peau des murs, I once experienced a child who was being dragged away by its mother protesting and sitting down on the pavement to keep watching.

Does that tell you that art is appealing?
Da Boit: Absolutely. For some people it exudes a genuine power. I don't know what the precise conditions are, but sometimes people are just captivated. That is why I like it when people are unprepared and everything can happen spontaneously. They don't have to stay for the whole show, they can also just catch a glimpse of it as they go on their way.

Are there never rascals who are just watching and waiting for you to fall?
Posada: No, not really. But that tension is of course one of the reasons that people keep watching. The fact that you are standing on a rope automatically creates the possibility that you might fall. That danger is definitely one of the things that excites the audience.
Figuière: It is also one of the foundations of the circus as such. People might not admit it, but they want to see the fall. It is like the death of gladiators in the ancient world. One of the techniques is even to accentuate the possibility of a fall intentionally. But we tend to do the opposite. We don't aim to emphasize the spectacular nature of our performance, but rather to focus on the story and the poetry. We try to make people forget that we are standing on a rope.