With "Trouble", one half of a double bill that also takes place at Vitrine Gallery in Basel, Carlotta Bailly-Borg and her fluid, feeling and falling characters are taking over Ballon Rouge for the first time.
The American Theatre looks worn out under a drizzly winter sky. A peeling strip wall on the outer façade is mirrored in the free-flowing nature in the courtyard of the circular building, which was built in 1958 as an American pavilion at the Brussels World's Fair. But in one of the spaces surrounding that courtyard, it is teeming with life. There Carlotta Bailly-Borg's anthropomorphic characters rummage, crawl and tumble their way into the world outside their narrow frames.

Over the coming weeks, that world will consist of two places: Vitrine Gallery in Basel and Ballon Rouge in Brussels, where "Trouble", one half of Carlotta Bailly-Borg's new double bill, organized by Ballon Rouge, will be unfolded. A nice token of appreciation for the path that the Paris-born painter, who has since moved to Brussels, has followed in recent years. An itinerary that, among other things, led to solo and group shows at the Fondation Van Gogh in Arles, La Friche la Belle de Mai in Marseille, the Fondation Ricard and Palais de Tokyo in Paris, Goldsmiths CCA in London, Efremidis Gallery in Berlin and Island, Attic, Beursschouwburg, Musée et Jardin Van Buuren and Feeelings in Brussels, and in 2020 to a place in "Generation Brussels", the group exhibition where the Brussels Gallery Weekend puts young Brussels artists in the limelight.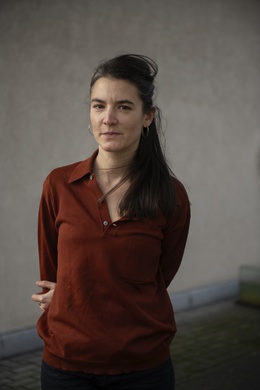 "It was such a weird time," Evelyn Simons, the curator of both the 2020 edition of "Generation Brussels" and the current double bill, remembers. "Everyone was looking for a bit of comfort during those dark days. Seeing Carlotta's figures stumble, fall and crawl off the canvas provided just that. Her creatures are not right and just and pure, they are uncomfortable, awkward, morally conflicted. They are trying to find their place, trying to engage with each other, with their environment. What you can see are our own struggles. This is us."

EAGERNESS AND FIRE
Humankind, captured in frivolous, almost hectic lines. Feeling around in the spirit of the times. Colliding with our own and other people's limits. Stumbling, in free fall. It is this eternal struggle, the human condition, that keeps Carlotta Bailly-Borg's characters moving, and gives us comfort. We are not alone. "My characters are never really comfortable," says Carlotta Bailly-Borg. "They struggle to interact, to exist, but I don't want us to feel pity for them. They occupy this in-between position we all share. I first thought of calling the show 'Empathy'. But that sounded a bit too cheesy, and I believe too much in the concept of empathy to relegate it like that. So I called it 'Trouble' instead, because they look like they are in it. (Laughs) It's a play of words, you can also read it as the French word for 'disarray' or 'bewilderment'."

The place where Carlotta Bailly-Borg tackles this chaos exudes eagerness and fire. Books about De Chirico, John Stezaker, Gustave Van de Woestyne, La beauté insensée, Betty Woodman, Yokai, La peinture florentine, R.B. Kitaj, Tshuguharu Foujita, Painters of the Bauhaus and Walter Swennen occupy a cupboard, audio tapes of Steve Reich, The Fall, Wire and the writings of Antonin Artaud form a tower against the wall.
It is all food for the curious mind. A mirror for the wide and fixed frame of reference from which she draws inspiration. "I'm really into medieval iconography, but I'm also attracted to Japanese erotic art, to astronomy or certain landscapes, to anthropomorphic shapes or frescoes with scenes of a battle or an orgy – where you don't really know exactly what you're looking at. So it can be many different things that inspire me, no matter what time period or culture they originate from... It could be anything, but it's not everything."

The common denominator? The questions that have permeated every culture since time immemorial and touch on love, desire, conflict, life. "Our struggles," Carlotta Bailly-Borg nods. "As for me, when I paint, I struggle. It's only struggling! Okay, and a bit of pleasure too." (Laughs)

LAYER AFTER LAYER
"Most of the time I have a clear idea of where I'm going and what I'm supposed to do. So I start out really enthusiastically, but after those first steps, the struggle begins. Then you fight and fight and fight until you finish," Carlotta Bailly-Borg says. It is part of the process, of that web between the premeditated and the intuitive. "Sometimes the process of creation is really condensed and compressed, and all of a sudden you get this boost of confidence. At other times it is stretched out in time and filled with doubts and things not working out. There is no rule as to how to approach it. I think about the work – and unfortunately I spend a bit too much time inside my head – but it's really the accidents I search for, they give oxygen to my paintings."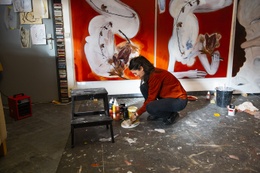 Carlotta Bailly-Borg's fiery, capricious practice creates plenty of room for happy accidents and surprises. As varied as her references and inspirations are, as diverse are the supports on which she rethinks the medium of painting. In her studio there are examples of experiments with glass, ceramics, paper, cloth and scrolls, and at the Fondation Ricard, only a few months ago, she rearranged the exhibition space by adding plaster walls and glass doors for her characters – a vocabulary in themselves, spreading across whatever surface they encounter, always being defined by its limitations – to inhabit.

That touching of everything that presents itself shows an infectious impatience, an insatiable hunger for experimentation. "You never know until you try, right?" Carlotta Bailly-Borg asks rhetorically. "Take the new series that I'll be showing at Ballon Rouge. I had this blissful idea of for once sticking to the canvas, only this time adding flowers to it through photo transfer. When it's in your head, it is this really weird mix of a realistic, photographic aspect and painting. But seeing the results now – with the occasional cracks in the transferred photos, and the happy accidents that make the layering tangible – it really excites me. I like the fact that you can see the layering, I like the idea of the palimpsest. It is what painting is after all: one layer after the other."

CARLOTTA BAILLY-BORG: TROUBLE
12/1 > 19/2, Ballon Rouge, www.ballonrougecollective.com