Somewhere between collective history and personal aspiration, you will find the radically free space of Customs & Borders. With that multidisciplinary, three-day event at Decoratelier, organizer Sélène Alexa Pliez and curator Kenny Mala Ngombe aim to diversify the arts scene by creating a space that allows for true representation and a shared moment between black artists and a diverse audience to dream, hope, doubt, err, be and build out loud.
Decoratelier has since long been a haven for dreamers and builders. For stories untold and unheard. For dialogue and construction. For journeys off the beaten track, into the wildest fringes of the imagination. In spite of what its title might suggest, the multidisciplinary, three-day event Customs & Borders, currently in the making there, builds on that unique history. To install a radically free space that allows for a variety of voices, boundless arts and inclusion. "A space where all people are equal. A space to learn, meet one another, watch, talk, listen and experience."

Sélène Alexa Pliez – together with Kenny Mala Ngombe the driving force behind Customs & Borders – is crystal clear about the ambition of the multidisciplinary event that from 24 to 26 September will pursue the continuity of Decoratelier helping creatives to build their own free zones. A zone free of labels and prerogatives, bias and group pressure, privilege and expectations. A zone that reclaims control over stories too often translated and retold, watered down and appropriated. To start anew, reinvigorate bodies that were lost, omitted, discarded, silenced, numbed. "Looking at everything that happened with Black Lives Matter and the deep crisis lived by refugees all over the world, we felt that a lot of the stories were being told by people who weren't really fit for the task. We felt the same was true for the arts scene that we have been trying to navigate for years, myself as an A&R and PR representative in the music business and visual art conception, Kenny as an artist, curator and party organizer. We aren't represented in a way that we feel comfortable with. So that's why we decided we needed to reclaim our stories."
"Because the lack of representation is problematic," Kenny Mala Ngombe adds. "When you see that a prestigious institution like the Whitney Museum in New York in 2014 at its Biennial didn't even manage to reach 10% black artists, one of those being Donelle Woolford, a fictional creation of white male artist Joe Scanlan, that tells you something. When barely four years ago, they showed Dana Schutz's Open Casket, a painting of African American fourteen-year-old Emmett Till who, after being accused of offending a white woman, was lynched in 1955, it sparked outrage. Rightly so. It's just weird, because to the artist, a white woman, black suffering is merely theory and emotion. To other people, it's lived experience. To me that says that the artistic expression of a white artist is more important than that of a black artist."

"The norm is still white and Eurocentric. The narrative is still controlled by white curators and institutions, even in exhibitions by black artists or about intimate or traumatic black stories. Black bodies are aestheticized, displayed and gazed upon, but their minds are not used, let alone included in institutions' higher levels. So you cannot but feel detached from those stories, even though they might resonate with you. To have better representation of sub-Saharan people, African or from the African diaspora, is a way to get those stories from the people involved rather than from theories or labels. That's what we aim for. We want to give the artists full control over what kind of story they would like to tell and to include them in the dialogue, together with the curator, the organizer, the space."

STUCK IN A LOOP
That space is Decoratelier, the warm, increasingly tangible utopia in Manchesterstraat/Rue Manchester, where a constant buzz of dreaming, talking and building fills the air. "We immediately connected with the project," says Marie Umuhoza, programmer of Decoratelier's summer festival Something When It Doesn't Rain and link between dream and deed for Customs & Borders. "We could really feel that the project was broad and well thought through, that all the people involved were deeply committed to make it work and that it was a project for the artists, the audience and this space. All these connections made sense to us. Customs & Borders is something by them, through us, for the audience – the motto of our summer programme. The fact that they approached the project like Decoratelier does with everything – building out loud, creating visions and making things happen starting from a space – meant that it made sense to not include them in Something When It Doesn't Rain but to give them their own time. For Sélène and Kenny this is a first step, something that will grow bigger. A project that, like Decoratelier, is constantly evolving, that is one thing today but maybe something entirely different tomorrow."
This fluid, ever-evolving shape mirrors an expression of hope, the room for change is enormous. "Because it also affects the audience," says Kenny Mala Ngombe. "If the black community can't see itself being represented, it inhibits growth, aspiration. I want to break through the general idea that art might not be for certain people, that they don't have access to it or perhaps even lack the mental capacity for it. Representation is important for making people consider art as a possibility. But it's a mountain to climb..."

"To some people, emancipation is apparently supposed to be gradual, but that doesn't make sense. Progress is good, but the pace is too slow. Emancipation is also a very ambiguous thing, in my mind it means asking permission from the person at the top of the chain if you could have a little more. As if it were radical to demand full equality, to place my point of view alongside the prevailing one. For me, it's about showing that there is more."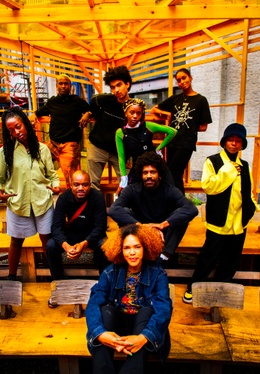 That opens the way to a detachment from the political dimension, from the question of identity. "As a person of colour you're constantly pushed into this identity bubble, where you are reduced to the colour of your skin and your discourse is to revolve entirely around that topic. You're stuck in a loop, in the constant need to affirm your identity. I do not want to have to prove that I am also a human being. A man and not merely a symbol or representative of pain. I don't want to feel like I'm compromising who I am. If representation of black artists in galleries and museums increases, I think as an artist you will have the mental space to move away from that, on to other topics."

DON'T SAY, JUST BE
It is that kind of mental space that Customs & Borders aims to make tangible. Through DJ sets, an eco-friendly mini market, a tattoo shop, nail art and food and drinks, "by black artists and entrepreneurs only," Sélène Alexa Pliez stresses. "As a statement: 'We are here, we exist, we are doing our thing in our own way, and this is how we want to be shown and represented.' It's a moment to learn and to share knowledge, ancient and contemporary."

The three-day exhibition, curated by Kenny Mala Ngombe, is also situated on that stretch between collective history and personal aspiration, and is showing itself to be sincere, resilient, fragile and fluid. "We're going to expose ourselves," says Andie Dushime, who along with Fred Gata and Kamal Tall whirls and doubts, stands firm and wanders in Safe Travels, a performance that features three voices that differ in key "but support one another through sound, narration, movement...everything we want to use really. Safe Travels wraps around the question of what does it mean to be an artist? Who defines the boundaries of artistry? Would we fit the description? Why? Why not? And how do we push those boundaries?"
"A lack of representation is simply part of our reality," Fred Gata intervenes. "I've often seen myself in the media, misrepresented, as 'Black Pete' or the dumb apprentice. My aunt once said: 'It's like we Africans are only made for music or sports.' But there are other things too, only you don't see them. We exist in the art world, but we are not shown. With this project we are ourselves creating a safe haven where we can be shown. In which we demonstrate that it's okay to be seen, with all our emotions and doubts. It will be a snapshot from a process. We all need to process."

"We share trauma, discrimination, oppression," Andie Dushime nods. "We share that impulse to create something beautiful out of that oppression. So when it comes to black culture, there is unmistakably a collective, a community. But the problem with the group is that it is often put ahead of the individual. Whereas it should be an interaction that starts in that individual."

"As a black woman, you collide with stereotypes in the community. There is no room to be weak, because a black woman is a strong woman. But we all have struggles, I'm still struggling with finding myself. That small, everyday and existential doubt is there, simple. I feel like our generation has a very sober outlook on it: 'Fuck it, depression exists, mental health is an issue.' In that same spirit, we don't want to claim our seat at the table, we'll make our own fucking table. In full awareness that it was the previous generation who created the blueprint, the space in which we can do that. In our own way. Not by saying, by being." "Precisely, we need to normalize being, daring to be," Fred Gata adds. "Not stick to those labels. We create our own links, they shouldn't be thrown at you."

"It sounds very cliché, but everyone just wants to be themselves," responds Kenny Mala Ngombe. "Are you making art with a message or not? That lies entirely with the individual. For me, the most important thing is that everyone feels comfortable and can tell their story. Can step out of their comfort zone and make themselves vulnerable. Martha Da'ro, for instance is a singer, actress and much more, but here she shows her paintings for the first time, in a kind of recreation of her bedroom, as Ro'da. Kamal Tall and Fred Gata are actually beatmakers and rappers, but they're going to do a performance. So all these people are willing to put themselves out there and show their own vulnerability. I believe there lies enormous power in that fragility. With Customs & Borders, we are trying to make all those individual stories contribute to a collective interest, rather than letting the collective determine the individual."

CONNECT, DISCONNECT, RECONNECT
"I don't have to embody the collective all the time," Kenny Mala Ngombe explains. "What does my Congolese or Belgian identity represent? I don't even know, And maybe that's a good thing. The more sharply identity is defined, the easier it becomes to tell who is outside of it and the more room that creates to discriminate."
"Blackness too is a blurry concept," argues Brahim Tall, who with Golden Ticket makes a thump of a performance/installation that makes exclusion and inclusion, and the aggression that comes with it, very tangible. "There is no concrete definition, everyone here has a different story to tell about being a person of colour. The same goes for queerness, being a woman, being a Muslim... This is precisely why representation is so important. When someone tells their own narrative, the fluidity of the subject always becomes much more obvious. Otherwise what happens is just a concretisation of something that is inherently fluid. That is why it is so important that representation ultimately leads to a change in leadership. If there isn't diverse leadership, you end up with a one-dimensional perspective. I very much hope that that fluidity, the realisation that the intersection of an individual lies on an infinite plain with an infinite amount of choices, is going to penetrate more and more into the discourse."

This fluidity is not yet a reality, Brahim Tall emphasises. Nor is it easy, as Sélène Alexa Pliez knows. "As a second-generation migrant, I really don't know where I am, where to stand. Because on the one hand there is this knowledge, this ancient culture, this connection to my heritage and the will to make my family proud. On the other hand I feel the urge to escape that shadow. To really be here and try to create someone I want to be, through what I like, what resonates with me. Customs & Borders is such a way to decide who you want to be. That's what it's about."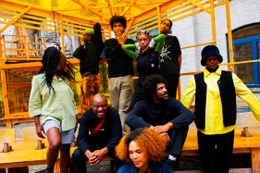 The white sheet as an invitation to start building, the empty plain as a pathway to fulfilment. "That's why I want all these people to be able to control their space," Sélène Alexa Pliez continues. "To be represented, to be present. To be able to show themselves, be honest and grow."

Because it is about growth. In so many ways. For Tanja Mala Ngombe, Customs & Borders is a way to develop and test her artistic vision as a scenographer, while still studying architecture at LUCA School of Arts. To really embrace the trust put in her and build out loud. For Maria Muehombo, known as "Mimi", it is a way to fully be herself and create her own Biotope. "I studied at the Royal Academy of Fine Arts, but music kind of took over lately," she says. "So I haven't really ever put myself out there. Knowing Kenny, Sélène and Decoratelier, I felt that I could find a safe space in Customs & Borders to explore that side of me, take on a topic that my mind has been cultivating for several years – our deep and troubled connection with nature – and bring it to life. It's going to be an immersive experience, an invitation to connect, reconnect and disconnect." As a way for the body to be fully present, to heal, to mend, to flow.
"Like Safe Travels, Customs & Borders is an exchange," Andie Dushime explains. "It's about give and receive, about honesty. About attention and openness – I see you, I hope you see me too. That can spark magic."

"But it's just as possible that we're not understood," adds Fred Gata. "So be it. We just want to show that it's okay to simply be. It is not the end-product that is important, but the process, which we are going through anyway. So there will be growth, no matter what."

CUSTOMS & BORDERS
24 > 26/9, Decoratelier, Instagram: @customs.n.borders