In the former Gosset tobacco factory, the Ghent-based Higher Institute for Fine Arts or HISK is stretching the potential of its new Brussels satellite space. With a deep blue carpet, a VIP room, an empty champagne bar and works by the next generation of international artists, "The HISK Affair" gives a twist to the art fair we love to hate.
Brussels has exactly what you need for art: it is not yet too clean, not yet too ordered. Art is not something that just hangs neatly lit by a spotlight on a white wall. Art is part of a vibrant culturality," says Willem Elias, in 1994 conceiver and now president of the Higher Institute for Fine Arts (HISK). The Ghent-based educational institution, which has been preparing the next generation of visual artists via a two-year postgraduate course since 1996, has an enormous reputation to uphold. Artists from all over the world – from South Africa to Mexico and from China to the United States – are developing their practice and preparing their appearance as resounding names on the contemporary art scene in. The long list of alumni includes names such as Charif Benhelima, Kasper Bosmans, Koenraad Dedobbeleer, Hanane El Farissi, Vincent Geyskens, Frances Goodman, Hamza Halloubi, Nicolas Lamas, Ella Littwitz, Ariane Loze, Vincent Meessen, Nicolas Provost, Meggy Rustamova, Sarah & Charles, Oussama Tabti, Joris Van de Moortel, Rinus Van de Velde, Koen van den Broek, Kris Verdonck, Shirley Villavicencio Pizango and Hadassa Ngamba.

Last year, the 25-year-old artistic greenhouse in Ghent thought the time was ripe to get its hands dirty and occupy a satellite space in the former Gosset factory in Molenbeek. "Brussels is still the capital of Flanders and – let's be honest – the only Belgian city with a real international appeal and dynamism. As an international organisation working with international candidate-laureates, we owe it to ourselves to make ourselves visible here as well. But it's not as if we want to leave Ghent," Willem Elias emphasizes. "The institute itself is not moving to Brussels. In the Gosset factory, we want to develop a multifunctional space that can host events and exhibitions, and which in time may also be able to accommodate studios and workspaces. It is important that this place does not become just an exhibition space for HISK, but a place where the HISK idea is expressed and confronted, complemented and denied..."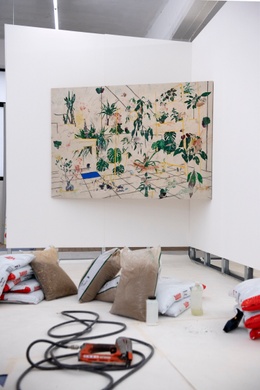 "Since the mid-nineteenth century, art is no longer merely an established certainty, a confirmation of an existing culture," Willem Elias clarifies. "Art is in fact the questioning of that culture. Central to this approach is the enduring idea that we do not formulate a single specific answer to the question of what the artist has to offer society, but rather embrace the idea of an art that questions (itself) and thus constantly produces new forms, which in turn provide new content."

HOLY SMOKE
This dynamic, fluid position finds fertile ground in Brussels. On the Gosset site − where the Art Deco architect Adrien Blomme built the factories for the "Etablissements Gosset S.A., manufacture de tabacs et cigarettes" inaugurated in 1930 and where for a long time the (in)famous St. Michel cigarettes ("Not for pantsers") rolled off the assembly line − HISK finds itself in a space vibrating with potential. "The building is fantastic, right! Look at those chimneys. Sheer heritage," responds Pieter Vermeulen as we climb through one of the high windows on the first floor of Building A onto the roof terrace.

"But even if you zoom out, this is really a unique opportunity," says the curator, who together with Sam Steverlynck and Anne Pontégnie is preparing the HISK candidate laureates for a future as an artist. "You're right behind the Thurn/Tour & Taxis site here, Kaaitheater and Kanal are a stone's throw from here... You could feel that the neighbourhood was up and coming, but now it is really exploding. Against this background, the interaction between Ghent, as a place of production, and Brussels, as a place for presentation, encounter and exchange, could become really interesting. All eyes are on this building."
"And we're not alone here," adds Sam Steverlynck. "Needcompany has been housed here at The Mill since 2017 – with HISK alumnus Helen Anna Flanagan, who was awarded the Mill's Beauty Reality fellowship last summer. Peeping Tom has its studio in this building and (local television station) BX1 has its office here." Just as Citydev.brussels, the company that monitors the urban development of the Brussels Region and is keen to see the Gosset site become a future pole of creativity.

"For forty years now, crossover has been a concept. Today, cross-fertilisation and multi-disciplinarity are finally a given," confirms Willem Elias. "I know, the evidence is slow to materialise. (Laughs) And actually, we're not even sure if we're going to be able to stay here. But it could really be something on this site."

ART FAIR HIJACKING
The will is there, the ambitions are big, there are constant discussions with the authorities and artistic partners on and off the site, but where exactly this will all lead is not yet set in stone. What is certain is that the potential is enormous and that something is already moving. In December and January, for example, this space hosted "In a Long Blink of an Eye", the final show of the candidate laureates who graduated in 2020, led by former HISK curator Daniella Géo. And on 25 June "The HISK Affair" will open here, a mid-term exhibition that brings together the work of 23 current first- and second-year candidate laureates of the HISK around the concept of the art fair – at a time when, due to the pandemic, they had to cease all activities.
Hold on. The HISK is organising an art fair? Voluntarily? Really? "I know," laughs Pieter Vermeulen, "the artists themselves were not all in favour of it to begin with. And that's understandable. John Baldessari (one of the most influential conceptual artists of the past fifty years, who passed away last year, ed.) once said that watching artists going to art fairs is like watching your parents have sex. You know it's happening, but no one wants to see it. (Laughs) Artists at a fair is and always will be a provocation, but it also produces a friction that can create a fruitful dialogue with the artists."

"And of course, it's also just a conceptual premise, a kind of binder," Pieter Vermeulen continues. "Sam and I both started as trustees at HISK in January – we are both affiliated with HART Magazine, but were asked independently of each other. He supervises the candidate laureates for the second year, I those of the first year. The open studios should normally have taken place in April, but like last year they have been postponed to the autumn. That is why we felt the need to organise an exhibition now, in June. For many foreign residents, it's the first time their work will be shown in real life."

"The logical step would have been to make a coherent selection of five students from the first year and five from the second," Sam Steverlynck says. "But at a time like this, that might have been frustrating for those who weren't selected, and that's why we made it inclusive. But how do you link these 23 practices that have nothing in common except that they all come from HISK?"
"By hijacking the art fair scenography," Pieter Vermeulen chimes in. "They seem like two phenomena that are not immediately connected, but final shows and graduation exhibitions, like art fairs, are pre-eminent places where curators and gallerists come to spot new talent. You are only 500 metres away from Thurn/Tour & Taxis, the place where for the second year in a row there is no Art Brussels. We don't have to follow that commercial logic of an art fair, where every inch is worth money. Here, the art fair is more of an idea, an invitation to the artists to subscribe to a scenography..."

"... that offers structure, but doesn't want to impose a straitjacket," says Sam Steverlynck. "And which at the same time gives the artists the freedom to react against it, to vary it, to break out of their boxes or booths. To use the format, the codes and the conventions and to turn them around. As a way of reflecting on the question: how do we come together today? How can we show our work? Those questions are also asked, because of the Covid-19 pandemic, by art fairs themselves, which were booming by the end of the 1990s, then there was something of an art fair fatigue, and today, now that they can't take place, they are apparently missed again."

FREMDKÖRPER
"Art fairs, we love to hate them," continues Sam Steverlynck. "But I still hear a lot of artists and gallerists complaining that they are struggling financially from the lack of art fairs." In 2020, global sales of art and antiques were down 22% on 2019, and the share of art fair sales shrank from 42% to just 13% of dealers' total sales, The Art Market Report 2021 makes clear. "'The HISK Affair' does want to be self-deprecating, but the art fair twist is not ironic, it is not a pastiche."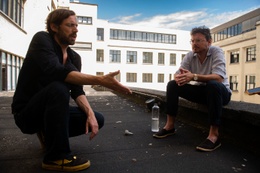 "Indeed, it should not become a joke or a gimmick. We want to take it seriously, but at the same time allow playfulness, to make the architecture and scenography of an art fair our own and then not respect certain rules, to do things that would be impossible at a real fair. It's a tightrope we're walking," nods Pieter Vermeulen. "But well, that's a risk we're willing to take."

A risk that is looking like it's going to pay off. On the first floor of Building A, an immense structure cuts through the industrial open space. Artist Walt Van Beek, who in the past has contributed to the scenography of Poppositions and Art Brussels, planted a Fremdkörper on an International Klein Blue coloured carpet, as a nostalgic echo of a 1990s art fair. "At the entrance of the structure there will be a reception desk by Dries Boutsen, one of our second-year artists," says Pieter Vermeulen. "His work is always on the border between architecture and autonomous art, maquettes that he enlarges as a platform for other works. In the corner of the space, still outside the construction, Olivia Hernaïz will set up a table where her feminist board game Art & My Career can be played, and next to it, in a stripped-down scenography, a VIP room will be set up as a resting point. The HISK bar was always very important as a meeting place during Art Brussels. For HISK, that social dimension, the generosity, the rock 'n' roll, in addition to showing work, is always important."

"We want to create a moment of joy in these difficult times," adds Sam Steverlynck. "Even though the bar will no longer be staffed after the opening, and only some empty champagne bottles will remain as a melancholy reference to what has been unattainable for so long now. At the other end of the space there will be a screening room, where we will show the works of video artists Stephanie Rizaj (from Austria) and Paulius Sliaupa (from Lithuania) in a typical black box arrangement."
Between these two extremes, the construction unfolds like an open track along booths in various sizes. A skeleton that will be populated by artists showing up in solo or duo booths, who will just hang up some paintings or photo or will attack the booths themselves, like the Taiwanese Pei-Hsuan Wang, who is at work with wallpaper, transforming her booth into an intimate space and Wunderkammer for her sculptures and drawings. The Belgian Ian De Weerdt will physically break out of his "cage", "and Wim De Pauw, who was initially not interested," Pieter Vermeulen tells us, "will keep it very minimal and hang up one of the reports which are drawn up at each studio visit in the HISK, as a statement about what he considers to be a peculiar mixture of feedback and control."

BREAK OUT
"A number of artists try to draw a parallel between the white booth and their studio in Ghent, which is also white and therefore can seem suspicious." The fact that these studios are located in the Leopold Barracks, a former military complex, perhaps makes the physical and mental breakout here so appealing. Chinese first-year artist Zhixin "Angus" Liao, who has given his booth a BRAFA-like update and is displaying a reproduction of a classic painting along with some props and a video, agrees: "This booth isn't the result of me sitting in my studio, creating work. It is the hybrid result of my bicycle trips along the border between the Netherlands and Belgium, my research into a classic landscape painting that I saw in the STAM, the Ghent City Museum, conversations with the curator there, frame building workshops with someone who was interested in my story, and my (not always entirely historically correct) reproduction of that painting. Thus the booth becomes a kind of space between historical research and magical thinking. Connecting with the local environment is so much more important to me than just making stuff inside the studio."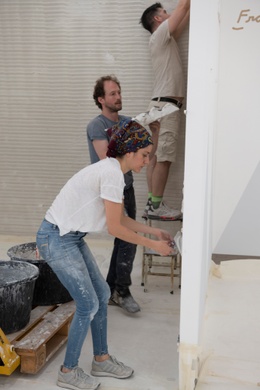 Next to the round stage, where, as at regular art fairs, panel discussions and conversations with artists will take place, the Mexican artist Elisa Pinto appears before our eyes to stretch the magical power of the space even further, the boundary between inside and outside, present and absent. She covers the walls of her booth with plaster and partly scrapes them off with a notched saw. "The silhouettes that form the teeth of the saw are the profiles of my family members. It is a kind of family portrait, like a tangible wish to have them all together. My father was a sculptor, who passed away when I was still a child. One memory I have, is that he gave me this little saw when I was four years old. So with my larger version I try to make the memory of him tangible, a kind of space that can be inhabited."

That void scraped into the plaster shimmers with presence. Just like this space, which is still under construction, on its way to its full potential. And like the promise that Brussels has been for so many years, stubbornly resisting expectations and pressures that are too destructive. "It's a whole new story developing here," nods Pieter Vermeulen. "Who knows where this affair between Brussels and the HISK will eventually lead."

THE HISK AFFAIR
25/6 > 18/7, HISK – Gosset site, hisk.edu/events/the-hisk-affair