Pierre Debusschere travels the world, from fashion shoot to filmset, from Dazed & Confused and Raf Simons to Dior, Delvaux, and Alicia Keys. When the Brussels-based photographer, art director, and video artist isn't hanging out in Beyoncé's garden or staging the Africa of her Black Is King in the Sahara in Lommel, he comes home to 254Forest, the artistic hub where he is now making room for every body in his solo show "Spectrum".
WHO IS PIERRE DEBUSSCHERE?
• Born in Kortrijk in 1984

• At 13 years old, enrolled at the art school Saint-Luc in Tournai

• Became passionate about the sync between music and images at 14, when he saw Nine Inch Nails perform with images by Bill Viola

• Enrolled to study at L'ERG but eventually moved to Iceland for a year and a half

• Published in style magazine Dazed & Confused for the first time in 2008, to become a sought-after photographer and art director, including for Vogue Italia

• Presented his first short film I Know Simply that the Sky Will Last Longer Than I, featuring music by Kanye West, at the Fashion and Photography Festival in Hyères

• Has collaborated with Dior, Delvaux, Raf Simons…and made music videos for Goose, Alicia Keys, and Beyoncé

• Founded the creative hub 254Forest with Rebecca Cuglietta in 2017

• Presented the solo exhibition "UNcovered" at MAD in 2018

• Shot part of Beyoncé's Black Is King

• Is presenting his new solo "Spectrum" in The Room at 254Forest
"I don't feel completely normal again yet," Pierre Debusschere laughs, nestled in his socks against a backdrop of intense colours in the window of Chaussée de Forest 254, which contrast sharply with the grey morning sky above Sint-Gillis/Saint-Gilles. A day earlier, the Brussels-based photographer, art director, and video artist opened his new solo exhibition "Spectrum" here, in the exhibition space The Room. "Yesterday was a bit stressy, but it turned out super nice. It was very intimate, like a moment between friends. It's always an effort at first, you know. I'm a bit shy, I'm not the loudest person around. I would love to just be like: 'Hi, this is it. Enjoy. Bye now!' (Laughs) But I'm trying…"
It sounds astonishing coming from the mouth of someone who for years has been the go-to artist for the greats of the earth. Pierre Debusschere's artistic vision has delighted and inspired the likes of style magazine Dazed & Confused, Vogue Italia, Raf Simons, Delvaux, Dior, Kanye West, Louis Vuitton, Alicia Keys, and Beyoncé, and yet… "In a group of people I would be the one shutting up and listening. (Laughs) I know… But that's evolving. By making a show like this – small and intimate – I'm really putting myself out there, and I love that. I love the idea of taking a risk. This is a good way for me to open up to other people and learn to raise my own voice. It's part of a process. As you grow you change, evolve, adapt, get better. People saying that they are, and have always been, like this or that? No, there's no way that's true."

BODY AND SOUL
Over the past few years, Pierre Debusschere has turned that fluidity into a burning, emotional core. An idiom that brings human complexity and possibility to the surface and liberates it. Unafraid and unbounded. He expands both the expressive body and the listening gaze, ensures that what meets the eye can penetrate to the heart, and even touch the soul.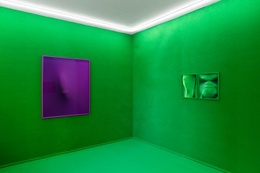 The vivification of the body occurs in an uncommonly exciting interplay of revealing and concealing, illuminating and distorting. It is a wondrous paradox – and proof of the power of Pierre Debusschere's silent and moving images – that through pictorial layers and twisted shapes, you are palpably drawn closer to a central core. A core in the portrayed body and that of the viewer. It is that evocation of the at once completely personal and generously shared experience that resonates here.

The same is true of "Spectrum", an exhibition in which Pierre Debusschere has abandoned his pioneering digital techniques and post-production layering for a moment, and manipulates the bodies that he is revealing and concealing directly, with tight fabrics and bright colours. "The colours link back to the colours we use in film, the green and blue key, that allow you to project whatever you want. That is also the idea here, you can project yourself into these bodies, which are all kinds of different shapes – big and small, muscular and not. Also, there are no faces, or they're covered, and yet I feel that the images are really positive and open, very intimate too. It's a question of projecting, and being able to delve into your identity, and at the same time protecting, by going into the idea of censorship you have on Instagram, for example. Without the fabrics that envelop the models, these pictures could not exist. So it's also about liberation in a way."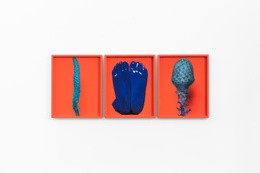 "Some people saw a nose there," Pierre Debusschere laughs. "Others saw a yoga pose, or a tooth. I don't mind, people can see whatever they want in it. Because it is intimate. This show is very personal. That's why, next to the body pictures, there are also images of jewellery, objects that I wear sometimes. And then there's a few natures mortes, flowers that are also covered in fabric. Again, it is the underlying idea of protection, bringing the personal into the realm of the universal." Through a certain playful abstraction. "Yes, this idea of the sculptural shape of the body. It's a way to celebrate different shapes, and colours too. You can't see any skin so you don't know what colours are underneath. That was important to me. These bodies could be anybody."

THE SPACE BETWEEN US
Here in The Room, the place where 254Forest has had a display window looking out to the street for the past year, these "anybodies" find a space for public exchange. An echo chamber with which 254Forest throws an anchor out into the outside world. "It was great to be able to look at this space and to try and change it from the way we knew it," Pierre Debusschere says. "We were really ready for that."

The Room is only the most recent externalization of a place that has been shapeshifting for a while. "You could think of it as a kind of laboratory. As an intimate place, a project space to try out new things," says Rebecca Cuglietta, co-founder of 254Forest, and Pierre Debusschere's close friend and right-hand-woman since she worked as a producer with him in 2013 for a shoot for Dazed & Confused. "It really clicked between us, from the get-go. I started following him, and now I am on his side in everything he does: this building, the commercial work, and his personal work." "She's not afraid to express criticism, and I love that," Pierre Debusschere says laughing. "It is really important and she's often right. She will not bullshit me, that's for sure."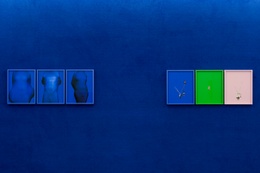 The interaction between the two has resulted in the fact that since its foundation in 2017, 254Forest has developed into a place where ideas can clash and enhance one another. "It was our shared idea that transformed this building – a former garage, piano factory, and graphic design studio – into what it is now: a space that includes both the technical infrastructure and human skills needed for the creation and production of all kinds of creative projects," Rebecca Cuglietta says. "Pierre started out here by himself, with a small photo studio upstairs. When we had to do a renovation, we figured: we have this building, let's open it up and do something new, invite creative people to come here and share this space. That is the main goal. At the moment there are twelve of us, including graphic designers, photographers, directors, art directors, and even people specializing in coffee, each of them doing their own thing but also setting up collaborations."

In addition to the large, open co-working space on the first floor, there is a sound studio on the ground floor, and Pierre Debusschere's original photo studio has been expanded into an immense set on the second floor. "Downtown Brussels doesn't really have any high standard photo studios. So we decided to make the studio bigger and make it available for rent. We have commercial people shooting stuff, but we also see artists who need a space to make their work. La Cambre Mode, for example, is doing their jury of the fifth year here, this Thursday. So you get Glenn Martens and the studio director of Martin Margiela coming over, which is interesting for us as well. With all these people coming in and going out, the building becomes alive. We often hear that 254Forest is a place where you start something, and you meet these people, and that leads you somewhere else."
This also leads 254Forest down unknown new paths. "This place is constantly moving and changing, yes. Right now, we're thinking about doing a residency for DJs and musicians, and maybe even linking the sound studio to The Room, by organizing small concerts, live performances, and experiments there."

QUEEN BEY'S GARDEN
That experimentation flourishes here. The immense white space – which starts in an enormous hallway and leads to the various floors of the building via an equally monumental staircase – stimulates ideas like a blank canvas and expands mental space to an open playground full of possibility. For example, in this abstracted, sublimated space, Le Motel found the setting – and almost even a character in itself – for the music video of his new single "Chamaa".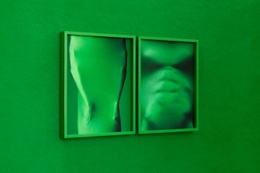 Pierre Debusschere himself recently exchanged his white void for the Sahara, a miniature desert in Lommel, a town in Limburg. That is where he shot part of Black Is King, the film by pop superstar Beyoncé, which serves as a companion to the album she curated for the 2019 remake of The Lion King and which will stream on Disney+ starting on 15 September. "It was so intense!" Pierre Debusschere tells us. "She's always very clear, very direct, but she's really involved, from the morning to the night. She's very there."

It was the first collaboration between Pierre Debusschere and Beyoncé in 2013 – when he directed the music videos for "Mine" and "Ghost" from her self-titled fifth studio album – that laid the groundwork for this project. "The video I did for 'Mine' is still one of her favourites. I think I was brought on specifically for her part in the film, to focus on her and her movement. Which is wonderful, because she is such a powerful, inspiring woman. You just try and keep up, really. It's in the way she understands sets – and she's been on more of them than me, that's for sure –, but also in the way she picks up the choreography and switches between the business side and the artistic side. It's her company, her thing, her money, and her vision that make this project. So yeah, it was super nice. Really hard – we sometimes worked 23-hour days – but amazing."
"I remember being at her house for days, talking about the project, while sipping tea and sitting in a sofa. (Laughs) That moment in the garden was the beginning of it all, Beyoncé says. And then months later, on 15 December, I'm in Lommel, filming the Lion King's evil uncle Scar's part and trying to create an African scenery, at 5 am and minus 2 degrees. And these two amazing dancers from Amsterdam were dancing and dancing, and Rebecca was by my side, pregnant and wearing five jackets on top of each other. (Laughs) But it works. It works! It was an amazing time, an amazing set, we practically became family."

THE SOUND OF SILENCE
"I always like coming back to Brussels though," Pierre Debusschere adds. "It is still home for me, yes. A hybrid, beautiful mess. This place allows me to turn my eye towards the inside and do what I really want to do, what I need to do. That's why 'Spectrum' feels so optimistic to me. I am a positive person, but I was kind of having trouble before to find that same positivity in my work. This time around, I have the feeling that the show is a bit more up. That it is talking about these important issues of gender diversity, body diversity, and sexual diversity, but in an open way, not making it too explicit, but rather inviting people to celebrate diversity. I mean, there is an urgency in the topic and the people pushing the subject at the moment have to do so, absolutely. But for me, it was important that everyone could join in that conversation."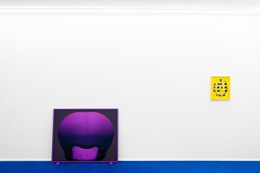 In gathering people around the body as a poetic possibility that remembers and dreams, "Spectrum" offers projection and protection. "This is the first time that I don't have any sound in my exhibition, actually. I started out in video and film, and that was strongly connected to the fact that it involved sound, that it linked movement to music. I remember going to a festival at fourteen, seeing Nine Inch Nails perform with their huge moving screens showing Bill Viola images, afterwards experiencing the sync between music and images during the Chemical Brothers, and ending the night on a visceral set by Green Velvet. I was completely bowled over. The drift power in music, its capacity to instantly create images in your head, and this feeling of belonging it engenders, have always appealed to me. But here, I kind of like the silence. It almost feels like a church to me. A kind of solemn space, a sanctuary. A moment that allows people to go in and turn to their own thoughts and emotions, without me standing in the way too much."
At the same time, this silence makes room for Pierre Debusschere's own voice. A voice that as a child loved the shapes and colours of the flowers that his mother, a florist, grew and sold, who at thirteen years old, attending the art school Saint-Luc in Tournai, found the building blocks of the visual language that made him happy, and, while studying at L'ERG, travelled to Iceland and found the fertile ground from which to grow. "You make your own journey in art, you know. I had been following art classes since I was 13, and at 21 I felt I needed to put myself out there. So I went to Iceland – don't ask why, because I don't know (laughs) – and I ended up staying there for a year and a half. As this shy kid, all alone, in a place where there were three people who liked hip hop, another one who liked rock, and a third one who was into techno. So you meet these people with different tastes and different interests, and they all stick together because you simply don't have enough people to split into groups. (Laughs) That really helped me to learn and speak up and do my stuff."

"Did it change my way of seeing? Absolutely, yes. How? I don't know. I'm so bad at remembering these sorts of things. The past is the past. I'm more of a present moment, near future kind of person." Ever-drifting, always getting better.

PIERRE DEBUSSCHERE: SPECTRUM
> 26/9, The Room, www.254forest.be