The retrospective Nuevo Nouveau at MAD Brussels, a collaboration with Brussels Design September, offers a look at the life trajectory, work and character of Jaime Hayón. The darling of the Spanish design world is called a contemporary Gaudí because his designs give a colourful new look to Art Nouveau ideals.
Last year, Spain's Jaime Hayón (49) received the National Design Award, the highest honour a designer can receive in the country of Antoni Gaudí. Somewhere between art and design, and in the grey zone between reality and fantasy, his designs combine playfulness and elegance with striking colour and reverence for craft. The exhibition Nuevo Nouveau at MAD Brussels surveys his entire career: from his first installation to his most recent paintings. The various phases of his life are embodied in works in ceramics, glass, fabric and wood. These are complemented by sculptures and sketches that reveal the roots of his ideas, an explorer at work who feeds off the knowledge of the old Art Nouveau masters, but who is not satisfied until he can also leave his own playful mark.

"I created the show with a visitor in mind who is about to enter a cave full of treasures," he says from his holiday location in Los Angeles. His heart lies with his installations even more than with the furniture and utensils he designs for various brands, because they best reflect his vision as a design artist: "In all their exuberance, they best sum up my passion for craft, my product knowledge and my energetic nature." So if you can't simply pop into the Pompidou Café in Paris, Moka Garden in Seoul or The Standard Hotel in Bangkok, spaces he personally took charge of, his museum installations are a unique alternative.
"At the exhibition, you can see Mediterranean Digital Baroque, my very first installation from 2003. But there are other installations that are very dear to me too, precisely because they combine everything that makes design so challenging: from the Stone Age Folk at Palazzo Serbelloni in Milan to the interactive installations Tiovivo in Atlanta and Carousel in Austria." That contemporary horse mill, decorated with 15 million Swarovski crystals, may look surreal but nowhere does it detract from the fairytale and nostalgic setting peculiar to a fairground attraction. In 2020 it received the Wallpaper* Design Award for "Best Ride". "The coolest moments are when the craziness of the original sketch has remained intact in the 3D result and I see people truly enjoying it."

When a child, were there any signs that you would one day become a successful designer?
Jaime Hayón: I have never sought success, but I have always been very driven. I wanted to develop my own style, even when I was young. As a teenager, I loved skating. I thought I would do it all my life, such was my passion for it. I tried to skate in my own unique way. But I also made drawings on my boards and on my friends' boards. The skate scene was also very international and broadened my field of vision. I got to find out about new places and cultures. It turned out to be an ideal launch pad for what was yet to come.

Was there a particular moment when you realised that you were in fact a designer?
Hayón: I didn't even know there was such a thing as design until I visited a friend's house. Her father was an architect. As I stood mesmerised looking at his bookcase, he told me hundreds of stories about the characters who designed buildings, seats and lamps. That is when I thought to myself: I want to try that too.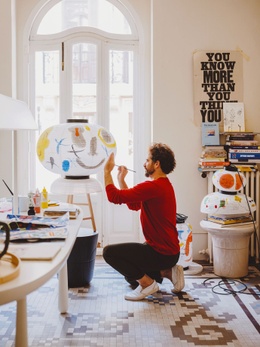 What was the key moment in your evolution as a design artist?
Hayón: As an undergraduate, I had inspiring teachers, but I learnt the most at Fabrica, Benetton's research and communications centre. That hub of creativity was led by Oliviero Toscani. He was hugely demanding but at the same time very inspiring. He had us working on actual projects for clients from all over the world. There was 3D, photography, web design... It was like jumping off a cliff every day. It really felt like a bootcamp for my creativity. There was a lot of pressure, but we were also given a lot of freedom. It taught me how communication can be an important tool for sharing your work. I spent a total of six years there, one as a student, the next five as a teacher. That experience defined my path and made me see the world as one big opportunity.

This year, Brussels Design September focuses on Art Nouveau. Why do the artists of this movement appeal to you and how did you incorporate their insights?
Hayón: I feel connected to the modernists. I share the value they place on craft and how they turn that craft into art. I have always found the way nature sits at the heart of every creation with its organic shapes and motifs essential. The modernists certainly were not afraid to explore, go a little crazy and let their imagination run wild. I like to learn from old crafts, such as ceramics, glass, wood, metal and stone. My organic and feminine designs reflect nature and a certain kindness. I also enjoy working with colour.

Your work is certainly very colourful and is also often called optimistic. Does that match the person you are? In other words, do you also create "optimistic" designs?
Hayón: I have a lot of energy and more than anything, I see life as a potential for adventure and discovery. That makes me an optimistic person. I would rather my work put a smile on your face than caused pain, suffering or indifference. I always look to connect with other people and their imagination.
Some call you a modern-day Antoni Gaudí. Are they right?
Hayón: I am flattered and see many similarities. In particular, I identify with his concept of transversal creativity. From architecture to metal and glass work, ceiling frescoes and ceramic elements to furniture design: Gaudí saw creativity as a whole. It was not segmented or layered. His personal style was expressed through many streams that all led to one creative ocean. That ideal is also at the heart of my work.

What was the hardest part of putting together your retrospective in Brussels?
Hayón: Gathering all the essential parts of my story in one place posed the biggest challenge. Works and installations had to be brought in from the Netherlands, Poland, Italy and various locations in Asia. Some I hadn't seen for years. So putting them back together again also gave me a better understanding of the course I have taken along the way.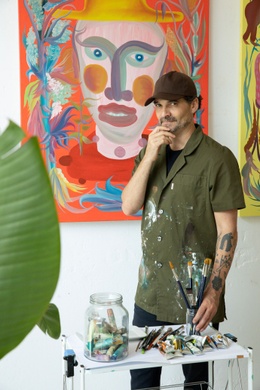 What is the underlying message of that journey?
Hayón: Dive into the freedom of creative transversality. Smash boundaries and experiment with different media, materials and ideas. I like using organic forms that age gracefully. That is linked to my narrative: there is always a strong emotional link and there is often humour and irony present too.

What other traits characterise your designs?
Hayón: I am passionate, dedicated, sociable and good-humoured. In fact, I just really like other people. At the same time, I am quite restless and perfectionist. I am demanding, but I also give back a lot.

How do you confront the white sheet and find inspiration with everyday life going on?
Hayón: Above all, you need to be awake and alert. I believe you work your way to inspiration. I do have some rituals that help organise my day and make me find balance. I invariably start by making myself one of the special coffees I bring from all over the world. At the same time, I listen to music – I'm really into piano jazz. During the week, I add my gym workouts to that. Those get my energy levels going. Then I go to my painting studio or start creating at my desk, or I combine both. In the afternoon, I meet friends for a glass of wine or take my kids to the park to skate or just hang out. If I am not at home, which often I am not, I keep the coffee and gym ritual, but for the rest I am guided by the adventure.
True, you travel a lot, but you have also spent long periods in the US, France, Italy and the UK.
Hayón: Those experiences outside Spain were crucial to my development. I learnt foreign languages and made friends there. But most of all, it made me realise that I am very flexible, that I can fit in anywhere and still remain myself. For example, I spend a lot of time in Asia where I have some long-term projects. But despite the many cultural differences, they do not receive my work differently. The reason why people enjoy my designs is the same everywhere: they feel the humanity, empathy and hopeful vibe I project in them.

You will turn 50 next year, your Hayon Studio has turned 22 and so is of age too. You might conclude that the formative years are behind you.
Hayón: Never ever! I am still learning so much every day, these days especially when I am painting. But I also want to keep innovating. Just two months ago, I was in Venice turning drawings into sculptural elements and I am currently working on a type of interior design I would never have embarked on in the past. I live in the now. If there is nothing left to learn, I might as well be dead.

Jaime Hayón: Nuevo Nouveau
22/9 > 27/1, MAD Brussels, mad.brussels