By the end of the 1990s, the life of Warren Ellis, Nick Cave's right-hand man, was going round in circles. That was until he came into possession of Nina Simone's chewing gum after a concert. In his book Nina Simone's Gum, which he is presenting himself in Brussels at the request of Passa Porta and the AB, he describes how the gem became his talisman. "I love that it's nothing and something sacred at the same time."
Born in 1965 in Ballarat, Australia, now lives in Paris with his two sons and wife
Started learning the violin in 1975, even though he writes: "I never particularly liked the violin. It seemed to have attached itself to me"
In 1992, he forms the instrumental trio Dirty Three
A year later, he joins the Bad Seeds, Nick Cave's band, and later forms Grinderman together with him
Co-writes soundtracks with Nick Cave, including The Proposition, The Road and Hell or High Water
Has Nina Simone's gum made into a ring by Ann Demeulemeester and earrings by Hannah Upritchard
Warren Ellis apologises for being a few minutes late for our appointment in Antwerp. It is midday and the bearded Bad Seed has just got out of the shower, his grey, thinning hair combed back so that the jewels twinkling at his ears are all the more visible. Thick rings are around his fingers, gaudy chains dangle from his bare chest – at least three shirt buttons open, as always. His beard looks as ferocious as the Australian bush. "Sorry, I sleep in three-hour bundles these days."
The tour with Nick Cave, the reason why the 56-year-old multi-instrumentalist spent a few nights in an Antwerp hotel, was long and hard. Nor did he exactly rest on his laurels during the pandemic. Without the rest of the Bad Seeds, he made a record with Nick Cave, Carnage, set poems by Byron and Keats to music with Marianne Faithfull and wrote what he himself calls a "fractured memoir" with Nina Simone's Gum. With the overseas launch of the latter, he worked late into the night. "And we lost an eagle," he sighs. "I've set up this wildlife sanctuary in Sumatra, Ellis Park, for animals with special needs that can't go back into the wild – monkeys with one arm, toothless bears, and this one-legged eagle with a bullet in its chest. It died yesterday."
Conversations with the Australian expatriate living in Paris can easily be full of surprises, from his existence as Bad Seed to the soundtracks he made with Nick Cave, his instrumental trio the Dirty Three, his love of Beethoven and Alice Coltrane, to the beard balm bearing his name to fight the palm oil industry that threatens the habitat of orangutans. But today the eyes of Was, Waz or Woz, as he is called by those closest to him, twinkle especially when he talks about that evening of 1 July 1999, when Nick Cave, as curator of the Meltdown Festival, summoned Nina Simone.
Ellis saw how the 66-year-old "troublemaker and risk taker who taught us everything we needed to know about the nature of artistic disobedience," as Cave refers to her in the preface to Nina Simone's Gum, after consuming "some champagne, some cocaine and some goddamn sausages", shuffled wearily to her Steinway. After which she pushed her gum in a towel on the piano, raised her fist in the air and ignited a performance that transformed both herself and the audience.
"It was one of those rare events after which nobody was going to leave the same as they walked in," Ellis remembers. "I was told there was a God when I was a kid. I had no idea what God was, I still don't, but people like Nina Simone made me believe in something. She had such an incredible voice, and she straddled a period of history with the civil rights movement and Martin Luther King. She was like Muhammad Ali. Fuckin' badass!"
What made you want to crawl on stage and grab that chewing gum?
Warren Ellis: People ask me all the time, but there was no thinking about it. It's not something I had ever done, or have ever done since. The concert was so powerful, it was a dream to see her play. I guess I just wanted something that connected me to her, and to that moment.
"I had often turned my imagination towards its direction, seeking counsel," you write in your book about the chewing gum. "Alone in my reveries. Imagining it beating in the towel. Fountaining blood." For twenty years, it was your talisman. But since the Nick Cave exhibition "Stranger than Kindness" at the Royal Danish Library, it is no longer in your possession. Don't you feel amputated?
Ellis: No, I feel relieved. The gum is kept in a safe, in a specially designed box that keeps it at the right temperature, so that the colour and the structure don't change. Actually, they don't know what to do with it, and I don't know what to do with it. But it's so beautiful. Of course I was worried about losing my mojo. But letting it go was like making a record and putting it out into the world. It got a life.
I love the fact that this little thing, this gum, is actually nothing, and that it became something almost sacred and spiritual. A hallowed relic, like a hair of Christ, as my friend Ann Demeulemeester put it. Watching people carry this little inane object highlighted a process that I can never articulate. The thing that they were carrying, you can't touch, it's their imagination.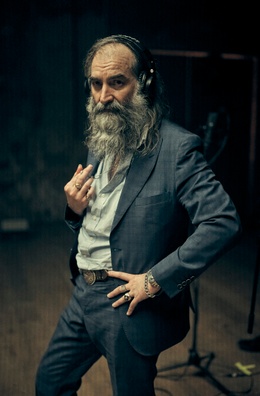 When we last met, in 2012, I asked if you also wrote texts. You replied that you liked to leave that to others, that way you never felt misunderstood. But now you have ventured into writing a book. Did you feel uncomfortable doing that?
Ellis: I had written a few poems when I was at university, in the 1980s. When I left Australia with the Dirty Three, my girlfriend at the time, a speed freak, threw it all in the bin. She did the world a service, to be honest, it was just terrible ramblings of an angry, confused twenty-year-old. I have a naïve approach to things. I don't try to understand everything, like writing a book, I just jump into it. Understanding kills action.
Of course, I was aware that this book would expose me in a way, like when an actor picks up a guitar and says: "Here's my new record." Some days that anxiety totally cut my ability to write. For me, Nina Simone's Gum was a photo book, I thought the pictures said everything. But through the people at Faber, the publishing company, I realised that it wasn't about the gum, but about me. They encouraged me to dig deeper into my own life. I did several interviews with them, and that triggered a lot of things. Seeing clowns through the roller blinds of my brother's room when I was maybe four or five and experiencing the supernatural light for the first time, picking up that accordion I found at a rubbish dump in Ballarat in 1974 and becoming a musician, being visited by Beethoven in 1985, meeting people who had a radar for greatness...things that defined me as a person.
Surely Nick Cave had some good advice for you?
Ellis: At one point I told him that I was having trouble as the pages were blank and overwhelming. "I get this all the time," he confessed to me. He also assured I should listen to the people at Faber, if they think it's good, it's good. "They aren't paid to tell you it's good," he said. "Listen to them, and believe in them." That was good advice.
Did you find it intimidating to put your work next to his?
Ellis: Nick has had a life in literature. Why fucking compare? Just recently, I read a bad review of my book. It was interesting, because it highlighted all the fears that I had about it. That it isn't literature, etc. And I just thought, fuck you, it's like comparing Patti Smith to William Blake.
You have all these great people up there, Nina Simone, Picasso, John and Alice Coltrane, Miles Davis, Tarkovksy, Parajanov. And there's a lot of us down there in the murk. I'm like a bottom feeder, I'm in the mud somewhere.
The thought of failure plagued me all my life. I grew up in a suburb. My family was from a very modest income. I had no trust fund, nothing to fall back on. If I couldn't support myself, I had a problem. But this fear of failure is what pushed me through. It makes me go the distance until I either fail, or I get there.
1999 was a crucial year for you. You gave up drink and drugs, you got married and went to live in Paris. And you saw Nina Simone perform.
Ellis: I didn't realise until I wrote the book that it all happened in that one year. It was the year I weighed up what was important to me. I lost three friends in a month. I was in a real state. I started with a bottle of whisky in the morning, continued with heroine. I could barely play a show. Luckily, my desire to make music made me think like, OK, is that what I want? It was a really black-and-white decision, if I decided to keep going, I would have gone the other way.
Was the transformation you went through at the Nina Simone concert greater because of that?
Ellis: Maybe I was a better receptor of it than being totally fucked up, but whatever state I was in, that concert would have moved me.
It is not just the chewing gum. In several places in your book, you list items that you keep or kept in a box somewhere or in your Samsonite briefcase, such as lead tyre weights, broken peacock feathers, a black wooden elephant with a broken trunk, yoyos etc. Are you a...collector?
Ellis: I don't know if it's collecting, I think it's more like trying to navigate my way through life. I don't know if I have OCD (obsessive-compulsive disorder, ed.), it's my belief in superstitions and that has enabled me to become who I am. I guess those things are sort of time capsules.
A friend of mine has a cigarette butt from Courtney Love, with red lipstick on it. She threw it in the audience at the Pukkelpop festival in 1995.
Ellis: It's the same thing. Bonnie "Prince" Billy heard about my book and told me that one day he was visiting Leonard Cohen while he was cutting a hedge. As he walked out, he picked up a bit of the hedge, and put it in a jar on the fireplace. One day his wife threw it out. (Laughs) We all have these things we're sentimental about. Something from your children, your grandparents... A key, a cigarette lighter. Little things that help us to find our place in the world.
"Memory is what we are," Nick Cave says in the film 20,000 Days on Earth.
Ellis: That sums it up, yeah. When I opened up this briefcase, it was like looking at my life. If I would have written a memoir, that list would have been a few chapters. (Laughs) But I didn't want to do that, I couldn't think of anything more tedious than a memoir. I enjoyed Bob Dylan's Chronicles, though. It was a great way to get some things out, because it was incredibly generous with information that's not really at all about anything Dylan fans wanted to know. These things that sparked his interest, when he was unable to create and broke through that.
In my book too, there's some things that you just read by, that are actually really big moments in my life for me. There's no sort of fanfare about them or anything, but they are things that I learnt from. Quite often it's a little incident that can change irreversibly what you're doing.
When I sat down with Nick Cave to make Ghosteen, the reason I was able to do that, is because at certain moments in my life things have happened, things that put you where you are. There's not much point looking at, say, Picasso's Guernica and thinking that it is the summation of him. He arrived at Guernica because of his years before this. That's where I'm interested in the creative life of an artist. I find those photos of Matisse with his scissors, cutting out the paper and making those things towards the end of his life so incredibly moving and so powerful because his whole creative life is going into this last desperate gasp to make something.
I also sense that thought in the quote from Lou Reed at the beginning of the book: "Would you come to me / If I was half drowning / An arm above the last wave."
Ellis: That quote sort of encapsulates what the book is about: it's asking for help. It's a petition. It's like I'm willing these gods to come to me in order to create these things for myself in order to move in this world I don't understand.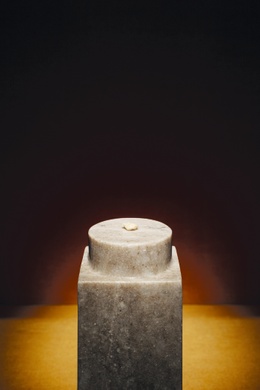 In the book, you tell how your father, Johnny Ellis, wrote one song, "Mis'ry Is My Middle Name", but then gave up his dream of a music career. Did he give you the music bug?
Ellis: My father I exposed me to the creative process. He showed me a magic trick: to play guitar and sing poems. For me, music was the most noble pursuit, I never thought that would be the thing that I do. I guess I took his dream.
I remember asking him when he was 80 what it was like getting old. "It's funny," he said, "you don't think it's ever going to happen, and then one day, it does." I'm only 56, but I can totally understand that now. (Laughs) Through this book, I reconnected with my older brother. I thought about who we were as kids, and how I still see wonder and awe in things. That's what Nina Simone's Gum is about. As we go through life, some things change, but there's a character that stays within us that we don't see in the mirror when we watch ourselves getting older. There's this quote by Beckett: "Perhaps my best years are gone. But I wouldn't want them back. Not with the fire in me now." (Laughs) That says it all.
You point out how the gum brings out the best in people, like Ann Demeulemeester. Just as other people bring out the best in you.
Ellis: I don't know it's the same for other people, I just know that affirmation works for me. If someone says, fuck, you really look good today, it can change your day. Affirmation is something we don't give enough attention to. I'm not just some person that functions on their own like a writer or a painter. For me, life is about collaborating. People who have encouraged me to be the best I can, allow me to go unrestrained. Letting ideas come alive. (Pauses) People are ideas. The gum is a metaphor for this, the fact that it drew people like Ann towards it, wanting to sort of respond with love and care. This is what ideas need, and that's what people need. We need affirmation. We need love. We need care.
Someone who brings out the best in you is obviously Nick Cave. Where lies the magic?
Ellis: I don't know if you could call what's going on between Nick and me magic. I am someone who has no structure, it's chaos around me, whereas Nick is totally structured. We complement each other. When we work together, we realise that we're able to take risks within that environment. There's no such thing as like, that's dumb. It's whatever it takes. That requires a special relationship. You don't just meet these people anywhere. I thought The Bad Seeds and The Birthday Party, Nick's first band, were the greatest thing on the planet. For me actually to enter into their orbit, I couldn't believe it.
Our thing has grown, and it keeps developing. But I feared that Ghosteen would have been the end of it, because I didn't think we would ever make anything better than that. That record felt like there was something else in the room. It was the greatest two weeks of my life. A life changer. I love Nick, and I didn't think it was possible, but after this tour I love him even more.