In "WREK NOT WORK", master engraver Olivier Deprez brings together ten years of influences, encounters, research, processes, and possibilities in one space. Art as potential and revolution. As brilliant as it is profoundly relevant.
This is not the first time I have written about WREK, and yet every new encounter feels like a revelation. In "WREK NOT WORK", an exhibition at Bibliotheca Wittockiana, Olivier Deprez is taking stock after ten years at the heart of that ungraspable collective mindset.

This assessment, scintillating with promise and potential, must give him immense pleasure. Because from its very inception – when Olivier Deprez created the sensational BlackBookBlack with Miles O Shea and embarked on an overwhelming journey across the narrative landscape with La "S" artist-in-residence Adolpho Avril – WREK has germinated in the continuous journeying and being-in-becoming.

The man who found fame with his sublime comic book adaptation­-in-woodcuts of Kafka's The Castle, found in WREK – a play on the German word Werk – a way of developing a different perspective on images, engraving, narration, the nature of artistry, and by extension society and life itself. A vision that centres on encounter, between images, between images and their viewers, and between the artist and the audience.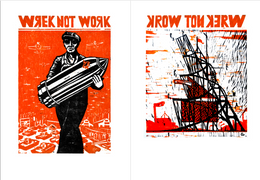 FREE YOUR MIND
Feel free to interpret this as a radical act. WREK focuses on existing images, recreates them according to a technique that is often considered archaic, and then lets the two collide. This creates a living space, in which the past ten years of work and all the attendant encounters materialize. A space like a time machine in which influences, silent and moving images, matrices and prints, and past and future projects all dialogue with one another. Where Bushmiller's comic strip Nancy appears beside Andrei Tarkovsky, where a tête-à-tête between Wile E. Coyote, Dziga Vertov, and Chris Marker plays tricks on time, and in which the reader directs the narrative.

WREK extends the liberation of the image to the emancipation of the human person. Free your mind, break out of existing structures, and create new synergies and possibilities. That shared responsibility is desperately needed nowadays. And it produces an infinite interplay. And an intense journey on a winter day – destination unknown.