Macho and authoritarian, haute cuisine no longer inspires people. Many young women are turning their backs on it to create establishments that are more positive, freer, and more joyful.
1. L'Epicerie
In the last two decades, countless young women in Belgium – and in other countries too – have been rewriting the rules of the restaurant world. This revolution has taken place without commotion, hidden in the shadows, while cooking as a form of performance was promoted by reality tv shows, just as the overhyped "Top 50". An entire section of society who absorbed this culture like a sponge, have pushed to bring about an alternative culinary model inspired by DIY, humour, and kindness. The movement has a flavour of the "return of the repressed". In other words, it is possible to interpret the phenomenon as a sort of regression to the culinary world of "mother", particularly the mères lyonnaises, those little-known cooks to whom the chefs of today owe so much. Unknown to the media in their lifetimes, at a time when the chequebook was a preserve of men, those entrepreneurs forged a preferable model that was more sustainable because it centred on conviviality, local produce, and a certain lightness.

War of egos
Haute cuisine has, despite itself, undoubtedly encouraged the emergence of this new model. When you look back on the past few years, it's frightening to see that the whole sector has been going down the wrong path. Chefs are overexposed in the media, the war of egos rages on, and there are few places, though they do exist, which manage to avoid that martial approach. It is no secret that the hierarchy in the kitchen can be traced directly to the army, as a term like "brigade" clearly illustrates. Like a pressure-cooker of stress, chefs have for too long taken their frustrations out on their team, perpetuating a cycle of violence that cuts people down like dominos, from the sous chef to the trainee.

A pioneer
To illustrate our point, it would have been easy to shine a light on one of those talented young women who are causing such a stir. There is no shortage of candidates: Delphine Auffret (Bain des Dames, Elsene/Ixelles), Camille Jadoul (L'Altitude, Vorst/Forest), the duo behind Smala (Sint-Gillis/Saint-Gilles), etc. Instead, we decided to turn the spotlight on a pioneer. Magalie Boutemy has now been working the ovens in L'Epicerie, a place that does simple and healthy fare, for 24 years. "I fly under the radar," Boutemy, who is originally from Normandy, says sweetly. It is true… and it's also not true, when you learn that the New York Times devoted a review to her little restaurant, in which the dining area and kitchen are adjoined. Since then, many US tourists come to visit. Here, there is no line between life and the kitchen, no nebulous concept, just ovens with which she prepares a single dish every lunchtime (except on Sundays). There is also a dessert (€5), an apple crumble on the day we visited, coffee (€2), and a delicious home-made kombucha (€3), which was made with black tea. We enjoyed its delicate effervescence.
Magalie, who mainly works with vegetables, had cooked meat for a change. Balls of veal with roasted vegetables (€14), including carrots, beetroot, turnips, and more. The addition of little balls of polenta gave a delightful texture to the dish. This soft, tomato-flavoured delight was savoured in silence while overlooking the large blue unit donated by Magalie's brother, one of the place's striking visual features. Also striking are the long table that seats eight people, the mismatched chairs, and the little abstract painting by Thomas Gillon. On the table, a sugar bowl sits in the middle of a tablecloth embroidered with swans. Further down, pots of cutlery sit on an old waffle iron. It all gives off a very Japanese vibe. We were strongly reminded of the Netflix series Makanai: Cooking for the Maiko House, written by Hirokazu Kore-eda. It has the same flavour: a light touch, simple pleasures, and comforting tranquillity.
L'Epicerie ••••
Edelknaapstraat 66 rue du Page, Elsene/Ixelles, 0477-98.60.29
Mo > Sa 11.30 am > 2.30 pm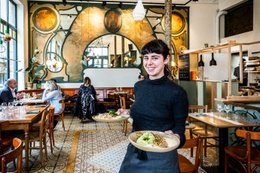 2. Chabrol
With a large chandelier extending organic, tentacle-like forms from the ceiling, Chabrol is, to say the very least, not lacking in charm. This establishment with art nouveau decor is extra special because it is home to an exciting project run by two sisters, the Marconis, raised on good food. Marie works in the kitchen, Sophie serves. Together, the duo makes miracles happen, evoking the spirit of a French bistro, by sourcing excellent produce – the emphasis is on local suppliers and high-quality ingredients – and with their creativity. As well as tasting great, the dishes are beautiful. We also love the fact that the savoury dishes are just as good the sweet ones and the wines are selected with care. We were pleased to find a choice of several
ciders.
Chabrol
avenue Louis Bertrandlaan 61, Schaarbeek/Schaerbeek, 02-463.13.04, www.chabrol-restaurant.be, Mo > Fr 6.30 pm > 10.30 pm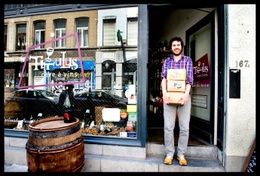 3. Titulus
The chef Lyla Bangels has a unique approach: although she is vegetarian, she allows herself to cook animal protein. Bangels offers a menu of small dishes that can be shared between friends. The food is delightful: expertly made, seasonal and inventive, it is influenced by international cuisine and conscious of the environment. It all started with a bowlful of salty freshness; three oysters, sprinkled with white wine and lemon. Perfect for loosening the taste buds. Next, we savoured some beetroot, pomegranate, and balsamic vinegar, a simple but explosive – and rarely found – combination. This was followed immediately by a few mussels with a real kick provided by Vietnamese coriander and Japanese hot sauce (Rayu). It comes with an impressive selection of natural, unconventional wines.
Titulus
Waversesteenweg 167A Chaussée de Wavre, Elsene/Ixelles, 02-512.98.30, www.titulus.be,Tu > Sa 5 pm > 11 pm