The French Dispatch is a satirical love letter to French culture and high-minded American magazine journalism. But never mind that. It is, first and foremost, a squared-off Wes Anderson.
The new Wes Anderson is so Wes Anderson that you sometimes wonder if he is persiflating himself. While the adored director of such gems as The Royal Tenenbaums, Fantastic Mr. Fox or The Grand Budapest Hotel most likely just followed his nose and naturally doubled down on his style, mannerisms, humour and passions. It is both a beautiful promise and an ugly warning: The French Dispatch is even more eccentric than Anderson himself.
The cinephile, europhile American uses a frame story for miniatures in which he gives free rein to his stylistic and satirical imagination. In the invented French town of Ennui-sur-Blasé, American star reporters (Tilda Swinton, Frances McDormand, Owen Wilson, among others), led by editor-in-chief Bill Murray, pull out their strongest stories for the latest issue of The French Dispatch, the magazine of the Liberty, Kansas Evening Sun. Anderson modelled on the glorious The New Yorker.
In the story of a student revolt with the allure and slogans of May 1968 and Timothée Chalamet as its leader, Anderson incorporates his admiration for the Nouvelle Vague. Mild mockery of the oddballs and habits of the art world characterizes the story of an inmate (Benicio del Toro) who, thanks to his jailer and nude model (Léa Seydoux), creates art that an inmate art dealer (Adrien Brody) believes is worth fortunes. Culinary delights and crime fighting go hand in hand in a vignette about a kidnapping case with an animated section.
Figuring out all the winks, references and sources of inspiration will take you months. Anyone familiar with the Franco-Belgian comic strip tradition, the films of Godard, Truffaut, Renoir, Clouzot and Tati, and colourful figures such as the flamboyant art critic Rosamond Bernier or the writer James Baldwin, will have a head start. So will anyone who watches the credits. Anderson will send you home with a reading list, happy to share his dada.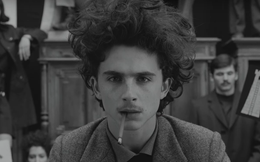 But in the end, The French Dispatch is, above all, the great Wes Anderson show. Style over substance. Humor over seriousness. Puppet show. Framed images to hang above your bed. Symmetries galore. Production design that begs for coffee table books. Succulent phrases. And 38 well-known actors who know how to play their cartoonish characters perfectly.
Excess sometimes lurks around the corner. This is not the very best Wes Anderson. Less could have been more. But not knowing where to look first or what to laugh at first is a luxury problem. A piece of candy.
THE FRENCH DISPATCH
US, dir.: Wes Anderson, act.: Léa Seydoux, Bill Murray, Owen Wilson, Tilda Swinton