At the upcoming Festival Lezarts Urbains, dancers and choreographers Hendrickx Ntela and Pierre "Dexter" Belleka will offer a first. With Blind, they present a completely new, full-length krump creation for which the choreography, music and costumes were specially created. The music by Parisian beatmaker Morf is also performed live on stage. Hendrickx Ntela: "We offer moments of obedience, rebellion, suffering, and joy."
Hendrickx Ntela hails from Verviers, works in Liège and has often performed at Lezarts Urbains, which has been promoting street arts for years and is doing so again this weekend with an extensive programme in KVS (see box). Ntela already presented her smaller creation, To Be a Slave, at Lezarts 2017. She practices various urban dance styles such as hip hop, kuduro and Afrohouse, but above all, she is our international representative in the global krump community. She has her own company, Cie Konzi, and her own "Fam" or artistic family with whom she accompanies numerous young dancers. She is herself a member of the BBF 2.0 crew, which gathers young krumpers from Liège, and of the all-female One Nation. She is also world champion in one of the krump disciplines.
"I first started dancing hip hop in a youth club in Verviers when I was fifteen or sixteen. But my teacher said I still had too much energy. When I was eighteen, I started concentrating on krump with the dance collective BBF 2.0. I had only seen videos of it so I was not very prepared but one day they put me in a circle at La Baraka youth centre in Liège and encouraged me to just start. In krump, you always get a lot of support from the other dancers who are constantly hyping you up and cheering you on. This way I immediately felt that I was also appreciated as a person. That was the first time in my life I felt that and so I gave even more of myself. I was not afraid of being myself, even though I was a beginner. I haven't stopped since."
A community
Krump is not just a dance, it is an entire community. "You do it as a group and it's about unity. It is about being yourself, but also about encouraging others to be themselves. Loyalty and respect are important values and you want to pass them on in a pure form. It is almost as if you are family, whether it is while dancing or in life itself. I now pass on krump to young people and that is an even better feeling. It is good that I can accompany and support them, because not all of them have had an easy life growing up. In krump, everyone is accepted and there are no privileges or prejudices."
Purely formally as a dance, krump is more brutal than focused on a specific aesthetic. "There are a number of basic movements and postures with the arms, chest and legs. There are also many codes that allow you to do your own thing. Krump (which can be read as an acronym for Kingdom Radically Uplifted Mighty Praise, ed.) means that you are together in a kingdom, which you must elevate. You can do this in several different ways. For example, the 'Get-off' is an intense moment with many fast repetitive moments. You have 'jabs' with the arms, 'chest pops' where you breathe in and bring the chest forward and up, 'stomps' where you stomp your legs rhythmically to draw energy from the ground and pump it back up. The energy that you extract from the ground with the stomps will take you to the sky or 'liveness', for which you orient the body upwards and move the arms and legs away from the body. So that liveness is a moment when you can do your thing completely. And then you have 'kill-offs', 'grabs', and so on."
Even in a broader social framework, krump functions according to rules and a certain hierarchy. "So you have families or 'Fams'. Mine is la Drickx Fam, in which I, as a kind of big sister, guide the rest on their way in krump and in life. The other members of the Fam then have certain ranks. Jr. Drickx, girl Drickx, boy Drickx... These are ranks that you get according to your attitude, your level and the extent to which you invest in the Fam, so you can go up or down. You have to work to rise in the ranks."
World Champion
Krump is a freestyle dance and not really a competition. Nevertheless, there are many battles and events nowadays. Hendrickx: "Krump arose in the ghettos as a reaction by the African American communities against oppression, police brutality and racism. Knowing that makes you understand that it is freestyle dance. But there are many international meetings these days with battles like EBS in Germany, Illest in France, Kob in Japan, Krumpire in Russia. Krump Belgium Movement also uses social media and events to promote krump. We try to increase the community by using different leaders."
The discipline in which Hendrickx Ntela can call herself world champion is "Krump vs X". "That is the most artistic form of battle, in which you compete with another artist from a different discipline. You only find out who and what as it starts so you cannot prepare for it. First I had to dance with a violinist and then to classical music."
Together with slam artist Joëlle Sambi, Hendrickx is an associate artist at Théâtre National, and Lezarts Urbains has also played an important role in Hendrickx' career. "Lezarts has supported me for almost six years now. It is partly thanks to them that I have been able to develop myself further, and Flora Chassang-Simonpoli from Lezarts has done a lot of work to get street arts into theatres where there was no room for them before. Tinus X, along with others of our generation, also pushed the institutions to open their doors. I am very proud that I can now present a fully-fledged creation."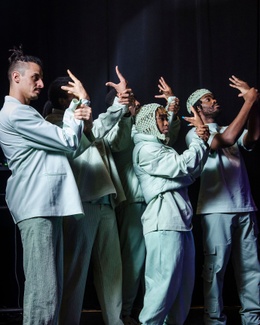 Two days of Lezarts Urbains
The seventeenth edition of the Festival Lezarts Urbains this weekend presents a completely Belgian programme of hip hop, street dance, krump, cyphers, DJ sets, jam sessions, projections and workshops. This year, for the first time, slam and rap acts are also on the programme. That means that Saturday and Sunday are full to the brim. The first part of the day (Saturday 10.30 a.m., Sunday 10 a.m.) is reserved for rap, slam and hip-hop workshops. The collective of Brussels-based artist Massinda Zinga, MDF, organises talks and workshops on a global vision of culture (Saturday), on whiteness and cultural appropriation and on healing and empowerment for those who are affected by racism (Sunday).
The afternoon and evening (Saturday 4 p.m., Sunday 4.30 p.m.) is then spent on dance creations, slam, rap and open stage. The artists taking over the large stage of KVS BOL on the first day are Betty Mansion, Selasi Dogbatse (with A Piece of Me about womanhood and the dance industry), Compagnie Barhal (winners of the Hip Hop Games 2021), collective Le Cube, Zach Swagga & Junior Akwety with their house dance project and slam performers Marie Darah, Mugeni and Z&T, who will also be there on Sunday. The headliner on 2 April is Unmuted by Massinda Zinga and the Sisterhood collective, in which women of Afro-Caribbean descent take their place with dance, poetry, image and sound. Saturday night ends with a "Supreme Cypher" – a street and club dance battle in three grand rounds.
On Sunday, too, great names enter the open stage: choreographer and hip-hop dancer Roxane Hardy, hip-hop and krump choreographer Justine Theizen, who together with Isabelle Audoan addresses the representation of the LGBTQIA+ community in the hip-hop scene, Yipoon Chiem with her solo B****, rapper Veridik and the dance-theatre performance on jazz music Les Épines de la Rose by Rémy Mpuki. Blind by Hendrickx Ntela (see interview) is the eye-catcher on Sunday, and the weekend is rounded off with DJ sets. You can buy a day or weekend pass.
Blinded
That creation is Blind, with a choreography by Hendrickx and Pierre "Dexter" Belleka, live music by the Parisian Morf, performed by musicians Joshua Twambi (piano), Jeanel Quinta (guitar), and Thierry Massamba (drummer), who also have a background in gospel, hip hop and jazz. Already the bit of the soundtrack we heard was impressive. "We were very surprised by what Morf had created. It still gives me goose bumps. Just hearing that music live, that's just too krump! (Laughs) It is unbelievable that we can do this now. The music goes very deep. When I dance to it, it immediately takes me on a trip. Every piece has been thought about."
Alongside the musicians, there are four dancers on stage: Pierre "Dexter" Belleka (Liberia/Senegal/Paris), Arias Fernández alias Joker (Spain), Luka Austin (Paris) and Israël Ngashi and Hendrickx from Belgium are on the scene. "A complete krump creation like this with music and choreography in the theatre is a first for Belgium. We don't change the codes because it's in a theatre."
Blind also makes a thematic statement. Hendrickx herself is a second generation immigrant and Pierre "Dexter" Belleka lives in exile from the dictatorship in his home country Liberia. Blind is about how political conflicts affect politicians' discourse and thus people's freedom of movement and critical attitude. It is about the conscious and unconscious blindness that a society can be victimised by to such an extent. "From conversations following my meeting with Dexter, who has been to many African countries, I learned that people from different continents are also subject to very different systems of control. Thus, our Belgian passports give us a freedom of movement that other passports do not. We want people to question that. People are too quick to accept the system because they think they have no other choice."
"The idea of blindness, where we don't want to see certain things and just go along with them, lies at the heart of Blind. It was an idea I had even before Covid. But the pandemic has obviously raised similar questions about freedoms and restrictions. With Blind, we do not bring truths, because we don't have any, but we want to show that you too can react. There are moments in the performance where we obey, moments of rebellion, moments of suffering and of joy."
HENDRICKX NTELA & PIERRE "DEXTER" BELLEKA: BLIND
3/4, KVS BOX, www.lezarts-urbains.be