In Vlaemsch (chez moi), the last big stage production of the season, Sidi Larbi Cherkaoui and Hans Op de Beeck, two of our greatest artists, investigate everything that is Vlaemsch. In their quest, they break down many artistic and artificial barriers.
Born in 1976 to a Flemish mother and a Moroccan father
Since his 1999 debut, he has made successful productions such as Foi (2003), Sutra (2008) and Boléro (2013), with Les Ballets C de la B, with his own company Eastman, with Opera Ballet Vlaanderen, and, in the near future, with Ballet du Grand Théâtre de Genève
Has worked for numerous international houses, received multiple awards, and is just as happy to venture into Der Ring des Nibelungen or Hamlet (with Benedict Cumberbatch) and the work of manga master Osamu Tezuka
He has also done work for Lukas Dhont (Girl), Adil El Arbi and Bilall Fallah (Rebel), the Alanis Morissette musical Jagged Little Pill or Beyoncé
Born in Turnhout in 1969
Since winning the Prix Jeune Peinture Belge in 2001, he has created sculptures, installations (The Amusement Park, 2015), drawings, watercolours, photographs, videosand combinations of these media for numerous galleries, museums and art events
From his 1,300 square metre studio in Anderlecht, large works are about to depart for Helsinki, Japan and the Lyon Biennale
He wrote his first theatre play Nach dem Fest in 2015 for Schauspiel Frankfurt, and then directed the opera Bluebeard's Castle in Stuttgart in 2018, and most recently at Opera Ballet Vlaanderen, he directed the opera De Bekeerlinge by Wim Henderickx, based on Stefan Hertmans' book
During our conversation, choreographer Sidi Larbi Cherkaoui and visual artist Hans Op de Beeck avoid any comparison between themselves and the old Flemish masters that immediately always comes to mind when talking about Flemish art history. So we do it ourselves instead. Reading the abridged version of their artistic biography (opposite), shows you that, just as the Flemish primitives and polyphonists, they are both constantly active internationally. The two are now working with each other for the second time, after Stoic with GöteborgsOperans Danskompani from 2018, and are constantly crossing artistic boundaries. Rogier van der Weyden and the others sculpted and choreographed with their painting, and Cherkaoui and Op de Beeck too are sculptors who make use of all possible disciplines, forms, materials and colours.
"Roughly speaking, there are two distinguishable types of artists," says Hans Op de Beeck. "The ones who steadily continue to explore a uniform universe and in doing so vary on a very distinctive idiom that you immediately recognise. And then there are the ones like myself who like to challenge things and embrace the adventure." Sidi Larbi Cherkaoui agrees: "People don't really realise how close art forms are to each other. They like defining everything and emphasise differences, as if a tea bag differs so much from a coffee bag. As an artist, you notice that the shape of your inner world to a great extent is determined by the outside world. For example, by the people we work with. When I work with Hans, I am different, and I am always looking for that change."

LOVE SONG
Regardless of whether they are polyphonists, primitives, choreographers or visual artists, Op de Beeck and Cherkaoui belong to the best, and are thus willingly exponents of what, in some circles, is readily described as "Flemish excellence." Fellow choreographer Chokri Ben Chikha recently, in Flemish Primitives, set to work on this nationalistic approach, which also ties in with the search for and definition of a Flemish canon. All this in a context where artistic excellence too is subject to scarce financial resources. In the wake of the smaller performing arts companies, large institutions such as Toneelhuis, Needcompany (with a negative assessment), Kaaitheater and Eastman (positive assessment but outside the budget) now also live in uncertainty about their future subsidies.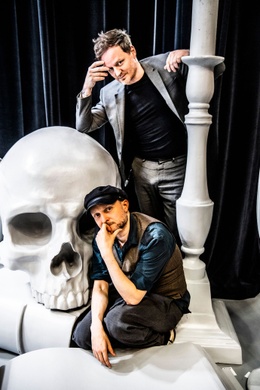 But Cherkaoui and Op de Beeck seem to have little interest in talking about this, nor in an exposé on "identity" or on what Flemish is and is not. Vlaemsch (chez moi) does not aim to provoke, but to investigate and ask that we take a closer look at our history. Cherkaoui even calls it "a love song." Although he does seem to have something to say about the imagery around "Flanders" and/or "identity" and about the characterising of an artist. Cherkaoui: "Imaging is complex. You might have a certain idea of who you are, but others may see you very differently. For example, the image around 'the woman' can lead to the burning at the stake or anti-abortion laws. Artists work with images every day, but they are also a target of them. When I was a child, I was often asked whether I felt more Flemish or more Moroccan. A terrible question for a six-year-old between two cultures. Now that I am 46, I say 'I am both, and both completely.' This is an and-and story, just as there are so many other and-and stories."

"Our urge to make distinctions stems from our need to create order, but it often simply creates more disorder," he continues. "When I started out as an artist, the word interculturalism was often used: 'Sidi Larbi works on dialogue between cultures.' To start with, I thought that that was nice. But with time I realised that that is what every artist does. Everything that Anne Teresa De Keersmaeker and Alain Platel do is that. But it was only framed like that with me because I was supposed to speak for or about Flanders! Since then, I spent seven years as head of Ballet Flanders and much has happened, but I still remember the hatred I received ten years ago, when I was awarded the Vlaamse Podiumprijs, on the magazine Knack 's online forum: pure racism. Today I sometimes ask myself the very real question of when Cherkaoui will be a Flemish name. Not for me, because it is too late for me, but for my cousin who is also called Cherkaoui, and who is one fourth Moroccan and also Flemish to boot. Half a millennium by my own calculation. A Cherkaoui will have to wait another 500 years before they are seen as a Flemish choreographer by the radicals just as it took the lute, introduced from the Arab world, five hundred years to be seen as typically Flemish by everyone."
Cherkaoui wants to emphasise that we can learn a lot from each other precisely because we have not walked the same path. Fortunately there are plenty of such diverse courses in Flanders. "In that sense, Vlaemsch (chez moi) is not a provocation but a love song. Please let us build a better future with all we have learned from the past. Let us really learn from our history and find out who brought something here from another culture and when, what was the influence of the Arab culture which now all too quickly is brushed aside, where all those Flemish masters came from or went to find their inspiration, and who all the foreigners were who fought for us here in the World Wars. Because we don't know that history nearly well enough."

SPIKE, SUZY AND RUBENS
That being said, Hans Op de Beeck and Sidi Larbi Cherkaoui do not deny that there are many specific qualities attached to a particular cultural heritage, and even to the geography in which it arose. Op de Beeck: "When the request came for a reflection on Flanders and the Flemish identity, I realised that I had never really done that before. But I have always considered that I am speaking based on my own background. I admire artists like Anish Kapoor, but of course I don't have his background and references. My references are the Tupperware that my sandwiches came in, the scouts, the concrete slabs between the Flemish gardens, or the majorettes and the amateur cyclists that I have also used in my work. I have always admired artists like the Flemish Primitives or Bruegel. Not that I identify with them specifically, but I clearly come from a pictorial tradition. When I was studying art, I tried to work in a more minimalist and sober way, but in the end I ended up with the same detailed world you can find in our comics, for example. Within that pictorial drive, I try to go as wide as possible, but you can't ignore yourself."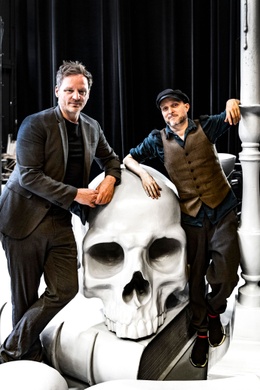 "Spike and Suzy, the paintings of Rubens or the Tour of Flanders have an impact," agrees Cherkaoui, "just like our geography: our flat landscapes, our urbanity with the greyness that you see in Hans' work too, or our collector's instinct that has come from the wars. In Vlaemsch, we play with those clichés, but we mix them with elements that conflict with them. We position the dancers as in Rubens' The Last Supper, but then change it to Da Vinci's or Dali's to get that perfect image. Because there are always other influences that play a role too. Platel, De Keersmaeker and Vandekeybus have meant a lot to me, but the first contemporary dance I saw was by the German Pina Bausch and, of course, Kate Bush and Fame. 'Flemish' is a word that means everything and nothing, and it too often serves to separate people from each other: 'You are Flemish, not Belgian.' It is interesting to see some of the old Flemish songs that Floris De Rycker (musical director, ed.) came across in the research are aimed at a different identity. We wanted to kick out the Spanish with their smallpox and we also sang to get rid of the French. Wannes Van de Velde once feared that our Flemish lion would end up making us more German than Flemish."

Creating an identity by saying what you are not seems like an admission of weakness. Hence the subtitle of Vlaemsch: "chez moi." What Cherkaoui and Op de Beeck do tell us is that in this performance with text, song, dance, live music and prominent scenography and costume, we will end up in a Flemish attic room, the place where everything we want to keep but no longer want to be is dumped. It is also the only dry place left once the water in the Low Countries starts to rise. Cherkaoui: "I also wanted to evoke the secure feeling of home that I know from my mother and grandmother, who were called Vanderschueren and Heirman, and I wanted people to hear our Dutch. There are only two Flemings dancing in the performance. The others are from old cultures like Japan, Israel, Russia or Ukraine and we wanted to share our culture with people like them. That is the performance in a nutshell and sharing culture is also what every artist does every day."

SIDI LARBI CHERKAOUI, HANS OP DE BEECK, FLORIS DE RYCKER & JAN-JAN VAN ESSCHE: VLAEMSCH (CHEZ MOI)
15 > 22/6, 20.00, KVS BOL, www.kvs.be