Visual artist Anouk Kruithof may call Brussels home since the lockdown, it doesn't stop her from moving fluidly through places, disciplines, subject matter, and the many realms of the real. While making the world dance in the Vooruit in Ghent, she immerses 254Forest in a posthuman silence, drawn straight from the Amazon rainforest.
Born in Dordrecht in 1981.
Studies photography and sculpture at St. Joost School of Art & Design.
Develops a refreshing, highly engaged and interdisciplinary practice, continually moving between online and offline, tactile and virtual, photography, sculpture, installation, artists' books, video, performance...
Wins the Jury Grand Prize of the International Festival of Fashion and Photography in Hyères in 2011, an ICP Infinity Award in 2012, and the Charlotte Köhler Prize in 2014.
Exhibits her fluid work, among other places, at the MoMA in New York, the Stedelijk Museum and FOAM in Amsterdam, the Multimedia Art Museum in Moscow, the Temporäre Kunsthalle in Berlin, and the Vooruit in Ghent.
Co-creates The Anamorphosis Prize, which awards $10,000 to the creator of the best self-published photobook of the year.
Travels around the world and ends up residing in Berlin, New York, Mexico and Suriname, where she develops "Trans Human Nature", her first solo exhibition in Brussels, the city she now calls home.
At the same time that the eight-channel video installation "Universal Tongue" unleashes no less than 32 hours of dance films and 1,000 dance styles from all over the world on the visitor at the Vooruit in Ghent, in 254Forest a space is raised to silence. The kind of silence of a nature that lushly and without constraint creeps up on the last traces of human presence, overgrows them, erases them. "Universal Tongue" shows life as it is, or rather as it was until recently, before a great lack in us grew towards bodies that could still sweat frenziedly, helplessly but inescapably, sparingly and ecstatically. "Trans Human Nature" in 254Forest shows life as it can be imagined, as it will be, inescapably: slowly ebbing away, extinguishing, seeping into the earth, with nature as a forgiving second skin.
In the cross-section between these two worlds lies an idea that has propelled and sustained their creator's work for years: our so often ignored, reviled, but irrefutable connection and solidarity, in life and death. "I have carried this ethical dimension with me for a long time. My mother often tells me that as a child I was a binder, always trying to bring everyone together," laughs Anouk Kruithof. "That view of the world, how I would like to see it – from a universal power and shared origin – but also how it is not and the suffering that sadly goes with it, touches me very much as a person and is also in my work."
Between that natural urge and drive – "banal but real" – and the inescapable end, between play and seriousness, between the utopia and dystopia that man carves out of the world as a possibility for himself, Anouk Kruithof moves. Constantly exploring the boundaries, occasionally crossing them, with a practice that is spacious, open and light enough to be many skins, many manifestations, from photography to sculpture, video and spatial installations to artists' books. "For over ten years, I have not ventured into 'straight photography', until now, at 254Forest. Now, for the first time, I let my photos be photos again, neatly framed, all the trimmings."

ELECTRIC FEEL
But still. "Trans Human Nature" shows photography, but does so in a layered, complex way. "How the space is arranged, how it feels, how you walk, how the colours relate to each other... Everything has to form a whole," says Anouk Kruithof. While the artificial grass – "an absurd, fictitious carpet of nature made of plastic" – crunches uncannily under your feet, you see framed photos, images stuck to the wall like wall paper or separated by a printed glass plate. But also plastic body parts that break through the two dimensions. Perhaps even more than fragmented bodies, they are hybrid creatures, empty, transparent shells that distort the images of boundless nature on the walls.

"It is the most polluting product we keep making. That is what is so absurd about this time: on the one hand we are doing everything to reduce the amount of plastic, to limit the damage, and now we are making tons of Plexiglas screens to compartmentalise our world safely. Our salvation means the destruction of the planet. Humans are doing strange things in their relationship to nature, we impose ourselves more and more, domesticating fauna and flora, crossing borders in the process, and going further and further in doing so."
"Trans Human Nature" shows that state of man and world, which is palpable and visible, but stretches reality, pulls the present to a focal point in an inevitable future. "It is not straightforward photography, no," Anouk Kruithof explains. "What you see, what I have recorded, are installations, sculptural interventions, performative acts. Before I press the button, a lot has happened, staged, convoluted." What emerges in the image as traces that are constantly about to disappear behind foliage, under water, are a fiction, prints that Anouk Kruithof herself, for the sake of the photo, has installed in nature. Stock photos representing the technological future, printed on flexible, partly transparent fabrics, organic silk and PVC plastics, ready to be coloured by the jungle. "What you see in terms of spatiality and layering is a construction, but the images themselves are not manipulated. That's important to me, because I'm crafty, I like to make things, to play."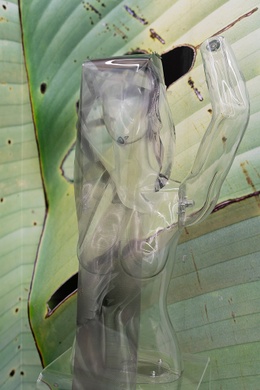 That game – "which I find fun, but which is nonetheless a highly conscious, well-thought-through, and at times difficult and scary undertaking with regards to the weather, the water and the surroundings" – took place in Suriname, in the village of Botopasi. An initial trip at the end of 2018, out of curiosity about the country that was a colony of the Netherlands until 1975, led to Anouk Kruithof returning several times over the course of 2019 and the beginning of 2020 to finish her house, a kind of residence, and to create new work.

"What I saw and experienced there was very much in line with themes that I am working on anyway. On the one hand, I was very overwhelmed by the environment and the transformative power of life in the jungle. In Botopasi, there are no shops, there is no road – vegetables have to be sent from the city – and there is only three hours of electricity a day. It is a very original, very natural life. Now, I have always travelled a lot, lived in all sorts of places – from Berlin to New York and Mexico, and now, since the lockdown, in Brussels – and I am not afraid of living frugally and in nature. But living in Botopasi has brought me even closer to nature, made me even more aware of my own life. Of my work too, of its scope. I have always had a social side, I have always been part of society, but I have become increasingly aware of the fact that I want to relate my work to that life, to how we are all responsible for the future of the earth and of us as humanity."

THE BOTOPASI PARADOX
Living in Botopasi reinforced the feeling Anouk Kruithof already had gleaned from experiences with Mexican rituals involving ayahuasca and peyote. "I once did an eight-day ayahuasca ceremony, without eating except for some proteins. I remember looking in the mirror and barely recognizing myself. (Laughs) Even my friends said that my appearance had changed, as if my skin had become transparent. It does transform you. You feel completely empty, but also very light. Somehow you leave that body. I am not religious, but nature gives me such a feeling. You learn a lot from those rituals, you start to realise that you are a tiny ant, a small part of this bigger whole. That puts you in a completely different philosophical mindset, it pulls you out of your fears, detaches you from the human."
"Sounds a bit spiritual, right?" Anouk Kruithof asks. It doesn't make it any less true. "Exactly, it's also grafted onto life in Botopasi. On the one hand, you see houses with roofs made from foliage, but if you look inside, there's an LCD screen there. The village children were constantly using my mobile phone to make videos and play games. The first thing they showed me there was the Digicel pole, and then the mango tree. (Laughs) Technology permeates the world, tugs at us everywhere. Technology is dystopian and utopian at the same time. It is fantastic, but it has consequences. Also in Botopasi. It is not so different from here, you know. The focus on technology is almost bigger there than here. Because you only have three hours of electricity a day and you know that you have to run to fetch another solar panel when your phone dies, just when you're chatting to your new love or something. Then you have to go to the other side of the village to pick up another panel. In that here and now in the jungle, the future-narrative of 'Trans Human Nature' has germinated."

"I remember seeing something floating in the river at one point, a package that someone had thrown into the river," Anouk Kruithof explains. "That floating matter put me on the track of a kind of transhuman-like creature that, when all the people have disappeared, floats around like a last layer. Until that too eventually is absorbed into nature."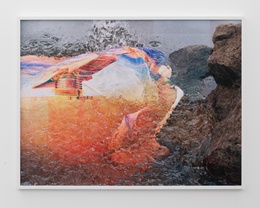 "Trans Human Nature" is a paradox, a knot that simultaneously intrigues and oppresses. "The term is a mix of 'human nature' and 'transhumanism'. That conflict, that contradiction, is the starting point. Between the originality of the environment, that almost magical feeling of sitting on those rocks, the place where it all began, and realising how they were formed, in the middle of that forest that covers 94% of Suriname, and the technology that in transhumanism is going to merge with man – a process that frankly is already going on. Both are elusive, both fascinate me. Both are real and both are this world. I wanted to bring that together."

THE FUTURE IS FLUID
"From the moment I started with photography, the medium has been a tool, not to show the world as it is, but to integrate that world, that reality in a narrative that slightly tilts the perspective and thus raises questions," says Anouk Kruithof. Just by using the camera and the frame you work constructively, you build up an image. You set boundaries. "But beyond this inherent subjective narrative, my practice is also based on a conceptual idea and research, on what I ultimately want to tell, the questions I want to ask with the images I make. That, of course, also erases a lot. I was always removing things that didn't matter, that distracted from what it was about. Whether that is done according to the customary methods of something like reportage photography or so, well, I have always found all those rules very strange. I have always done so much more. I am a photographer, but I am also an artist, I also make video installations and sculptures, and I am also, I think, a collector – of information, archives, screenshots, Instagram images, artists' books, other people's old photographs, artworks, my own images, books, videos, up to employees. (Laughs) For me, it doesn't all have to be pigeonholed."
Anouk Kruithof explores and mines, collects traces, processes and organizes them and contagiously spreads hers. So too in "Trans Human Nature", which nestles between those vaguely delimited worlds of tangible and photographic or otherwise technological new reality. A theme that sticks to Anouk Kruithof and that here bubbles up to a vision of the future. Via found footage that she herself has created, traces that she has printed herself. Something does not have to be real to be true, British writer Jeanette Winterson once said.

By diving into all that collected matter, processing the raw material, throughout the years a transformation of the self crystallises. A self that is bound to be fluid, varied, diverse, elusive. "My work fans out, varies. Change is important to me. Also personal. I live in many different places, I feel that the world around me changes, the location and as a consequence the culture and the way of life that surround me. But also friends change, lovers change... Change is the only constant in life. And perhaps it is my statement in art. My signature is my multi-faceted practice and the fact that I want to stand up for it. Because it's how life is."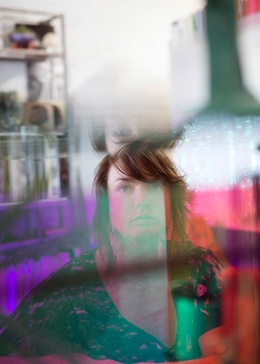 How life is. Resilient, raw, beautiful, overwhelming, gruesome, possible. "Still that arouses the greatest anger in me: injustice. Prejudice based on nothing, racism, abuse of power... That really fires me up, yes. I take a stand, I dare to enter into conflict, to denounce injustice. But I could never be an activist. I am very happy that I can make art, that is my valve. Art is more subtle, broader, different. Art doesn't have to do anything, art is allowed and can move, question, change your mind. It is almost magical how it can hold up a mirror, confront you with certain prejudices or thoughts, how it ignites the imagination, makes you wiser. It is important that it keeps on grinding here, in our heads, you know. So that you don't allow things to rust there, become stubborn, closed, like fixed ideas about what should be. The looser it is in there, the more open, the better we deal with each other."

ANOUK KRUITHOF: TRANS HUMAN NATURE
> 6/3, 254Forest, www.254forest.be, www.anoukkruithof.nl

Exhibition overviews: Niccolò Quaresima