If there are two things we wish you at the end of yet another year on hold, it is poetry and wonder. Two ways of seeing from which the Brussels artist duo Mira Sanders and Cédric Noël have drawn a magnificent double exhibition. "A Voyage into the Moon" and "The Phenomenal Park" are spaces to howl at the moon, marvel at what is left unseen, wander through sound, fall through drawings, hurt, laugh and love.
Born in 1973 in Ukkel/Uccle
Studied Fine Arts at Sint-Lukas, and is a lecturer/researcher at the Faculty of Architecture, Campus Sint-Lucas KU Leuven
Defines herself as a user of space and explores the city through intriguing drawings
Won the Prix de la Jeune Peinture Belge's ING Award in 2007
Her show "Inland Voyages in an Inland Voyage" at Argos in 2016 was awarded the AICA Best Exhibition of the year award
Born in 1978 in Argenteuil, France
Studied Visual Arts in Nice and at the HISK in Antwerp
Won the Prix Médiatine in 2006 and exhibited at Wiels, Bozar, the Frans Hals Museum, M HKA and the Contour Biennale
With Mira Sanders, conceives The Mental Masonry Lab, a fluid collective that paves a critical and poetic way through public space
"On August 6, 1945, the atomic explosion over the city of Hiroshima aroused the curiosity of a creature," the preamble of the exhibition "A Voyage into the Moon" starts ominously. What follows is a wondrous journey that in eight chapters leads from centipedes to ravaged bodies, from craters to lost souls, from barren monuments to mission reports and from the moon to an unexpected queen. Eight chapters for eight works, composed in different media – from textiles, drawings, music and soundscape to found footage, an animated short, installation and sculpture. Every single part as elusive as the breathing, living, ever appearing and disappearing whole it constitutes.

"A Voyage into the Moon" takes away the direct view of what is at stake. Instead of moving head-first into its throbbing core, looking the matter right in the eyes, Mira Sanders and Cédric Noël progress through alleyways, ventilation systems, shafts and tunnels – in-between spaces that circle, circumscribe and keep to the edges instead of directly facing the heart of the matter. You hear it pounding nonetheless.
"That's what we do: we look away," Mira Sanders says. "We turn our gaze off-centre, to the edges and borders, to what is happening just in the periphery." That makes for an artistic practice that leads along unbeaten paths. By exploring those spaces between fact and fiction, poetry and politics, the documented and the unsaid, Mira Sanders and Cédric Noël ignite a ferocious fire with their contemporary fairy tale that disrupts and dislocates both the gaze and the history it looks at. Attention to the boundaries of reality, to what is neglected, discarded and left unseen, creates physical and mental spaces that allow a different light to shine through. It not only fuels the imagination, it re-imagines reality itself.

Mira Sanders and Cédric Noël tinker and pry with histories and truths that have solidified, become fixed by those who write them, and rebuild them with the elements that have come loose – "the separated matter", as A Voyage into the Moon, Mission Report, a free booklet that glues the exhibition together, puts it. "That separated matter literally speaks of the debris of Hiroshima, bodies and things fragmented and splintered by the atomic bomb," Cédric Noël explains. "But in addition to a physical state, you can also see that 'separated matter' as referring to a psychological state, to the fragmented souls of people. As well as to that friction that, according to Shintoism, always exists between the physical and the spiritual world, between reality, stones, plants, houses and the creatures and spirits that roam in them."

ON THE EDGE OF THE ABYSS
It is out of that friction that "A Voyage into the Moon" crystallizes. A deep, rich, rebellious fiction that unmistakably spoofs reality. "Everything started with a trip to Japan in 2017," Mira Sanders says. "A journey in which we were quite struck by the secrets that permeate Japanese society and culture, and which in the drawings I made there (brought together in the animated sequence Aftershock_chpt 1, ed.) flowed out into a focus on interiors rather than exteriors, on vent pipes, shafts, tubes and stuff like that, places in which those secrets can circulate."
"There is a kind of intangibility at play, which doesn't have to be negative, but it does cause an event like the Hiroshima nuclear catastrophe to be shrouded in imprecision and considered unspeakable, even at the Hiroshima Peace Memorial Museum. At the same time, that moment still defines the lives of the victims. The hibakusha – those exposed to the radioactive bomb – and their children and grandchildren still suffer discrimination and exclusion."

"It's that idea of something unresolved that really was what drove us," Cédric Noël continues. "Our visit to the museum was, in that sense, a very muddled experience. That then means that to continue purely in fiction is not interesting, because there are still too many questions about reality in the way."

Those questions are not anchored in the moment of the bomb's impact, but a little later, in 1954, a year before the Hiroshima Peace Memorial Museum is inaugurated and history is rewritten and constructed. "A Voyage into the Moon" is an ode, an alternative monument, in the form of a fiction centred around the female astronaut and hibakusha She, in which that destructive reality merges with a fascination for the anime and manga tradition, for Japanese myths, for the underground, for architecture and urbanism, and for the moon.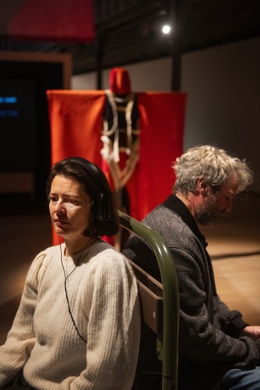 "Hiroshima was the real destruction of the surface, of bodies and territories by science and technology. The same destruction, symbolic this time, of the imaginary, of the fantastic, of reverie, took place on the moon when the American flag was planted in 1969," says Cédric Noël. "We intersect those two moments of destruction – the real and the symbolic – because they have completely transformed our relationship to the technology that underpins them. The idea of progress, of technology making our lives easier, has in the blink of an eye given way to the realisation that technology and science could wipe a city off the map and devastate and disrupt an entire community."

Mira Sanders and Cédric Noël place these scratches on the earth's surface in contrast to an exploration of depth, and the façade to a relentless digging. Opposite the Hiroshima Peace Memorial Museum they let She suggest "an abyss, as wide and as deep as possible", "a hole for vermin, for the insects and the rats": "A hole would have inspired fear and disgust. An infamous place would have taught them all the love of Peace."
"A hole like a counter-monument," Cédric Noël nods. "It would be closer to the emotion you experience when you're confronted with a catastrophe of that proportion. That in turn would be more honest, less cynical than for instance the 'Atoms for Peace' exhibition that was organized in the museum, by the United States, in 1956, as a way of highlighting the positive aspects of nuclear energy. It would focus on the children who were starving and often found with stones in their stomachs rather than on the blushing girls in kimono and with umbrellas who had to put on a little play for important visitors."

A hole as a remembrance, as a symbol for a ravaged memory, for doubt and uncertainty, for faltering, for eternal wonder.

MAPPING THE URBAN
That state of wonder is also the starting point for a practice that Mira Sanders and Cédric Noël have been conceiving since 2014 under the name The Mental Masonry Lab, a dynamic and fluid collective that paves a critical and poetic way through public space, its periphery, its blind spots and borders, its oddities and treasures, its traces and its trash. A second exhibition in the Botanique's Gallery space bears witness to this playground. "The Phenomenal Park", a living map of an imaginary park ingeniously laid out, was developed together with more than forty master students from the Faculty of Architecture, Campus Sint-Lucas KU Leuven, where Mira Sanders teaches the course "Mapping the Urban".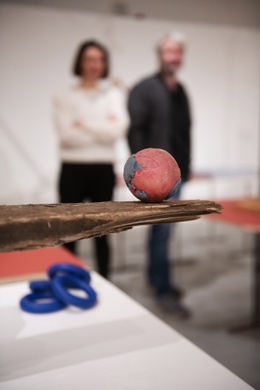 "It's a completely different exhibition from 'A Voyage into the Moon' in terms of approach and content, but the underlying process is similar. This too, is a matter of strolling – though not aimlessly – and of collecting, – of what we encounter along the way, be it objects or sounds, thoughts or images – of analysing, translating, re-imagining, reconstructing, and reactivating," Mira Sanders explains. With a sensitivity and lightness that, despite the density and coding of the existing space outside, stimulates the imagination and creates a different physical and mental space. You see jigsaw pieces of parts of Schaarbeek/Schaerbeek, a game with the patterns of cobblestones, manipulated Nespresso cups, physical memories of holes in the urban fabric, "translated" graffiti, sculptures with barrier tape, balancing exercises with found objects, translations, transmutations...

"It's a way for students to go beyond the books and the Internet and see and experience for themselves. Architecture is very applied, purposeful and complex, but that doesn't mean you have to ignore the fragility or poetry of a city, a site or a building. It's about that sensibility in that process of exploring, dismantling, deconstructing, recontextualizing and rebuilding."
That frivolous process raises numerous questions. How public is public space? Who is the public that it is public for? Is there still room for imagination? What is repressed and cannot find a place? What is the public space of a museum or an archive? What are its borders? "We always wanted to cross those borders," Mira Sanders says. "From the very beginning of the collective, when we went to Berlin and worked there at ZK/U, Center for Art and Urbanistics. Or when we founded TMMRADIO at Iselp, and made podcasts from the library, where no one was allowed in and where guests read and discussed excerpts from their favourite books. Or like in Charleroi, where we went looking for 'stones of wonder' like poetic archaeologists at the then building site for the Rive Gauche shopping centre. (Laughs) We followed the archaeologist's methods, but never digging deeper than twenty centimetres. All sorts of stories came to us from passers-by whilst we were there. About how the shopping centre was a nightmare, or in fact fantastic because Charleroi would finally also have a Primark, or how the ground under our feet once was the location of Charleroi's best peep show."

"We are actually looking for the limits of a context, a public space, and investigating whether there is something to discover in that periphery. There's always a naughty and a playful side to that."

GHOST STORIES
Back in "A Voyage into the Moon", Mira Sanders and Cédric Noël's exhibition in the Botanique's Museum space, this playful side takes on fascinating forms. Control Room_chpt 3 uses a three-dimenional arrangement – beautifully described as "a cartography of the imagination" by curator Ive Stevenheydens – to show a number of penciled views of uninhabited in-between spaces and structures. Opposite, Hiroshima 1954 Memorial_chpt 4, an aluminium sculpture/table that refers to the architecture of the Hiroshima Peace Memorial Museum, holds 3,000 copies of the booklet A Voyage into the Moon, Mission Report.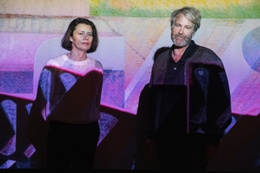 A little further on, astronaut She emerges as Queen of the Moon and of all the lost Moon Souls. Following the Mukade – the curious centipede from the preamble who speaks through her mouth – you dive past circular holes through platforms and chambers of a space station deep below the surface of the moon. Mission Report_chpt 5 is a breathtaking animation where no living creature appears in your field of vision and yet the space pulsates, propelled by a sublime, dangerously swelling composition by Japanese musician Tujiko Noriko. A rupture between earth and moon is imminent, the lunar safe haven will no longer tolerate the earthlings' will to conquer and subjugate. The proud voice of Commander Ikeda of the Imperial Japanese Army surrenders to the silence.

In that silence, space echoes. Skin_chpt 7 overshadows you like a giant flag. In the representation on that flag – a mirror of the urban plan of the Hiroshima Peace Memorial Park, which also permeates the scenography of the exhibition – a hole is burned the size of a new memory. The Queen's Suit_chpt 6 shows a design by Louise de la Tour of La Cambre Modes: a hybrid costume in which aspects of a space suit, a kimono, the body of the mukade, manga futurism and the transformative ornament of Princess Kaguya – from Isao Takahata's masterful and poetic film adaptation of a 10th century Japanese folktale – merge.
"A Voyage into the Moon" thus strings itself together into an exploration in itself, a journey that constantly moves between fact and fiction. "Fiction allows a form of freedom," says Cédric Noël. "We're not historians, you know, though we do dig down into things. But our subject inhabits the history, the sociology of a place as much as the colour of Mira's pencils. All these aspects are subject to the same intensity of observation. That is not easy, especially in the face of a historical mastodon like Hiroshima, where you have to work with genuine pain. But you have to make it your own story through imagination and empathy. Of course, the fact that this catastrophe has an impact on our lives even today helps. The destruction by technology and science and man's urge to conquer continue to this day, in the Mars expeditions, in Elon Musk and Facebook, in the health crisis and the distrust of science... From that core, from the holes in that contemporary story we work. To create another possibility."

MIRA SANDERS & CÉDRIC NOËL:
EXHIBITION: A VOYAGE INTO THE MOON + THE PHENOMENAL PARK
> 6/2, Botanique

CONCERT: TUJIKO NORIKO
17/12, 19.30, Botanique

TALK + BOOK LAUNCH
13/1, 18.30, Botanique