Using old pallets, plastic bottles, refuse wood, and bent nails, Tatiana Wolska creates a poetic, lively oeuvre that playfully bursts out of its borders. "I deny myself nothing, no direction, no medium, and no material."
Life is a messy creation. It intractably jumps from one thing to another, bursts out of its borders, expands and shrinks again. It languishes and flares up, swirls, stops, engages, clings on, and leaves. It feigns and plays, tantalizes, and hurts. It is incredibly simple and yet utterly unfathomable, unsightly, and excessive. It is everywhere at the same time and nowhere in particular.
It is precisely this paradoxical life that leads to the work of Tatiana Wolska being so ungraspable and elusive. "In the past, during my studies, I always said that I had no idea how my work had become so organic. That I just desperately wanted to work and one thing led to another. Now I think there is something deeper going on, but I still can't quite put my finger on it. I find it very difficult to unpack that organic, oneiric, surrealist side of my work."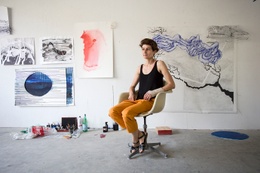 But perhaps that is not even necessary. This ungraspable, fleeting core makes the drawings, paintings, sculptures, and architectural installations of the Polish-born artist, who has been living in Brussels for almost two years now, scintillating. It is art that gets under the skin of life, and smashes borders by drawing from its whimsicality. "When I started studying, art only really meant painting. I hadn't even thought about sculpture or photography. But I soon realized that I did not want to be bound by one medium because freedom of movement was more important to me. I had no money for paint, frames, or canvasses, so every time anybody offered me materials, I became blocked: I would only destroy the surface. I then started working on pieces of carboard and wood, but I preferred working in a variety of media, so that I could understand the direction I wanted to go in. And now I deny myself nothing, no direction, no medium, no material."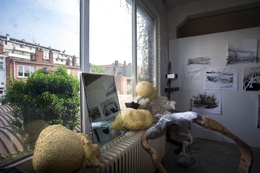 This is also evident at Tatiana Wolska's studio in Schaarbeek/Schaerbeek, where there are wooden sculptures that are each made from one deconstructed pallet. In the centre of the space, there is a mobile sculpture for her exhibition at Irène Laub that is still under construction. In one corner hangs a beautiful cloud-like sculpture consisting of a series of melted down plastic bottles. On the wall, paintings and new drawings in wood glue wash over the edges in organic coils, inevitably covering the walls and the floor.Tatiana Wolska's work consists of inspired creatures, bodies that carry the remnants of life, that focus on the things you would otherwise barely notice. "Almost all the materials I use are found or recycled: empty plastic bottles, pallets, refuse wood, bent nails… They are not noble materials, but materials that allow me to create. This fits with an ecological vision, yes, but that was not my primary concern. It was only when I realized what you can do with what you buy and what you throw away… We are deluged with stuff and materials, and I like to give some of it a second life. There is a joy in seeing things that are thrown away or discarded on the street end up with a collector or in an art centre."

There is a wonderful sort of poetry in Tatiana Wolska's search for everyday materials, in the deconstruction and reconstruction of all the things that carry, package, or wrap, and that are often overlooked. The poetry written by the small and the unsightly. "Often I am not aware of what I do. I come to the studio without a programme and I simply improvise." Like a conversation. "You are attracted to materials because they have potential. And that potential is different for each material. It is important to listen and to see what is happening. Everything happens like an improvisation, like a test. A test of materials, surfaces, and assemblages. The materials and my interventions engage in a sort of dialogue."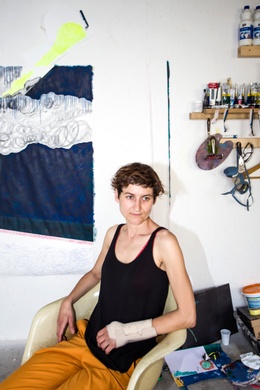 It is a dialogue in which coincidence is essential. "That is the whole point of my studio, a space in which you work every day. You have to have a bit of rigour because if you don't practice, you have no right to fail, you have no right to make mistakes, and it is actually the mistakes that open up the biggest possibilities.But if beforehand you are already very conscious, organized, and consistent, and know the direction in which each work that you make or each exhibition you hold is going, the studio becomes a factory."
"And besides," Tatiana Wolska continues, "it is not as though every ingenious idea simply falls from heaven and you just have to do it. That's not how it works. Sometimes I get very annoyed because I think I have wasted a whole day. But that time is important, you have to be able to get bored. Boredom is freedom, and it leads to accidents and coincidences."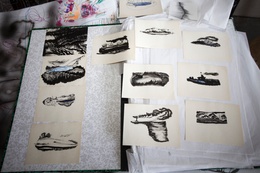 This brings about a change in relations, and causes the practice to become a space of encounter. "For a long time, I made 'objects'. I have recently found fresh inspiration and I am now working on exhibitions in situ, where I occupy the whole space. These are not objects but installations." In these shows, such as currently at Villa Empain or at Galerie de la Marine in Nice, imposing wooden architectural works seem to find a home by expanding, feeling their way, exploring traces in themselves and in the space. Resulting in a "potential habitat for an artist" – as her exhibition at Galerie de la Marine is called –, the playful embodiment of an intimate conversation. "I now struggle with my old exhibitions because the objects in the white cube end up in a dead position. They become morbid objects, rigid witnesses to my thoughts, to my practice, and to my life experiences, that were actually all very lively. That is why I now try to transform the white cube into a studio space." A place where life spills over the edges and shows itself to be so spirited and restless that it is impossible to put your finger on it.