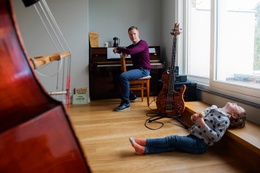 There are two firsts for Félix Zurstrassen this year. After the release of his first album as a bandleader, the jazz bassist has now also found a new playground with his young family.
Born in Verviers in 1987 and raised in Sart-lez-Spa
Started taking piano lessons at 8, but fell in love with the (electric) bass at 14
Moved to Brussels at 18, where he studied at the conservatory and ended up in the class of bassist Michel Hatzigeorgiou
Won the Sabam Jazz Award in 2017 in appreciation for his work as a sideman in numerous Brussels jazz ensembles
Just released his first album, Nova, as leader of the Félix Zurstrassen Trio
Currently plays with Antoine Pierre (in Urbex), soul-pop singer Typh Barrow, pianist Pierre de Surgères, and the Jazz Station Big Band
"We only moved in here two days ago," Félix Zurstrassen (33) surprises us when we visit him in their new family home in Oudergem/Auderghem, which has just been renovated. The terraced house is indeed strikingly immaculate for a jazz musician whom in the past we often saw setting the rhythm in the half-darkness at the back of the stage. The white walls, stylish armchair, and high-quality sound system look almost as though they could be from an estate agent's brochure. But the record collection and player have not been unpacked yet, and we count three moving boxes packed with study materials – Bach scores alongside jazz traditionals.
Zurstrassen: "While unpacking, I do try to take into account whether I will use something again. When moving, there is a natural selection of things to keep anyway. It would be ideal only to keep the bare minimum, but I'm afraid I will not manage that." (Laughs) Zurstrassen is still too much of a jazz musician for that, loving improvisation and research. In the meantime, Brad Mehldau is playing through the speakers and we count a total of twenty-one plugholes in the living room – "always handy with musicians around." But more than anything, it is the instruments that indicate that music is made here. The piano, on which the bassist writes his tracks, once belonged to his father, who was likewise a composer and music teacher. "The instrument has accompanied me around Brussels and immediately found its place here too. It fits precisely into the corner of the room."
Having initially followed in his father's footsteps as a pianist, Zurstrassen switched to electric bass in his early teens. He explains that choice, saying: "We had a great teacher at the academy who gave us plenty of room and let us experiment. He made me feel as though I could really progress. When I was about sixteen, I started listening to Aka Moon a lot. The fact that at the conservatory, I immediately found myself in a class taught by their bassist, Michel Hatzigeorgiou, was absolutely amazing. He gave me the little push I needed in the direction of jazz and funk."

His current electric bass was apparently made by the Spanish luthier Jerzy Drozd. "He makes semi-acoustic electric instruments with sound boxes that resonate like normal guitars. I had it made especially for my trio because a smaller bass sounded better than a double bass with the acoustic style of guitarist Nelson Veras."
Zurstrassen knew that the Brazilian-born guitarist had played with Octurn and Aka Moon. Along with his good friend, the drummer Antoine Pierre, he asked Veras to be part of his first trio as a bandleader. The newly formed trio, with guest appearances by alto saxophonist Ben van Gelder, has found a happy medium between modern and contemporary jazz, between the rounded melodies of someone like Mehldau and the sophisticated rhythms of Coleman and Aka Moon.
The fact that the bassist ultimately dared to make the move from sideman to bandleader is not only related to his growth as a musician. "I actually have Maëlle to thank for it. The birth of my first daughter five years ago was troubled by a series of complications and it changed me fundamentally. To see a fragile and vulnerable new life struggle and survive like that moved me deeply and gave me the impulse to launch a project in which my own ideas could have free rein. I was very happy about my career as a sideman, in which I did genuinely contribute, albeit from the shadows, to the sound of the musicians I played with, but I wanted to determine the parameters of the compositions myself, choose my musicians, and take final decisions. And now that minor frustration of only being a sideman is finally gone."