Covid may have culture in a stranglehold, but the concert venue cum community centre De Vaartkapoen has used the past two years to reinvent itself. "This crisis has held a mirror up to us at a rapid pace," says music programmer Rrita Jashari.
You can look into the future against the façade of De Vaartkapoen in Schoolstraat/Rue de l'École in Molenbeek. A banner illustrates what the concert hall cum community centre soon will look like. On the spot where, until recently, there were two squats in the adjoining Sint-Jozefstraat/Rue Saint-Joseph, a garden and a flexible space will be created that will be accessible to the entire neighbourhood. There will be a great deal of input from that neighbourhood, as citizen participation is one of the pillars in the functioning of the VK. Not for nothing, its baseline is "Music, Molenbeek and Society."
Said future lies now in 2023. "The renovations have once again been delayed," Rrita Jashari, music programmer at De Vaartkapoen since 2018, says with a nod. Until then, you can head to Rue de Manchesterstraat in Molenbeek, where the VK has been sharing a raw, former industrial space with the centre for culture and creation Recyclart since 2019. A temporary place where the VK has reinvented itself, despite a constricted budget and a shared location. "We worked hard on the dossier for the new Arts Decree, which will come into force in 2023. We had lost the grants for our concert operation in 2016, by next summer we will know if we have got them back. At the same time, we honed our vision and our plans for the future and took our time experimenting, looking for new forms of music experience and creating new partnerships. We may be organizing fewer 'regular' concerts, but we are putting on a lot of more in-depth projects."
Examples abound. With "Klapstoel", the VK entered the public space, using music as a medium to enter into dialogue with passers-by. For "Circuit", a project that saw the light of day last year, young multidisciplinary artists organized a conceptual concert evening. Via "Izran Revisited", a long-term project around the Izran, sung poetry from Northern Morocco, the VK wants to breathe new life into this tradition. During the "Secrètes Sessions", musicians who don't know each other work on new songs and the VK, a bridge builder par excellence, at the same time unites Dutch- and French-speaking musicians. And for the "Loop Sessions", beatmakers conjure up a variety of beats from a single sample.
Unlike some of the larger players in the cultural sector, the VK found the flexibility to do smaller things. "We also set up a face-mask workshop and handed out food parcels. The past two summers we have transformed our courtyard into Manchester Plage, whereas that is normally a period when we close down. From September to October, we held several concerts a week. Next year's schedule is also filling up well, but we're not announcing everything yet as it may need to be rescheduled or cancelled more than once."
You are already realising your greatest plan for the future: to merge the concert activities and the community centre. How's that going?
Rrita Jashari: It didn't make sense to separate those two workings, they reinforce each other, so we let them merge. It only makes sense, because music is a social thing. You get together with people you largely don't know and you share an energy together. At one of our new projects, "Baraka Sounds", we invite people to sit on rugs and cushions on the floor. Before watching the concert, they share a dish with people around the table. Food is culture too. We have to move away from the idea that concerts have to take place from eight to ten with an audience that stands upright and then afterwards, everyone goes home. We aim for variation between different concert forms, with an emphasis on social interaction.
Are you in danger of losing that interaction now that you will have been in limbo for three years?
Jashari: There is certainly an audience that has come along to this temporary place. Our work with women in precarious situations is still going very well. But this location obviously has a different dynamic. Together with Jonas Vanhees, for example, we set up Cassonade, a solidarity restaurant, further along in Rue de Manchesterstraat. We may continue that with volunteers who then continue to work here. After the renovations in Schoolstraat/Rue de l'École, we will also have a restaurant, not a hip, trendy place, but something that runs on people from the neighbourhood.
What has this temporary location taught you?
Jashari: That a courtyard is fantastic. (Laughs) But we'll have that after the renovations too. Those open spaces are great, especially in the summer. People can just walk in. The VK used to be a closed box really, in a dense neighbourhood. Now, it's going to be an open house.
The VK used to compete with the other concert halls in Brussels. That set-up seems to be gone.
Jashari: That is partly due to the reduced operating budget, but also to the shared venue use and change of focus. Hip hop, which we used to profile ourselves with, has become the pop of today. All the venues offer hip hop. The music industry has changed. Underground groups and genres are going mainstream faster. The large venues also have a much broader programming, often because they have several rooms. From 2023, onwards we will have a brand-new hall for 500 persons, which is a really interesting capacity for Brussels. We will also have a multipurpose industrial hangar, roof terrace and apartment where artists can stay during a residency. We want to work in a different way than the big concert halls and set up more residencies and collaborations.
We're not dropping hip hop. But we will pay more attention to local talent that gets little attention elsewhere, or collectives like Jeunes Boss. We also want to keep focusing on reggae, ska and harder guitars, which remain underrepresented in the Brussels concert scene. We also want to focus on music from the different communities. One of the new focus-points will be our collaboration with stars from Morocco and the Moroccan diaspora. This is unique for Brussels. But the audience must also be more diverse. Other venues do diverse programming, but their audiences remain white.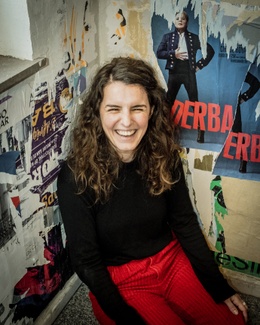 Don't communities turn inwards less?
Jashari: That is work in progress. The hard part is that you have to have a plan for each concert to reach certain groups. Anyway, you need to work with key contacts from each community. My colleague Malika Saissi has a wide network in the Maghreb community through her years of experience in the neighbourhood.
Communities need their own spaces to live out their own culture, but I also see that in Brussels a collective identity is growing that goes beyond origin. I feel that young people today are much less concerned with their origins because they are growing up in this diverse society and era. It's good to know where you come from, but your identity is much broader than your origins, it doesn't define you as a person.
Balance ton dancefloor
Rrita Jashari arrived in Belgium at the age of three from Kosovo with her Albanian parents and her two sisters, after President Milosevic had introduced an apartheid system that prevented Albanians from working and children from going to school. "We ended up in Ottergem, of all places, a small village near Aalst," says Jashari. "We were the first foreigners there. When I was twelve we moved to Brussels. Suddenly I found myself in a very diverse city. I've always seen that as an asset, not something difficult. Here I was no longer constantly confronted with my Albanian roots."

Has that diversity encouraged you to do what you do now?
Jashari: The city has always inspired me. Its energy. Its musical tendencies. But cities change too. Brussels retains something rough, but the gentrification is unmistakable. That's not necessarily a bad thing, as long as different voices are heard in that process.
You are one of the founders of 54Kolaktiv, a party collective that grew out of the young people who found each other at place Sainte-Catherine. A place that has changed a lot in the meantime.
Jashari: I haven't spent this much time anywhere, we were a group of friends who were incredibly eager to organize things. Now there are terraces everywhere. (Laughs) Especially now that Covid has us in its grip, you need places where people can meet, where they can philosophise and ideas can mature. But those are disappearing. Boulevard Anspach is covered in fast food chains. The individuality is gone. Or have a look at Allee du Kaai. The new purpose it is getting is great, but a piece of the soul will be irrevocably lost.
Bie Vancraeynest of non-profit organization Toestand says that people praise Brussels' punkiness, but at the same time these places seem to become a nuisance increasingly quickly.
Jashari: The residents of the new blocks of flats across the street often complain about Allee du Kaai. When you move into a city, you have to realize that you have to share the space. Otherwise, you should live somewhere quiet on the outskirts. (Laughs) Everyone should be able to express themselves. Our renovated hall will be built according to the new noise standards, by the way, so we will not be disturbing our neighbours. This was not the case before.
The dance floor is another free place to express yourself. You're a DJ. Except for a few weeks, we haven't been able to party in almost two years. What does that do to a city?
Jashari: It makes this crisis even more tough mentally. You pretend that part of the city doesn't exist, while the club is a place where you can let things go, where you escape from time.
A year ago, I was having a really hard time. I had the feeling that I no longer had any freedom, that a part of me had been cut away. I was scared about the future and how the world was evolving. Meanwhile, I've learned to let that weigh on me less emotionally. But sometimes the fear still haunts me.
Are we too scared of the nightlife?
Jashari: I understand it's better for our health if we close the clubs. But at the same time, you do see people watching a football game en masse or walking around in large groups at Plaisirs d'Hiver. That's not consistent. The Brussels by Night Federation had a plan ready to let people go out by age group. There are plenty of creative alternatives to consider.
As if Covid wasn't enough, there was also Balance Ton Bar, against sexual violence in bars. Do you have any experience with that yourself?
Jashari: No, fortunately I have been spared that. I was shocked by how many women testified. That was a reality check. Apparently, we didn't pick up on those stories or take them seriously. But it is good that people are becoming more vocal and that topics such as sexual violence can be discussed. That's also the power of social media, I think. People who have nowhere to go can tell their story there.
Fortunately, there are more and more female DJs in the club scene. In Belgium, Amélie Lens and Charlotte de Witte stand out. But DJ magazine Mixmag still only includes men in its top ten of greatest DJs.
Jashari: I don't look at lists like that. (Laughs) It's true that the decisions in that world are still very often made by men, but I feel that things are changing. In terms of diversity, there is still work to be done, clubs are still very white and middle class. That's why initiatives that strive for more diversity, and women, in nightlife such as Not Your Techno, Psst Mlle and Bledarte are very commendable. I find a safe music and nightlife scene very important. Inclusiveness is also part of it, even though young people are perhaps less concerned with their own origin. It's necessary to keep working on that and see it as a goal that's never really fully acquired. With the VK, we want to focus on women in the future, but also on non-binary musicians.
You felt a bit robbed of your freedom, you said earlier. Do you understand people who came out on the street in the name of freedom?
Jashari: I find it hard to choose the right side. To be honest, I'm a bit confused. I am vaccinated, but at the same time I find it absurd that people who are not vaccinated are denied things. I think it's good that people are coming out on the streets to voice their opinions. But it has been problematic that many did not realise that they had let themselves be led by the extreme right. But apparently there was some momentum. There were more people present than at the last climate march. That's saying something.
Erasing the divisions that now prevail will be a massive social undertaking. What will be the biggest challenge for culture?
Jashari: The lack of perspective is debilitating. We need a workable, safe roadmap for the long-term operation of culture. The panic policy that is being pursued is not working, and it is causing a lot of division among people. Culture is also always the first to take the hit from any new rules. That's a problem. Maybe that's because politicians judge that more money is flowing into it than coming out. The importance of culture is constantly underestimated. This crisis has held a mirror up to us at a rapid pace. Perhaps our freedom was an illusion, and now it's been punctured.