Zwangere Guy's avatar will next week launch the Nouvelle Belgique, the Ancienne Belgique's virtual leg. You can attend disguised as your virtual self to dance along to the rhythm of the keys of your personal keyboard, hand out coronaproof high-fives and go through the roof of the digitally recreated AB. "For now, it will be without VR glasses or a freshly tapped pint, but the potential is infinite," the 3D studio behind the digital version of Zwangere Guy announces.
The Covid crisis has hit the Ancienne Belgique hard. They have had to give up also on the spring of 2020. But even without performances with live audiences, the concert hall wanted to innovate, despite having no budget for it. But that was before a Brussels technology company came along and wanted to invest in a platform that would bring fans and artists together in a virtual AB environment. During the second lockdown, this created a perfect mix. Necessary ingredients: a corona subsidy from Visit.Brussels, an enthusiastic telecom sponsor and – to crown it all – the "jefe" of Brussels hip hop wanting to grab the spirit of the times by the scruff of the neck in the 1.5-metre society and, following a handful of foreign examples, will soon blur the boundaries between live music and gaming. Enter Nouvelle Belgique.
No, this was not on Tom Bonte's wish list when he applied to become AB director. "Without lockdown, this would not have been a priority. But in the current crisis situation, it is our job to think about what our future could look like and where there are opportunities. We have been bringing ABtv for 15 years, online streaming before Covid. Trying to see if we can have an impact also in the 3D world sounded like a logical next step."
Even before the summer, the AB contacted the Howest school in Kortrijk to find out if their students could recreate the concert hall in a gaming environment. "But that turned out to be too expensive and very difficult," says AB commercial director Ward Cannaerts. "Via the accelerator network Walifornia, Poolpio came into sight. In collaboration with the Liège festival Les Ardentes, the small 3D company from Elsene/Ixelles had already set up a virtual performance last summer with the Brussels rapper ICO. Their experiment convinced me. When Hervé Verloes, one of the founders of the immersive content studio, dropped by the AB headquarters last autumn, the collaboration was quickly set up."
Both Cannaerts and Verloes are believers in the crossover of music and gaming. Both saw the ground-breaking virtual performances by American rapper Travis Scott and singer-songwriter John Legend last year, the first at the end of April via the online computer game Fortnite, the second at the end of June via the platform Wave. "What appeals to us in particular is the possibility for artists to create and develop their own universe from scratch," says Cannaerts. "Travis Scott's virtual concert was so innovative that it turned the classical relationship between artist and audience on its head. In the set of John Legend, I saw for the first time how such a motion-capture costume works and we will soon be putting Zwangere Guy in one. Rather something like that than a virtual Tomorrowland – which is equally impressive, but a lot of things were recorded beforehand."
"We also put ICO in such a suit last summer," says Verloes. "But the technology is even better now." For Nouvelle Belgique, Poolpio uses the same Unreal gaming engine – a real-time 3D creation platform - as Fortnite, and for IT, network and server it relies on GranolaXR and their platform Yabal. "The fact that Sony also recently did a motion capture project with the American singer Madison Beer was a confirmation for us that we are on the right track."
"The biggest challenge is the technical part," explains Hervé Verloes of Poolpio. He says the creative process, including rebuilding the virtual AB and creating Zwangere Guy's avatar, is easier, also because the cooperation with the concert hall and the entourage of the artist went flawlessly.
"Zwangere Guy was not entirely convinced at the start, but when we showed him our models and especially when we put him in his 'mocap' suit for the first time, he was totally on board. His avatar looks photo-realistic, thanks to the smooth interaction with our designers. We recreated all his merchandising in 3D and thought about his outfit. Above all, the decor had to retain AB's DNA. The red armchairs, the bar, the merchandise stand: you recognise them all from the physical live concerts. The only thing you have to sort out yourself is the freshly tapped pint. Merchandising can only be ordered via the link to ZG's website."
ZWANGERE GUY: 'AT SOME POINT, YOU HAVE TO DARE TO JUMP'
"The world is too beautiful to stare at a screen," declares Gorik van Oudheusden aka Zwangere Guy when we call him just before the dress rehearsal of Zwangere di-GUY-taal. Whether his own avatar and the avatars of his fans will agree remains to be seen. As far as the target audience is concerned, the first Nouvelle Belgique poster is certainly spot-on. Zwangere Guy reaches relatively young music fans who are familiar with a gaming environment. On the other hand: he has not seen any foreign examples that have tried out the new immersive technology, nor is he a gamer – "I am inclined to smash controllers against television screens."
A good two years ago, the former AB kitchen assistant sold out the main hall for the first time. Last year, he did the "Ceci n'est pas un live-stream" and at the end of April, he was supposed to play three postponed sold-out concerts in a row. The 6,000 fans who had tickets could attend the virtual show for free instead. "That charm offensive convinced me, as well as the question 'What will this give you?' Because let's face it: at home, you won't smell the venue, you won't meet a nice lady or mate, there won't be a joint to pass around and no one will collapse after ten minutes because they are hammered. People will still be looking at a fucking screen, which they are already doing too much."
The Brussels-based rapper realises that the technology is still in its infancy. "There are advantages and disadvantages to being the first with something. I'm a control freak, but have resigned myself to making beginner's mistakes." He does hope that his avatar will become more powerful than the "screenshot" that is currently everywhere. But: "At some point you have to dare to jump. It won't be a flop, because if you write AB and Zwangere Guy on a sheet of paper in thick, you are already half-way to success. The other half is what we are working on now."
And working it is. Van Oudheusden does not care that he has to put on a mocap suit later. "That suit will not change who I am. The greatest challenge is to throw myself into something I do not know, and to rehearse everything again. We normally perform 65 to 70 times a year and I know everything by heart. Now, it is like I am facing the same exam every six months. Since my album BRUTAAL, I have made about 60 new songs. Then you forget other things. Keeping it fresh will be important."
That is also true for his musicians, who play along live but cannot be seen in the virtual show. "A suit like that costs an arm and a leg, and there are only two of them! But I am on edge. For me, this is a diversion from getting back on a real stage as soon as possible and play like never before."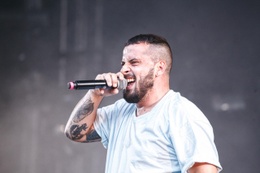 The advantage of such a virtual environment is that things that surpass reality become possible. Verloes remains mysterious about some of the "magical" interventions of his design team, but he can confirm that it will be possible to step outside the walls (and roof?) of the concert hall and that there will also be experiments with scale, as with Travis Scott's virtual concert. As with ICO, there is a chat channel, which allows fans to communicate in real time with the artist on stage. "There is also a screen there, on which Zwangere Guy can read the messages. That way he can immediately respond to the audience at the Nouvelle Belgique."
Once they have a ticket, the audience must first create their own avatar via a standard configurator and choose an outfit. "You can go for trainers, a T-shirt and a cap or you can go crazy and give yourself blue skin, for example," Verloes continues. "Once you're in the room, you can use your keyboard keys to move lazily along to the music, but you can also perform a little choreography or start dancing, as in Fortnite. You can try a coronaproof high-five and putting your arms in the air, but do try out the flight function. That's really fun!"

Performing from home?
The fact that the Sold Out sign never has to be pulled out for virtual concerts is another boost, which organisers and artists also see as a viable option. "We start with a certain capacity and then, if necessary, we can scale up to a larger server in real time," explains Verloes. The unlimited potential should enable Poolpio gradually to earn back its investments in IT and network infrastructure. According to Verloes, these have now risen to half a million euros. For a specific project such as Nouvelle Belgique, with a customised virtual environment including an avatar and mocap suit, he estimates the costs at just under 50,000 euros.
"As our finances have been destroyed thanks to Covid, we could never pay even that amount," says Bonte. A grant of 21,000 euros from the city and about the same amount from AB's sponsor Proximus were a godsend. During ICO's virtual Les Ardentes concert, we could see high buildings with advertising panels in the distance. Will they be there too? "No, there are no sponsor logos in our virtual concert hall," says Cannaerts resolutely. "We don't have any on stage in the real world either. You do see the logos of our sponsors when you pass the bar."Bonte hopes that, with time, the price will come down. "ABtv also started with limited resources and a lot of staff. With a limited team and high-tech equipment, the costs are now considerably lower. We will also have to look for partners in the near future to finance new Nouvelle Belgique concerts."
A virtual balcony
Yet Cannaerts realises that the future potential is great. "Imagine that an important international artist cannot come to Belgium for a physical show in the Ancienne Belgique, for example, because it does not fit in the calendar, then we could give a virtual concert in the Nouvelle Belgique. The fact that someone can also put on one of these motion capture suits at home to perform for his Belgian fans appeals to the imagination: it is not only more sustainable, it can also put us on the map as a virtual meeting place and community. Studies from the United States, where virtual concerts are well on their way to becoming a new business model, were one of the deciding factors in starting this experiment. The viewing figures for the virtual concerts of Travis Scott or, more recently, Lil Nas X on platform Roblox are already in the millions.
This is another reason why Bonte sees a (distant) future in Nouvelle Belgique as a digital balcony. "Compare it to the function of the balcony in the opera. If you pay the full price, you can watch from the parterre with the best conditions. But students who find the ticket price too high, or others who cannot be there physically, could go to the concert virtually, provided a limited contribution is made, as with streaming services. If those numbers increase, that can generate new income and usher in a new business model."
For the time being, Bonte expects that the experiment will mainly appeal to young fans who are familiar with gaming. "The technological threshold is easier for them." For his part, Verloes is already dreaming of immersive theatre and concerts with VR glasses. "Right now you can only access our platform with a laptop or desktop, but Covid has boomed the market for VR glasses, and we hope soon to implement them in the platforms we offer, maybe as early as the end of this year."
If this experiment succeeds, Cannaerts hopes to announce other artists at the Nouvelle Belgique in the more immediate future. "Step-by-step. We have to realise that those artists who sell out the 'analogue' AB are not necessarily the most popular virtually. At first, our sights are set on solo acts that appeal to a young audience, because having several avatars created simultaneously is still too expensive." Cannaerts mentions ICO and Hamza as possible future posters, but also a rapper like Frenetik can be considered, because putting young talent in the spotlight remains a mission.