Anyone who has seen the British jazz musician Theon Cross perform, either with his own band or with Sons of Kemet, has no better word to describe his music than "mind-blowing". Of course that has something to do with the instrument he plays: the tuba.
It does require a certain lung capacity," the relatively shy 27-year-old Londoner says about the largest and lowest-pitched member of the brass family that he's bringing into the limelight. "There's a lot of deep breathing that makes you feel very much alive. Compare it to running very fast. Not that I'm really a sports guy, but I do regularly go to the gym to keep fit." This is not so surprising when you consider the fact that in Sons of Kemet, Theon Cross has to stand his ground beside Shabaka Hutchings alias King Shabaka, the saxophonist and force of nature who is the undisputed kingpin of the flourishing London jazz scene. And the way Cross manages to keep up with two drummers makes him seem almost like a living drum 'n' bass machine. "Sons of Kemet is a band in which everybody pulls their weight. You have to do your utmost best, both physically and musically. But when it works, everybody gets in the zone." Cross also has his own band, with which he released his debut, Fyah, earlier this year, an album that he recorded with saxophonist Nubya Garcia and drummer Moses Boyd.

Mingus and miller
Theon Cross started music at the age of eight, when his parents enrolled him in tenor horn lessons. "By the time I was twelve, I played the euphonium," he tells me. His teacher advised him to attend as many workshops as possible. One of them was run by Kinetika Bloco, a performance group with an exuberant mix of young brass and woodwind players, drummers, steel pan, and dynamic dancers. It was there that Cross fell in love with the tuba at the age of fourteen. "It is such a versatile instrument. You can play very low tones, but also very high ones. Sometimes it is almost as though you are playing the French horn, but other times it is more like a trombone or a growling bass guitar. And I love the way it looks. There's an expectancy of power even before you play the instrument."

Cross plunged into all kinds of music with Kinetika Bloco. "One time we would focus on Caribbean music and the next we would learn everything by Sun Ra, or Alice Coltrane and Fela Kuti. During the summer we would parade through the streets of London like a kind of carnival." Imagine a scene from the TV show Treme, the wonderful series about the music scene in New Orleans, and you will have an idea of what such a carnival looks like.
Cross later immersed himself in jazz through a music-education programme called Tomorrow's Warriors. Finally, he mastered his art at the Guildhall School of Music & Drama in London. By that time he was convinced that it is actually an advantage to play the melody on an instrument that is not usually used for that purpose. "I learned to hold my own in bebop and played a lot of standards. It was next level." But where the saxophone has John Coltrane, and the trumpet has Miles Davis, who are the icons of tuba? "They are not so famous, but they do exist," Cross persists. "People like Bob Stewart, Howard Johnson, and especially Ray Draper. Draper made a few albums with John Coltrane, who understood the significance of the sound of the tuba."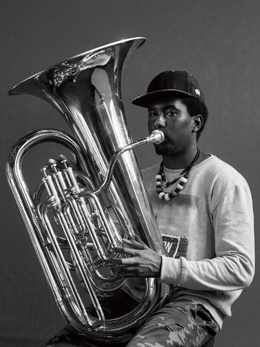 By then, it was clear to Cross that you can also be a frontman with a tuba. "Look at bass guitarists like Marcus Miller and Charles Mingus, those are musicians who lead from the bass." He points out how the tuba was used as a bass when the very first jazz recordings were made. "The double bass just wasn't loud enough to keep up with all that brass." Actually he thinks it is even cool that the tuba gets underestimated sometimes. "People are shocked when they see how fast I can play, when they hear the different ranges and feel the power. It's an amazing feeling." (Laughs)
Grime in the city
Cross is not surprised that Sons of Kemet was invited to be the final act in one of the tents at a rock festival like Pukkelpop. "It doesn't matter if you're holding a guitar or you look cool. The most important thing is that you can captivate an audience, whatever the music you are playing. Fortunately, you see that changing everywhere. People nowadays are open to any genre as long as it's good music." When all is said and done, the intensity of a jazz concert doesn't differ much from that of a rock show, he thinks. Even electronic music is more similar to jazz than you would think.
There are more reasons why jazz now appeals to a young audience, Cross thinks. "For one thing, it's honest music. And it's thought-provoking. Moreover, people like Kendrick Lamar have made it hip again among the young hip-hop crowd. But things go in circles anyway. From the 1920s to the 40s, jazz was pop music. And now it's coming back around." The strength of this generation of jazzers is its broad perspective. "Genre boundaries are more fluid," the saxophonist Soweto Kinch said about the current generation of jazz musicians in The Guardian. "There's less kowtowing to the jazz police." That's exactly what makes the London jazz scene so fresh and appealing. You hear the sound of London in it, but also Caribbean vibes and Afrobeat. Cross's father played in a reggae band in the 1980s. His mother grew up in Saint Lucia, and served him exotic stuff like soca and zouk. On the other hand, his grandmother loved country, and when he was studying tuba at school, he listened to a lot of classical music too. But more than anything, Cross was surrounded by grime. "When I was a teenager, grime was very much the style of young London. I would often listen to the Channel U radio station, where they played that kind of urban music constantly. So it is perfectly normal that it seeped into my music as well."
It only remains for us to ask why he named his album after marijuana. "Ha ha, no. 'Fyah' is just a way to say that you like something. To me it means positive energy. The track 'Activate' is about taking the time to actually do the things that you want to do. Even against your own fears and your own anxieties. Many of my songs are about self-development and appreciating yourself. 'Fyah' is the best that we have in us. And that is what I try to achieve as a tuba player."