This year, the Balkan Trafik! festival is focusing for the first time on the urban music scene that is flourishing in the Balkans. Along with the young Belgian hip-hop talent Gloria Boateng, we went to size up the situation in Bosnia.
Each year, Balkan Trafik! throws its doors wide open to the culture of the Balkans, with, among other things, concerts, cinema, theatre, and street art. With its 13th edition, the festival is trying something new with hip-hop stars from the Balkans, like AFO, Psychotrop, Elinel, Robert Soko, Silvia Gradinaru, and Frenkie. This group of Balkan rappers will be joined at the festival by some home-grown hip-hop talent. One of those artists is Gloria Boateng, a Ghent-based rapper of Ghanaian heritage. Boateng has been writing songs for fifteen years, which she has performed on the stage of Couleur Café and for which she made the finals of Humo's Rock Rally. Her thrilling beats and infectious passion make her hip hop explosive stuff.
We watched Boatengs's performance on the stage of a spruced up nightclub in the heart of Srebrenica, the war-torn town that went from 30,000 inhabitants to only 3,000, and where there seem to be more stray dogs than people. Gloria Boateng and the Brussels rapper Nephtys had been invited as two ambassadors of the Belgian hip-hop scene, and they shared the programme with the huge local star Frenkie. This week, they will all perform together in the Urban Chapter section of Balkan Trafik! at the Vk* in Molenbeek.

Balkan Trafik! invited you to be the first Belgian artist to perform in the godforsaken town Srebrenica. Did you wonder whether your lyrics would match the worldview and situation of young people there?
GLORIA BOATENG: Absolutely, I thought about that a lot. I opened my set with "Bounce", a song about equality. My intention with that song is to unite people. Granted, all my other songs are about the good life, dancing and partying, or about my roots. Like "Kumasi" (an autobiographical song about her biological father who left half-brothers and half-sisters for Gloria all around the world, jmb). But now that I have been confronted with the serious problems of young people in Bosnia (nationalistic rhetoric in politics and the media, corruption, unemployment, hopelessness, jmb), I have started to reflect more seriously. Before my set, I had expected a quiet audience in headscarves. But no, they went along with my jump and explosion.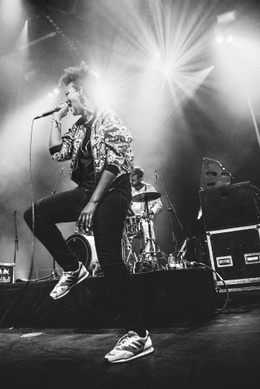 Will you make a song about that, now that you are also carrying the legacy of the Yugoslav wars on your back?
BOATENG: Since you suggest it, yes, I think I will certainly do that. I didn't actually know anything about the history of the Yugoslav civil wars. But the impact is very palpable. It opened my eyes to something completely new. The lesson from that post-war period is that no matter how difficult things are, you always have to continue to invest energy in your life. Invest and don't give up, that's what it's all about. A young Bosnian artist who ran a bar with a Serb in Srebrenica made it very clear to me that that is the only way to bring people of different ethnic backgrounds or religions together, even though many people thought it was too soon for a Bosnian and a Serb to become friends. "Now is the time to open this bar together; there is no point in waiting," he said. I think he is completely right and I even had the feeling that these two young guys are energizing the whole town. Their passion and drive really moved me.

What do you think is most important about what you do?
BOATENG: Conveying an honest message, first with respect to yourself but also to the audience you have in front of you. Your lyrics have to be pure. It is important to me to make my own music: the sound, the tonal colour, the beat, the lyrics, the rhythm, and the feeling. They all have to click with me. I like to have control over all those things.

Onstage you seem like a different, much more energetic person.
BOATENG: People often tell me that I am very different when I am onstage. But it doesn't feel that way to me. I am probably much freer and more exuberant onstage because I just let myself go. In everyday life I tend to be very quiet and calm. I like taking my time to listen to people because I am genuinely interested in them. But the explosive and exuberant me is also really me. I love performing. Whether it is to a handful of people or a thousand, I try to put on the same show. I enjoy going for it completely onstage. Offstage too, but in a different way." (Laughs)
Frenkie comes to brussels
These three names are three to remember in the new urban section of Balkan Trafik! at the Vk*.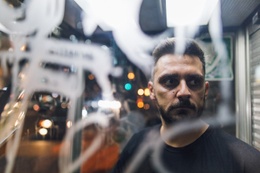 Frenkie
Adnan "Frenkie" Hamidovic introduced hip hop to Sarajevo from Germany, mobilizing a generation of Balkan rappers who inveigh against anything and anyone spreading segregation, hate, and nationalism in Bosnia. The language barrier will not be a problem; the drone of the beats and the force of Frenkie's voice will make everyone understand.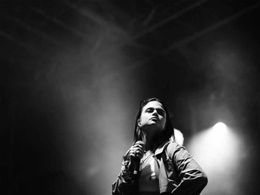 Nephtys
With the singles "Brother", in which she asks macho men not to hide their girlfriends behind their backs, and "Priorities", Nephtys (Caro Hakim) set herself up as one of the upcoming voices in the Brussels rap scene. "Sista's Be Ballin'", with a touch of R&B and some jazz and neo-soul, likewise had an unambiguously feminist message.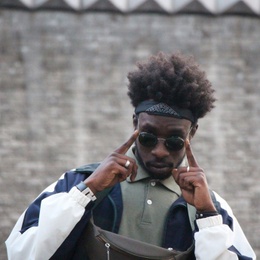 Seven
Seven is the French-speaking equivalent of Zwangere Guy. The Brussels-based rapper will soon release a new mixtape, the sequel to the EPs Double infini and 2032 (both from 2016), on which he blends house, dub, and trap in his own unique way. We're looking forward to seeing whether his mishmash goes down well with the Brussels Balkan audience. Frenkie comes to brussels
These three names are three to remember in the new urban section of Balkan Trafik! at the Vk*.
Couleur Café 2019
Op 28, 29 en 30 juni neemt Couleur Café opnieuw zijn intrek in het Ossegempark aan het Atomium. Ook BRUZZ is er weer bij met interviews, nieuws, sfeerverslagen, foto's en nog veel meer. Volg het hier.