The Brazilian-born, Belgium-based writer and performer Luanda Casella likes to turn language inside out and to corrupt popular formats. Case in point: Killjoy Quiz, on show at the KVS as part of the new Brussels festival FAME (Festival where Arts Meet Empowerment).
Luanda Casella cannot say exactly at what point she became an artist. "I don't think I ever made that decision. When I was eighteen, I did attend a theatre school in Brazil. There is a strong culture of soap operas in Brazil and so you usually graduate as a director or actor. But in the 1980s, racism was even more pronounced than now and as someone of mixed descent I would not have been given many roles. The performing arts or experimental theatre, which is what I do now, were not given much of a stage in São Paulo. That is why I have tried to find my own way. I have always written a lot too and I then perform my own lyrics alongside musicians, so spoken word that is. I added the solos and monologues with a plot when I got to Belgium."

All of Casella's work speaks of a great fascination with language. The language of texts, images and popular formats that provokes confusion and questions as soon as you deconstruct, disrupt and corrupt its conventions. Take Short of Lying (which won prizes at Theater Aan Zee in 2016) as an example. That was a dodgy TED talk by an insomniac explaining how to successfully bombard the digisphere with made-up clickbait. The group piece Killjoy Quiz is another deranged quiz in which a malicious quizmaster searches for the candidate who can best ruin the atmosphere at parties by denouncing racism, sexism and other injustices. The recent solo Ferox Tempus plunges you into a dystopian, terrorising and hopeless computer game, used for the rehab of victims of the ecological, neoliberal apocalypse.
With its themes such as media manipulation, racism, sexism, ecology, human and political power relations, Casella's work is political rather than personal. "My work is certainly not about personal healing or anything like that. (Laughs) Although there is always resonance with your own experiences. In Short of Lying, which is about untrustworthiness, the main character is an insomniac just like me. When you suffer from insomnia, your perception of the world is often unreliable. Ferox Tempus is about the fear of where the world is going, and the lack of agency that we experience as individuals."

LET ME ENTERTAIN YOU
Casella's work makes us aware of the structures (of language, of power, of cultural expressions...) that encapsulate us. That awareness can be a first step towards reclaiming agency. Casella sees herself as an entertainer, but at the same time she invites the audience, slouching in their seats, to do some critical thinking of their own, to use their imagination and to try to get a grip on things.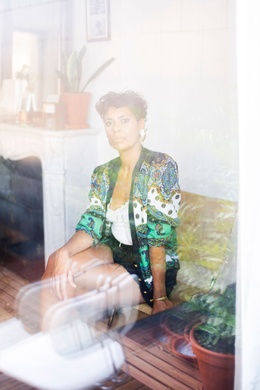 "I love the word 'entertainment' in its purest form, and the link with the popular formats that structure my pieces is obvious. Humour is also part of this, as a proven tool in storytelling and it opens up the audience and makes a confrontational message all the more impactful." But Casella is by no means a do-gooder. "There is real disappointment in the state of the world. I am probably more of an activist when I teach (Casella teaches at KASK in Ghent, ed.) than I am in the theatre. As part of our studies there, we might read feminist writers full of good ideas on how to deal with fear, powerlessness, toxic masculinity, the patriarchy. I have more faith in concrete actions in your immediate surroundings than in activism through art."

"What theatre does is create a common moment for critical thinking. If, as an artist, I succeed in giving people an aesthetic experience, then that in itself can have a political, psychological, philosophical or metaphysical impact. So I do hope to inspire people to give meaning to their aesthetic experience. Our brains are so colonised by ideas of comfort, privilege, possession and so on and there is much to deconstruct. What you as an artist can do is to point out that we will need imagination to change things."

LUANDA CASELLA: KILLJOY QUIZ
22 & 23/9, 20.00, KVS BOL, www.kvs.be